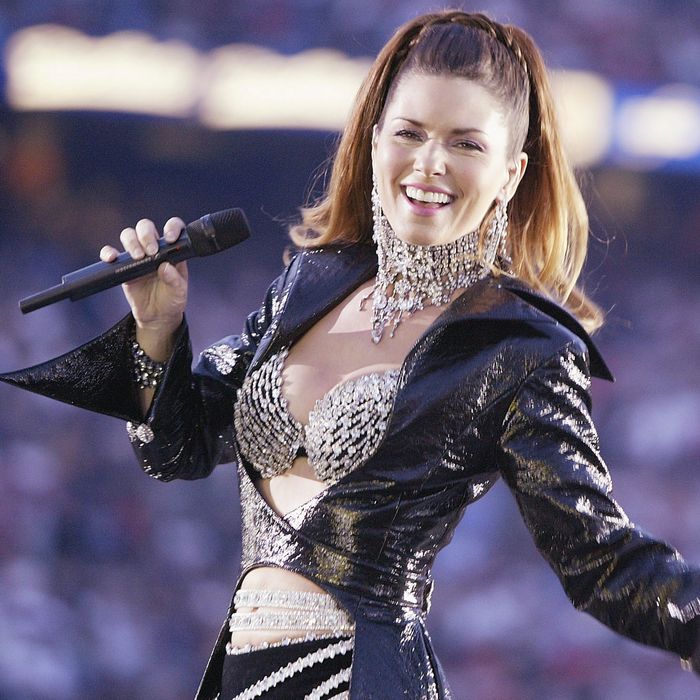 Shania Twain performs during halftime of Super Bowl XXXVII on January 26, 2003, in San Diego, California.
Photo: Al Bello/Getty Images
When once-ubiquitous hit maker Shania Twain walked away from her commercial dominance in the early 2000s, going a decade and a half without releasing a new album, the world more or less sealed her songs, sound, and image into a time capsule. Her music could conjure feelings of nostalgia — and kill at karaoke — but her diamond-certified sales records were triumphs of a bygone era. In the years since, Twain's history-making musical trajectory seemed to flatten into a single fact: that she was as big, and as global, a superstar as we've seen.
It's as though she anticipated that she would need to reassert her place in the present. She's titled her new album, which arrived today, Now, and she's emphasized that she isn't stuck in a pop landscape of the past. "I really feel like I'm coming back into worlds that I already know," she said in a recent interview with the New York Times.
In Nashville, where she launched her career in the early '90s, Twain has come to be embraced as an elder and an archetype. Carrie Underwood had to prove that she could handle one of Twain's hits when she competed on American Idol en route to becoming one of the reigning pop-country figures of the post-Shania era. Several years back, the duo Florida Georgia Line sang lyrics that invoked Twain's name as shorthand for countrified sex appeal. Other current pop-country acts, like Lady Antebellum and Kelsea Ballerini, have greeted Twain's return with giddy gestures of tribute and deference. Within the country-music industry, Twain is widely recognized as the artist whose expansive approach paved the path between country and pop that Taylor Swift would later follow, a point underscored when Twain and Swift were cast side by side in a Thelma & Louise spoof for a 2011 awards show.
Twain ultimately became one of the reigning divas of her day across all genres. On the first edition of the VH1 special Divas Live, she was a headliner, sharing the spotlight with Mariah Carey, Aretha Franklin, Céline Dion, and Gloria Estefan. When Rihanna recalled the music that had impacted her in a 2009 interview, she said she "used to listen to all the divas," by which she meant Whitney Houston, Mariah, Celine — and Shania.
Twain's songs have functioned as pop-culture touchstones: in a singing-along-with-the-radio scene in Britney Spears's movie Crossroads; in a Jonas Brothers concert film; in an endearing cover by Haim that made the blog rounds this July.
That same month, Twain released a video of her own for her album's first single, "Life's About to Get Good," a breezy slice of Europop. The clip depicted a Broadway-style daydream about a tropical beach vacation. Right in the middle of it, she's handed a portrait of herself and her ex-husband, writer-producer Mutt Lange, and she flips it upside down, dumping his face from the photo. It's her not-so-subtle way of signaling that he's out of the picture creatively too — one way that she's flexing her independence in this new phase. She and Lange made her three biggest albums together, but she wrote every song on Now, her most confessional album to date, alone.
It's the perfect time to revisit how she made her mark. Here are the seven key steps on her path to becoming an icon.
1. The Tale of Humble Beginnings
Twain arrived on the country scene as a hard-luck heroine with a backstory that inspired empathy and admiration. She described her childhood in rural Ontario as one of violence, deprivation, and tragedy, throughout which she'd helped bring in a little money for the household by singing in nightclubs and resorts. After her parents died in a car accident, she took responsibility for her younger siblings, delaying her pursuit of a Nashville country career until they were old enough to be on their own. Just about every journalist on earth recognized how compelling that narrative was and led with it. Twain made the most of the interest in her story as she fashioned her resilient persona.
2. The Revolutionary Reveal
Twain's image took on a flirtatious quality when she showed her belly button in the music video for her pre-breakthrough 1993 single "What Made You Say That," posing on a beach in a cropped peasant shirt. That was the first of many midriff-baring outfits to come. Her wardrobe choices initially scandalized Nashville, then revolutionized the way that women in country music presented themselves. Years later, Twain was still being asked to explain what made her expose her navel on camera. In one mini-doc, she talked about being influenced by Madonna and Janet Jackson videos. "I mean, they always wore midriffs," she pointed out. "I didn't think I was doing anything new. But it was new for Nashville."
3. The Big, Bold Personality
Equally influential was the personality that Twain projected in her performances. Country music had already had its share of feisty female vantage points, but she delivered an assertive, fun-loving, distinctly contemporary angle on femininity that felt in step with a moment when young women were savvily pushing against the boundaries of propriety. In some of her most memorable hits, she demanded romance that let her feel comfortable in her skin, reveled in her sensual power, cleverly dressed down male egos, and went after what she wanted with unapologetic forwardness. Generations of self-assured music-making women took notes.
4. The Rock-and-Roll Sound
Rock energy was already finding its way into country music by the mid-'90s. In previous decades, acts like Kenny Rogers had helped lay groundwork with the soft-rock spectacle of their live shows, and Twain's contemporary Garth Brooks was bent on amplifying his twang to bombastic arena-rock scale. But she radically accelerated the process when she creatively teamed up with, and married, Mutt Lange, the producer of classic albums by AC/DC and Def Leppard. He brought a kinetic guitar attack and thundering backbeats to her albums, and worked with her to sculpt sharp, sticky hooks that found a home on country, pop, and adult contemporary playlists alike.
5. The Equal Partner
Something else that stood out about Twain's collaboration with Lange was the way she combated assumptions about how such a partnership worked. Since he was the one with a discography studded with blockbusters stretching back to the early '70s, critics sometimes cast him as a Svengali and her as a passive beneficiary of his aesthetic vision. But she continually insisted that she brought her own ideas to the table, that she and her husband functioned as creative equals, that they genuinely co-wrote her songs.
6. The Crossover Visionary
Twain and Lange's final album together, 2002's Up!, was a pioneering experiment in country-to-pop crossover. Twain surprised her fans with multiple versions of the entire track list. If consumers lived in the U.S., they got the "Green Disc" and the "Red Disc," featuring production, instrumentation, and mixing that were meant to give the album a pop-country or just plain pop feel, respectively. Overseas fans instead got "Red" and "Blue," the latter a globally minded version with Bollywood flourishes. The three-way presentation drove home the adaptability of her sensibilities and the international reach of her appeal.
7. The Survivor
During Twain's long break from album-making, she faced a series of crushing setbacks: Lange's alleged dalliance with one of her best friends, the subsequent disintegration of her marriage and musical partnership, and worst of all, the loss of her ability to sing, which was eventually attributed to nerve damage to her vocal cords caused by Lyme disease. She made use of her public platform to deal with these crises, treating an Oprah interview, a self-help television series on OWN, and a memoir as therapeutic outlets — reclaiming her narrative in the process and setting the stage for her return this week with Now.