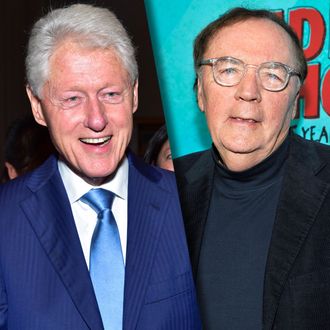 Clinton; Patterson.
Photo: Patrick McMullan/Getty Images
Forget Peak TV, here comes POTUS TV: Former President Bill Clinton and blockbuster author James Patterson (Kiss the Girls) are setting up shop at Showtime. The premium cable network has won a high-stakes (and almost certainly high-dollar) bidding war for the right to adapt the duo's forthcoming novel The President Is Missing into a television series. The Clinton-Patterson collaboration, announced in May, won't be released until next June. But as Deadline reported in July, news of the book set off a feeding frenzy in Hollywood as various film studios and TV outlets jockeyed for the rights. According to one person familiar with the rights negotiations, Clinton and Patterson met with more than a dozen companies, ultimately landing at the CBS Corporation–owned Showtime in part because of both men's decades-old respective relationships with CBS chief Leslie Moonves.
A press release announcing the rights deal is short on details, mostly because very little has been determined yet beyond Showtime snagging the rights to The President Is Missing. No writers or producers are attached at this point, let alone a creator/showrunner. Showtime also didn't say whether the project will be a multi-year series or a one-season limited series à la Twin Peaks: The Return. Not much is known about the plot of the book, with a press release describing the Alfred A. Knopf and Little, Brown and Company joint release as a "gripping tale of power and betrayal, with a unique perspective on the pressures and stakes faced by a sitting president." It seems likely Showtime would try to turn the project into an ongoing series, particularly given the network is facing the end of its signature political thriller Homeland in 2019. (Nothing official has been decided regarding the Claire Danes drama, but producers have indicated they're planning to end the show's run after season eight, which is tentatively planned for 2019).
Creative concerns will no doubt dictate the ultimate shape of The President Is Missing: The Series, but it's easy to imagine Showtime using the hoopla surrounding the finale of Homeland to hype a new D.C.-set thriller. For now, David Nevins, president and CEO of Showtime, is just stoked his network won the war for POTUS-Patterson. "Bringing The President Is Missing to Showtime is a coup of the highest order," Nevins said via press release. "The pairing of President Clinton with fiction's most gripping storyteller promises a kinetic experience, one that the book world has salivated over for months and that now will dovetail perfectly into a politically relevant, character-based action series for our network."