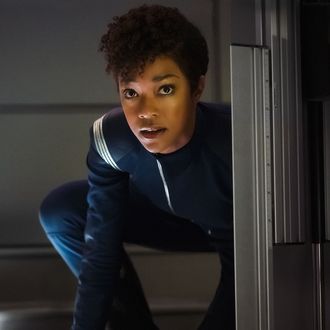 Sonequa Martin-Green.
Photo: Jan Thijs/CBS
Nearly 10 million viewers caught the CBS preview of Star Trek: Discovery Sunday night, a number expected to grow to more than 15 million by week's end. As it did with last winter's The Good Fight, the Eye used its linear network to expose as wide an audience as possible to the new Trek, which will now live as a weekly series on sister streaming service CBS All Access. Discovery, boosted by an NFL overrun and the 50th season premiere of 60 Minutes, drew a markedly larger crowd than Fight, which opened with 7.2 million viewers in February.
The latest incarnation in the Gene Roddenberry–created franchise also skewed dramatically younger than Fight. Per preliminary Nielsen data, the Trek pilot scored a 1.9 rating among adults under 50 — nearly triple Fight's 0.7 rating. Had Discovery been a regular CBS show, its Sunday opening numbers would be considered strong, though not quite in the blockbuster category. But since the series will now live on a streaming platform, viewership numbers will matter far less than how many new subscribers Discovery is able to generate for All Access. The Eye was already claiming victory on that front, too, announcing All Access generated more new sign-ups Sunday than any previous day, week or month since launching in late 2014. Of course, CBS didn't offer any hard numbers to flesh out this claim, so it's possible the service's "record" day-of signups consisted of just a few thousand new subscriptions. Still, between the strong linear ratings and the Eye's self-reported signup records, odds are Star Trek: Discovery will live long and prosper for at least a second season.