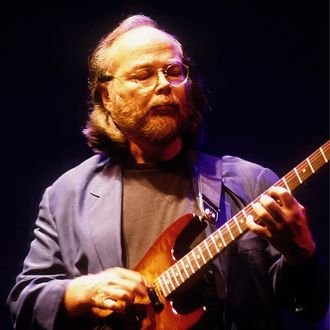 The virtuoso in action.
Photo: Mick Hutson/Redferns
Walter Becker, the co-founder and guitarist of rock powerhouse Steely Dan, has died at the age of 67. His official website confirmed the news without a cause of death — although his health had been declining in recent months due to an unspecified illness, as he was unable to join Steely Dan for their summer Classic West and Classic East sets. Becker and his fellow co-founder Donald Fagen met at Bard College in the late 1960s, choosing to pursue the famously dry-humored band together after working for a brief period as songwriters. What ultimately ensued was over decade of seminal albums — including Can't Buy a Thrill, Countdown to Ecstasy, Pretzel Logic, and Aja — assisted by a rotation of supporting musicians, which culminated with the band being inducted into the Rock and Roll Hall of Fame in 2001. They even released two albums in the new millennium after a long hiatus, frequently touring around the country until Becker's health problems began earlier this year.
"I'm not interested in a rock-jazz fusion," Becker explained to Rolling Stone in 1974. "That kind of marriage has so far only come up with ponderous results. We play rock and roll, but we swing when we play. We want that ongoing flow, that lightness, that forward rush of jazz."
In a lengthy and poignant statement released to Variety, Fagen reflected on his long-time friend, writing partner, and bandmate. "He was cynical about human nature, including his own, and hysterically funny. Like a lot of kids from fractured families, he had the knack of creative mimicry, reading people's hidden psychology and transforming what he saw into bubbly, incisive art," he wrote. "I intend to keep the music we created together alive as long as I can with the Steely Dan band."