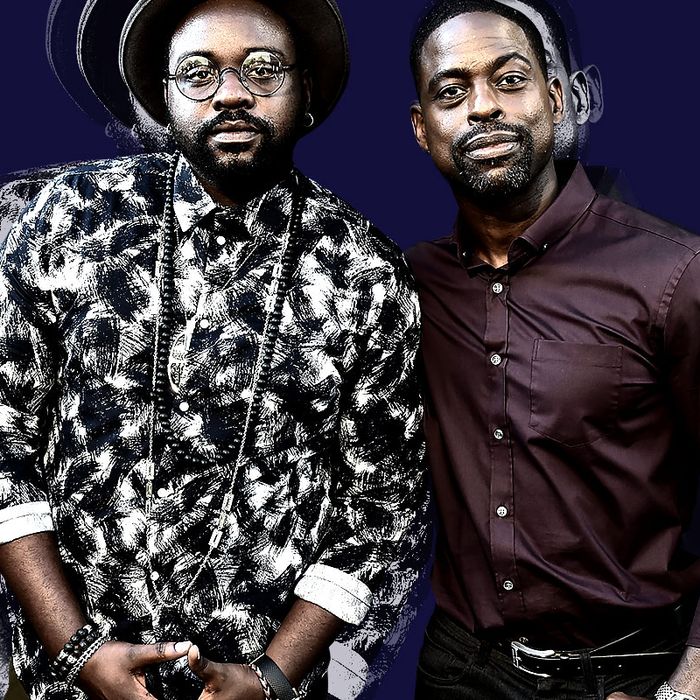 Photo-Illustration: Vulture and Photo by Getty Images
People, let me tell you 'bout two best friends, Sterling K. Brown and Brian Tyree Henry. The two men you love to watch on This Is Us and Atlanta also love each other, and have been besties since their early theater days. They slept on each other's couches when they were struggling actors, they called each other after their Emmy nominations, and this Sunday night, they might even win a pair of awards together: Henry is nominated for Outstanding Guest Actor in a Drama Series, Brown is nominated for Outstanding Lead Actor in a Drama Series, both for NBC's This Is Us. "For a long time it seemed there were only slots for a very limited few [black actors]," Brown told the New York Times. "The fact that me and my man get a chance to sit at the table at the same time, that's pretty cool." Here's everything you need to know about the only friendship that matters.
Who are these friends we're here to celebrate?
If you haven't sobbed through one of Sterling K. Brown's This Is Us scenes, or watched his Emmy-winning People v. O.J. Simpson performance, you've surely counted his (many) abs. On Atlanta, Brian Tyree Henry plays Alfred, a.k.a. Paper Boi, an up-and-coming rapper. When he guest starred on This Is Us, he also sang a soul song that I am personally still recovering from.
How did they meet?
They did a play together over a decade ago — and because this friendship couldn't get any richer, that play was written by Moonlight co-writer Tarell Alvin McCraney. Henry and McCraney were classmates at Yale, and the writer cast the them while he workshopped "Wig Out" at the Sundance Theater Lab in Park City. "We've all known each other for so long and it's so great to see all of us shining at the same time. It's so great to see this happening for all of us, because we've always supported each other artistically and creatively for so many years. They're my brothers," Henry told Vulture in February. Their lives paralleled even before "Wig Out": Brown and Henry studied under the same acting teacher, Ron Van Lieu, who taught Brown at NYU and Henry at Yale School of Drama.
But when did it happen? When did these two men become besties?
"Wig Out" required both guys to wear drag and Henry needed his beard shaved. "He did it," Henry told IndieWire. "[Brown] went and got clippers, and we've been best friends ever since. Once you shave a guy's face, man, you're best friends after that."
What's the sweetest thing Brian has said about Sterling?
Oh, I'm so glad you asked! Last year, when the New York Times asked the Atlanta star what he was watching on TV, he recommended Brown's performance in The People v. O.J. Simpson, specifically the scene where Chris Darden confronts Marcia Clark about presenting evidence he specifically asked her not to. "He is a revelation," Henry told the Times. "And also my best friend […] I cried watching him be shocked and overwhelmed at his [2016 Emmy] win. I will never forget that moment. It served as a reminder that our brotherhood and our support for each other would never go away. And that I could aspire and achieve levels of greatness because my brother showed me how."
There's also that time Henry said that he loves his friend so much that he doesn't want to disappoint him: "I feel like it's an investment, this friendship, because I know for a fact that at the end of the day that there's nothing that Sterling can't do. And it's so nice to know that there's somebody out there that feels the same way. Because at the end of the day, you don't ever want to go out and do anything mediocre or do anything that is not representative of the person who loves and sees you more than you see yourself sometimes."
What's the sweetest thing Sterling has said about Brian?
Brown told the Times he slept on Henry's couch while he filmed Person of Interest in New York City. He's praised Henry's Atlanta character Paper Boi, and is pushing for the role to be recognized in the future. "I was very thankful for [Henry's This Is Us] nomination, but I wanted to see that Paper Boi nomination. And I was sad that one did not come through, because my man blazes that show like nobody's business. So I'm happy you got at least the one, but I'm looking forward to Paper Boi getting his due."
Who else are they friends with?
Well, Tarell Alvin McCraney, of course.
And another man you love, Mahershala Ali. (He and Henry are working on the animated Spider-Man movie together.)
Where can I see them next?
The Emmys red carpet, if we get our wish, sitting next to one another and livestreaming their chatter during interludes. They're also co-starring in Hotel Artemis, a thriller written and directed by Drew Pearce, who previously co-wrote Iron Man 3 and Mission: Impossible—Rogue Nation.
Anything else I should know?
See that kid in the back? This is us as we third-wheel TV's best bromance.