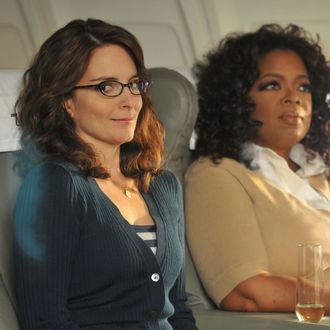 Photo: Nicole Rivelli/NBC via Getty Images
Anyone worried about developing stress rashes after 30 Rock leaves Netflix on October 1 can rest assured that the beloved sitcom will immediately pop up on another service. Hulu announced today that it has picked up the streaming rights to 30 Rock starting October 1, guaranteeing that you won't have to go long without a comfort viewing of "Queen of Jordan" (provided you chuck out money for a Hulu subscription — capitalism, man!).
In addition to 30 Rock, Hulu also picked up the rights to several other shows made by NBCUniversal TV, including tearjerker Parenthood, the British reality series Made in Chelsea, Syfy's competition series Face Off, and There's Johnny, a period comedy set around Johnny Carson's Tonight Show that was originally set to air on Seeso before the comedy service shut down. Hulu — now they have Emmys and Tina Fey.