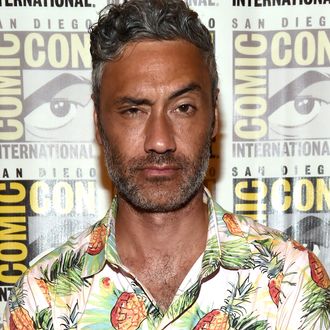 Photo: Alberto E. Rodriguez/Getty Images for Disney
Anticipation is high for the upcoming Taika Waititi–directed Marvel film Thor: Ragnarok, and it looks like Warner Bros. is impressed enough to offer Waititi another big job: According to Deadline, Warner is getting serious about moving its adaptation of the revered manga Akira back into production, and they are in talks with the New Zealander to direct. All the way back in 2010, it was reported that the brothers Allen and Albert Hughes (The Book of Eli) would helm the picture; since then, over the course of the film's life in turnaround, Dane DeHaan, Michael Pitt, Garrett Hedlund, Kristen Stewart, Ken Watanabe, and Helena Bonham Carter have all been attached as cast members at one point or another.
You'll notice that, besides Watanabe, every single one of those actors is white; DeHaan and Pitt were competing for the role of Tetsuo. Those would have been bad ideas seven years ago, but now they're both bad and liable to cause a public-relations nightmare for the studio, as the internet stands ready to shred any movie that stacks its Asian IP with Caucasian faces. (Things didn't turn out great for Pitt's recent blockbuster Ghost in the Shell.) Is the fact that Waititi is being courted a sign that Warner Bros. is committed to more thoughtful choices this time around? Let's wait and see!