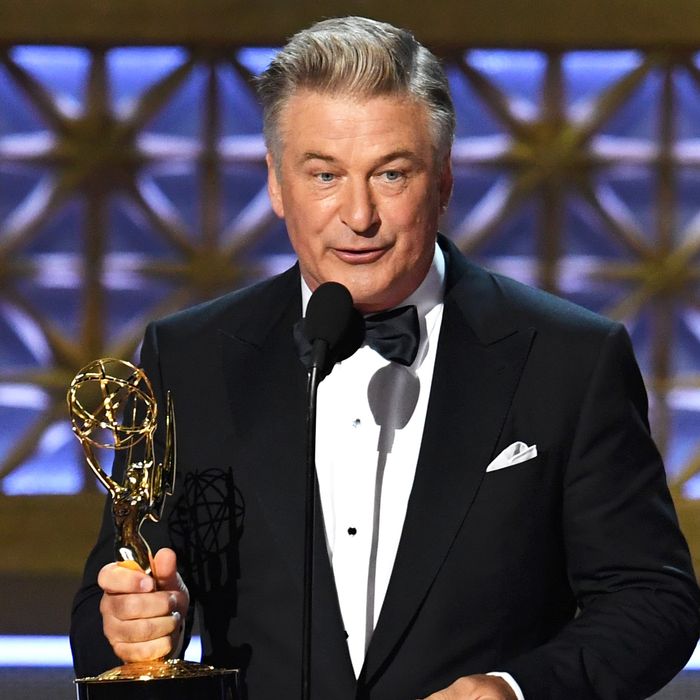 The Other Donald Trump.
Photo: Kevin Winter/Getty Images
Donald Trump: You can't live with him, and you can't have a live telecast without joking about him. With Stephen Colbert at the helm for the 2017 Emmy Awards, it was only natural that the late-night host would acknowledge Trump in the cold open, and then in his opening monologue. "If we're honest with ourselves — and as artists, I think we have to be honest with ourselves — we know that the biggest TV star of the last year is Donald Trump," Colbert said. "And however you feel about the president, and you do feel about the president, you can't deny that every show was influenced by Donald Trump in some way." But it wasn't all media-studies analysis: There were insults! Shade! And plenty of fodder for Donald Trump to tweet about Monday morning.
• From Stephen Colbert's opening monologue:
— "And we all know the Emmys mean a lot to Donald Trump. Because he was nominated multiple times for Celebrity Apprentice but he never won. Why didn't you give him an Emmy? I tell you this. If he had won an Emmy, I bet he wouldn't have run for president. So in a way this is all your fault."
— "I thought you people loved morally compromised antiheroes. You like Walter White. He's just Walter Much Whiter."
— "But he didn't. Because unlike the presidency, Emmys go to the winner of the popular vote."
• Unemployed man Sean Spicer assured Stephen Colbert that the crowds were huge — yuge! — telling Colbert, "This will be the largest audience to witness an Emmys, period, both in person and around the world."
• "Imagine if your president was not beloved by Nazis." — Julia Louis-Dreyfus as her Veep character Selina Meyer from the cold open
• "[Winston Churchill's] life reminds us what courage and leadership in government really looks like." — John Lithgow during his acceptance speech
• From the Westworld parody:
Jeffrey Wright: "Have you ever questioned the nature of your reality?"

Stephen Colbert: "Every day since November 8."
• James Corden to Seth Meyers: "That thing you said about Trump being bad! Agh! So good."
• Alec Baldwin during his acceptance speech: "All you men out there, you put that orange wig on, it's birth control."
• During the 9 to 5 reunion:
— "We refused to be controlled by a sexist, egotistical, lying, hypocritical bigot." — Jane Fonda
— "In 2017, we still refuse to be controlled by a sexist, egotistical, lying, hypocritical bigot." — Lily Tomlin
• "We did have a story line with an impeachment, but we abandoned that because we were worried that someone else might get to it first." —Julia Louis-Dreyfus on Veep
• Veep showrunner David Mandel also thanked "the Trump White House" in his acceptance speech for Best Comedy Series.
• "I want to thank Trump for making black people no. 1 on the most oppressed list. He's the reason I'm probably up here." — Donald Glover