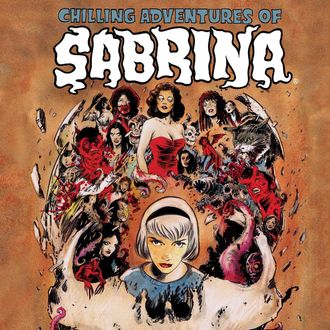 Images from Archie Comics's version of
Chilling Adventures of Sabrina.
Photo: Archie Comics
In 2017, not even Sabrina the Teenage Witch can avoid a dark reboot. After successfully (yes, successfully! The show is good!) turning Archie Comics into a dark and sexy teen drama Riverdale, The CW is developing a new dark horror drama based on Sabrina the Teenage Witch. Though she's already had her own show, Sabrina's also an Archie Comics character, and the new show will take its title from Chilling Adventures of Sabrina, which was written by Riverdale showrunner Roberto Aguirre-Sacasa (he'll be executive producing and writing on this show, too). "The Chilling Adventures of Sabrina," according to the logline the CW released for the show, "reimagines the origin and adventures of Sabrina the Teenage Witch as a dark coming-of-age story that traffics in horror, the occult and, of course, witchcraft. Tonally in the vein of Rosemary's Baby and The Exorcist, this adaptation finds Sabrina wrestling to reconcile her dual nature — half-witch, half-mortal — while standing against the evil forces that threaten her, her family and the daylight world humans inhabit."
The show, also executive produced by Riverdale's Greg Berlanti, is being developed with an eye toward the CW's 2018–2019 season as a companion to Riverdale. Hopefully this doesn't exclude the possibility of also getting a dark and sexy Josie and the Pussycats spinoff, and allows for a chance for Sabrina to cross over into Riverdale. Maybe Archie can die and Sabrina can bring him back as a zombie with a new personality? Or just a personality?