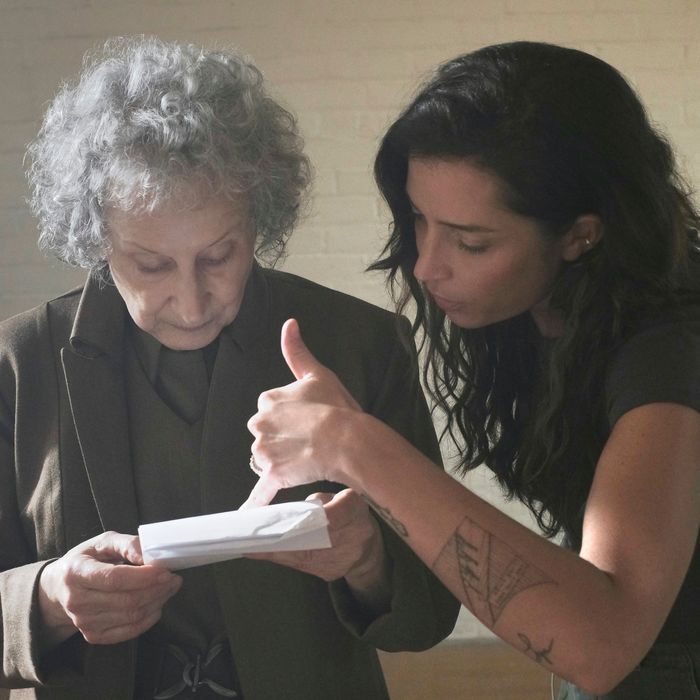 Margaret Atwood and Reed Morano on the set of
The Handmaid's Tale.
Photo: George Kraychyk/Hulu
Blessed be the fruit! The Handmaid's Tale won the Emmy for Outstanding Drama Series — surprising no one who'd seen it claim seven other awards in the lead-up. What tied the series together and made its look so striking and memorable was Reed Morano's (also Emmy-winning) direction of the first three episodes. In what may or may not be a sign of progress, that makes her the first woman to win in that category since Mimi Leder for ER in 1995.
She's also, impressively, the youngest member of the American Society of Cinematographers' vastly male body, and a television newbie, with previous work in independent films like Frozen River (as a DP) and her directorial debut, Meadowland. It's a giant task to direct the first three episodes of a series because it's essentially creating a road map for all other directors of the show to follow. For Handmaid's, Morano used tight close-ups on the handmaids' faces to illustrate their confinement, and a washed-out palette that made Gilead seem to be perpetually overcast, to match the mood of life there. "We tried to get our voice in the first three episodes so that after I left, everybody would know what to do," Morano says. She consulted with Michael Barker (episodes 4 and 5), and Floria Sigismondi (episodes 6 and 7), but beyond that, had to hope that the strength of her work would be enough of a guide for the directors to come.
Morano was by no means expecting to win on Emmys night. She was up against Stephen Daldry, Vince Gilligan, and two other women: Homeland's Lesli Linka Glatter, and Kate Dennis, who'd directed episode eight of Handmaid's. "I was going into it psyching myself out because I've never really won an award even remotely at that level," says Morano. "So for me, the fact that I was nominated was already the biggest gift in the world." Still, being the first woman to take the prize in 22 years is pretty special. "Mimi Leder won her award the same year I went to film school and decided I wanted to do this, and that's really meaningful," says Morano. "It would be really cool if we could keep having diversity in there, because women of all races have different stories and we've just been hearing a lot of the same stories. It would be nice, personally, for me to hear different ones."
Right after the Emmys, Morano jetted off to Ireland, where she's in preproduction for The Rhythm Section, a female-assassin thriller starring Blake Lively, based on Mark Brunell's British "Stephanie Patrick" novel series. She's also still editing the movie she shot this summer after Handmaid's, 2018's I Think We're Alone Now, "a post-apocalyptic film about human connection," as she describes it, that she directed, starring Peter Dinklage and Elle Fanning. She and Moss are also looking for something else to develop together. No word yet on if she'll direct anything in season two of Handmaid's, but, she says, "We're working on it. Obviously I love it and I would do whatever I can to be there." We spoke with Morano, as well as Moss and series creator Bruce Miller, to break down how she brought her Emmy-winning vision to the screen.
Getting in the room where it happens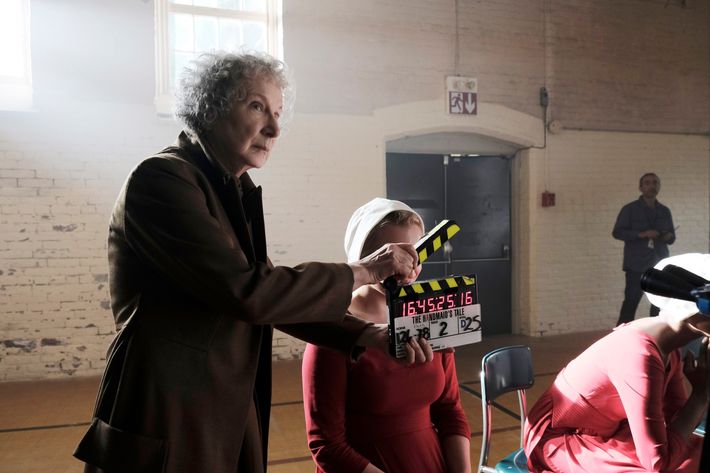 Having never directed for TV before, Morano's biggest hurdle was just getting a meeting with Hulu and Miller. She remembers her management handing her the script in February 2016. "When I heard about it, they were out to get a big-name director, and it wasn't like, 'Oh, read this because you have a chance at this.' It was more like, 'Read this because we just want you to know what Hulu is up to,'" says Morano. "And then I read it and I was like, Why would you do this to me? If I was ever going to do a pilot, this is the one I should do."
Morano's reps told her that Hulu was probably just thinking of her to direct one of the episodes down the line, but little did they know she'd been obsessed with The Handmaid's Tale since reading Margaret Atwood's book in college. "So I just kept asking and asking and bothering and bothering," says Morano. "And then when I read that Lizzie had gotten cast in the lead role, I was like, Wait a minute. Now I really need to do it, because I obviously love her and I think she's brilliant."
Moss had had a cameo in Morano's Meadowland and they were friendly, so Morano shot her an email. "I just said, 'Hey, congratulations! Heard you got cast in The Handmaid's Tale. I've been trying to get in a pitch on that, but anyway, blah blah blah, whatever.'" Moss was filming season two of Top of the Lake and didn't get back to her (Moss has a hilarious out-of-office on her email that preemptively apologizes for never writing anyone back), but then a week and a half later, Morano says, "I got a call that they wanted me to pitch on it, and I was like, Hmmm. So I figured she had said something like, 'Give this person a shot,' you know?" Morano didn't know at the time that Moss was also a producer on the show, but however she got that meeting, she's grateful: "Just getting the opportunity to even pitch was probably the biggest hurdle."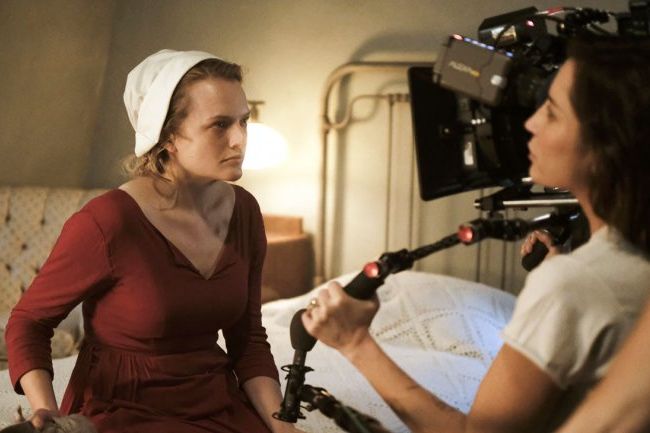 Morano set about re-familiarizing herself with Margaret Atwood's book for the first time since college. "I remembered how internal and visceral it was," she says. "That was what jumped out to me the most about doing it, because one of the things I love and always seek out in a project is an opportunity to make an audience feel something through visuals without actually using words, or using the minimum words possible."
The challenge was that the pilot was full of words and storytelling devices that Morano has spent her career trying to avoid, like voice-over and flashbacks. "Normally, if I saw a script that had a lot of voice-over or flashbacks, like this one does, I'd just be like, Nope! Throw it away and bail on it," says Morano. Still, she understood that those devices were an homage to the book, and what was needed to tell the story. "I think it brought about a creative challenge for me," says Morano. "Which was, how do you sustain all of this voice-over visually? Because you can't just sit on one shot all the time while these words are happening in her head, you know?"
Next, she had to convey her vision to the Handmaid's team. She put together a 120-page look book of graphically striking images (photographs she'd collected, stills from other films) and pages upon pages of written description that covered every aspect of the pilot, she says, "from sound design to score to tone to performances to the editing." She also explained extensively how everything would be shot, how emotions would motivate the camera movement, and how she imagined Gilead. "I wanted the audience to feel … never comfortable," she says. "So it was going to be a combination of very unsettling and oppressive compositions." Some would be completely symmetrical; others would be Kubrick-inspired, with frames just a bit off. She envisioned that at times she'd throw in a handheld camera — not a shaky cam, but one that, she says, "was a little bit alive so that you feel the tension in the room."
Her second challenge was how to shoot flashbacks while avoiding clichés. Morano's preferred aesthetic is "less is more," and she wanted the flashbacks to look like fleeting memories. "I pitched that they would always be shot in a way that felt more romantic, impressionistic, vérité," she says, "so maybe you didn't catch every line on camera, kind of like the way when you're thinking back on something, you don't remember exactly what everyone looked like in that moment, but you do remember certain parts of that moment." Nothing would be shot straight on, or with typical coverage, which would be her way of differentiating them from present day. "I went very specific, and I was going out on a limb hoping that they would love all of those ideas," she says. "And then we did them."
The third challenge was how to translate the color palette as described in the book onto the screen. "Margaret has every color segregated," says Morano, "so I knew right then and there the show was going to have powerful visuals, because I love to play with color." She had a whole section in her look book on what she calls "color control," meaning that only certain colors would be allowed in the frame at one time. She and her director of photography, Colin Watkinson, would then work to desaturate the overall palette, and oversaturate whatever they'd predetermined would be the prominent color of the scene, whether those were the red dresses of the handmaids, the blue dresses of the wives, or, in some cases, the irises of the actors' eyes. "We did things selectively," says Morano, "because I wanted to give the feel of an old photograph, where some colors just pop more than others." She also took inspiration from the particular vibrant red and peacock blue of Technicolor pictures of the '20s through the '50s — and from Martin Scorsese's re-creation of the Technicolor tones in The Aviator.
As soon as they spoke with her, Miller says, they knew they didn't want her to just direct the pilot, but to stay on for the first three. "I think that that decision, which was made very early on," he says, "was transformatively important to the show." (Fun fact: Morano shot the pilot in 12 days, and the next two episodes in 8 days each.)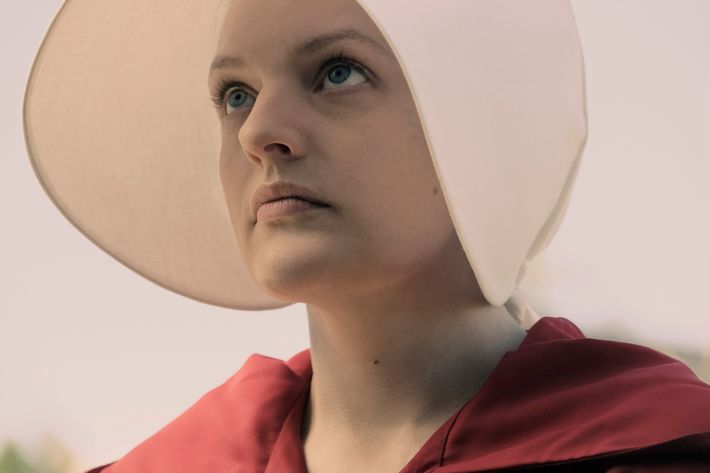 Morano, like Moss, was deeply involved in working with costume designer Ane Crabtree to decide the exact shade of red they'd use for the handmaids' uniforms. Morano needed them to be right from a cinematography standpoint, and Moss's concern was, "What fucking color am I going to wear for potentially a while, you know? And I was so crazy about it that I made Ane overnight Fed-Ex me a swatch of the fabric so I could look at it in person."
Deciding the look of the bonnets, or "wings," the handmaids wear took weeks of Crabtree mocking up prototypes that Morano would photograph her assistant or Moss in, in different types of sunlight. Chief among Morano's concerns was how to shoot actors in something that covers them up without eliminating too many of her angle choices. "Additionally," she says, "if you put a white hat on someone's head and then it shadows their face, it becomes an exposure challenge for the cinematographer." She needed to get the translucency to a point where the bonnets would allow enough light to filter onto the handmaids' faces for the camera to pick them up. "And soft, flattering light, at that," says Morano, "because, let's be honest, I wasn't doing the handmaids any favors by making them not wear makeup and sometimes adding makeup to make them look more tired and more distraught."
Then came the matter of how to shoot the bonnets in a way that the audience could feel like they were looking inside of them, while managing the limitations that they presented. "In a normal scene, when you're having two characters walking side by side down a street, you can shoot them from either side, and that's the way to cover a scene," says Morano, "and we didn't have that option anymore because we were covering up the sides of their faces completely with the bonnet." Morano and Watkinson decided that whenever they were trying to shoot Offred's inner thoughts, with or without a bonnet, they'd use a 28-millimeter lens, "which is a pretty wide lens for a close-up," says Morano. (Normally close-ups are shot on a 50-millimeter lens or higher, which is a longer lens and can be more flattering.) "But what's great about 28mm," says Morano, "is that it puts you physically closer to the character, literally. Oftentimes, the lens would be within the bonnet because that's how close we could get to the character with these lenses. More than anything, the bonnet shot was motivated by an emotional need to be as close as possible to Offred in these moments." (Moss joked at a Q&A that she was so close to the lens she'd bump into it. Morano doesn't remember such a thing.)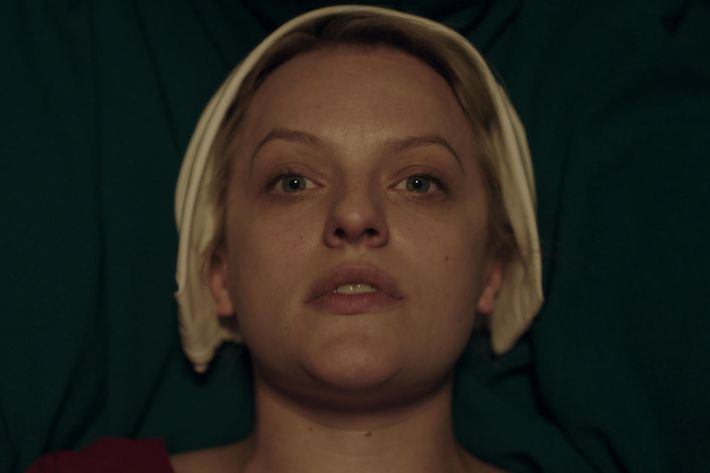 Watching the show, you'll notice that men's heads are often cut out of the frame. Morano says this isn't an intentional commentary on the separation of men and women in Gilead, but rather a byproduct of trying to shoot almost everything from the perspective of the handmaids. In addition to using the 28mm lens almost exclusively for Moss, Morano would often shoot her with a handheld camera, while shooting others with a more static camera. "It was a way of separating Offred from other people," she says.
As for the breeding ceremony, when Offred is looking over the Commander's body (Joseph Fiennes) and only sees his torso thrusting into her, "It wasn't a conscious decision to cut his head out," says Morano. "It was more about avoiding eye contact, so you could literally put yourself in the perspective of the handmaid. Like, occasionally, she could steal looks at him, and that's when we see him. And when she's not, she's looking at something else and avoiding his eyes." Whenever someone was in the scene, but not in the frame, that was Morano's way of trying to make the audience see things from Offred's perspective.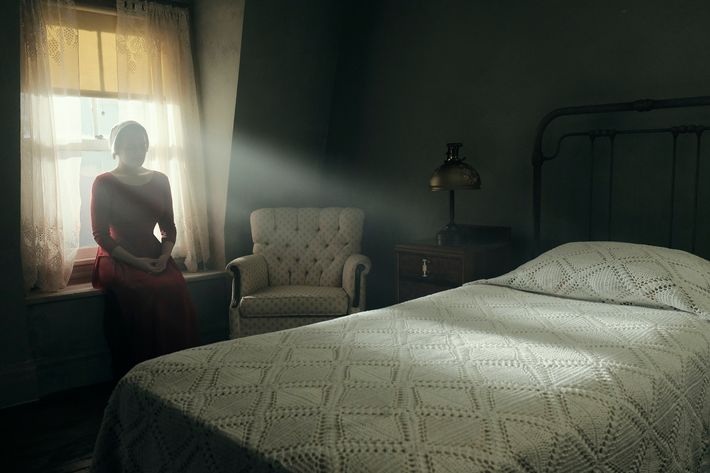 That great shot from episode one of Offred alone in her bedroom, after we've seen June get captured and her daughter taken from her, is meant to be gauzy and filled with diffused sunlight, like a painting. "That's our first introduction to her as a handmaid," says Morano, "and I liked the idea of not being able to see her face right away." She and Watkinson had pumped in smoke to create volumetric lighting as a way of keeping the audience's experience of Gilead mysterious for as long as possible. "We wanted it so you didn't 100 percent know what she looked like or what we were looking at, but where it also felt very dramatic," says Morano.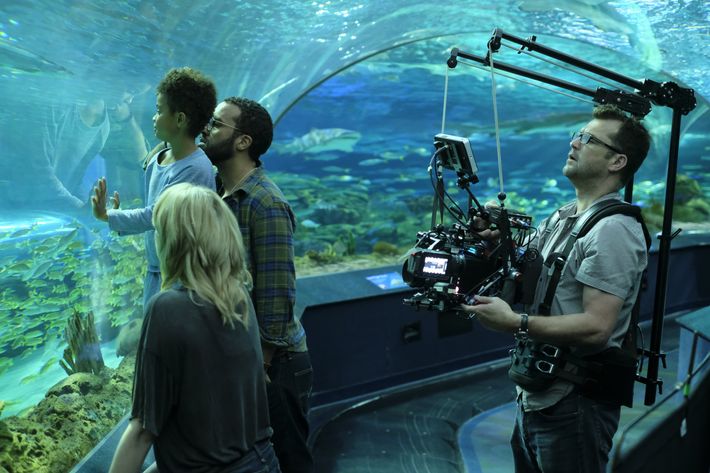 The episode-one flashback where June and her daughter stand in front of a wall of water at an aquarium wasn't in the original script — they were supposed to be playing in a bathtub. But Morano had taken her own young sons to the Toronto aquarium during preproduction, and, she says, "I was like, 'Dude, like, we gotta shoot here.'" She kept pitching it and pitching it, and getting pushback from Watkinson, who thought it would look cheesy. But as luck turned out, production ran out of time to find a bathroom that worked, and building one would've thrown them off schedule.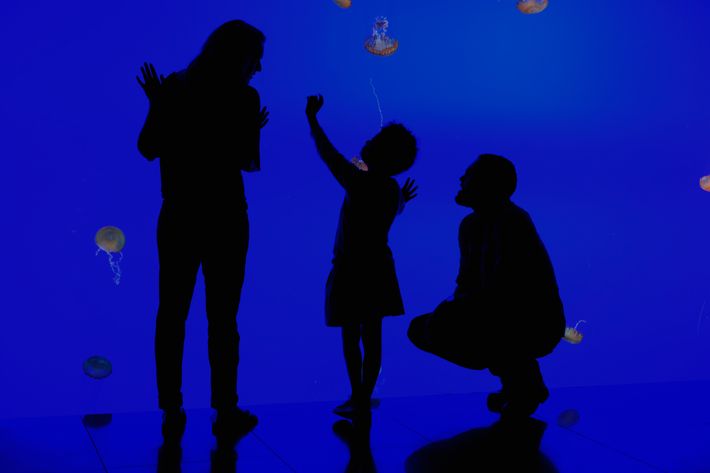 Morano just knew that she could pull it off in a way that felt eerie and surreal and kind of sci-fi, without any of the preciousness that can come with a flashback about a happy moment. "Everyone was like, 'Make them smile more,' and I was like, 'No, you don't understand. I'm not trying to create an idyllic moment,'" she explains. "'I'm trying to create a real moment, and in a real moment, people aren't just like laughing and smiling.' So I had to fight against that kind of a lot in the show, and most of the time I got my way."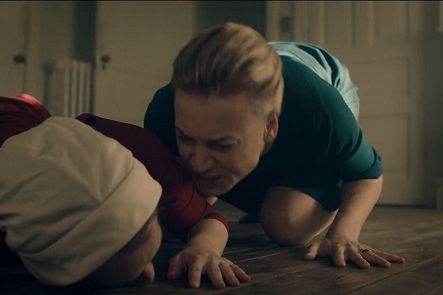 There's a terrifying moment in episode three when Offred tells Yvonne Strahovski's Mrs. Waterford she got her period and is not actually having a baby. Mrs. Waterford drags her to her room, throws her onto the floor, crouches down next to her, tells her she is not to leave, and screams, "Do you understand me?" Morano was operating the camera herself in that moment. She had the camera on the floor and knew Moss would be landing right in front of her. After discussing it with her actors, they decided Mrs. Waterford wouldn't be able to resist getting in Offred's face, even on the floor. "It doesn't matter that you're wearing like the tightest pencil skirt ever — you're going to get all the way down to the floor," says Morano, "and do whatever you have to do to make her hear you when she doesn't answer you. That was our first take when Yvonne did that, and it was so scary and amazing. The camera was literally on the floor, and I was just moving it from the left to the right."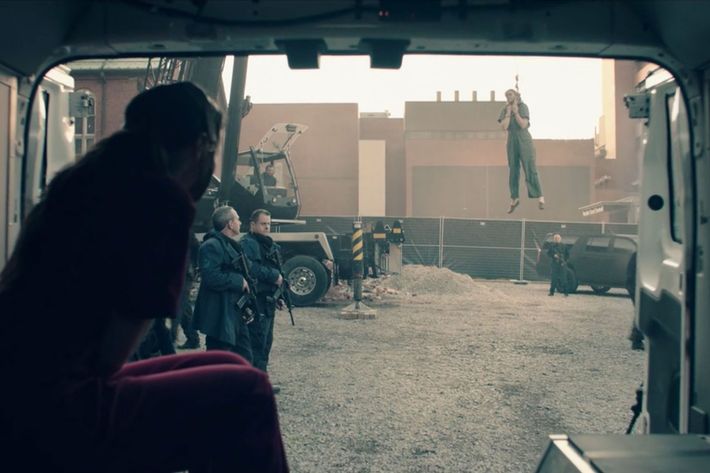 For the scene where Ofglen (Alexis Bledel) has to watch her lover — a kitchen staff member known as a Martha — get hanged, Morano knew she "wanted to see it all happen in one shot, so you're experiencing this woman get dragged out of the van and get hanged." Cutting away to tighter shots might, on paper, seem like a more emotional way to go, but Morano felt it would be a cop-out. "I just wanted the audience to feel as helpless as Alexis's character," she says. "So you can't move, and you can't look away; you're just seeing her from afar, and that's what would happen in reality."
To pull it off, the actress who played the Martha had to be willing to do the stunt. So they had to find, says Morano, "an actress who didn't mind getting hung, essentially." After a lot of practice, they rigged her up. As luck would have it, during their first take, just as the guardians were putting the noose around the Martha's neck, a flock of birds flew around her during the hanging, twice. "It just was like, you can't plan that," says Morano. "It was just one of those lucky, amazing, happy accidents that happens in movies sometimes. And the shot worked out."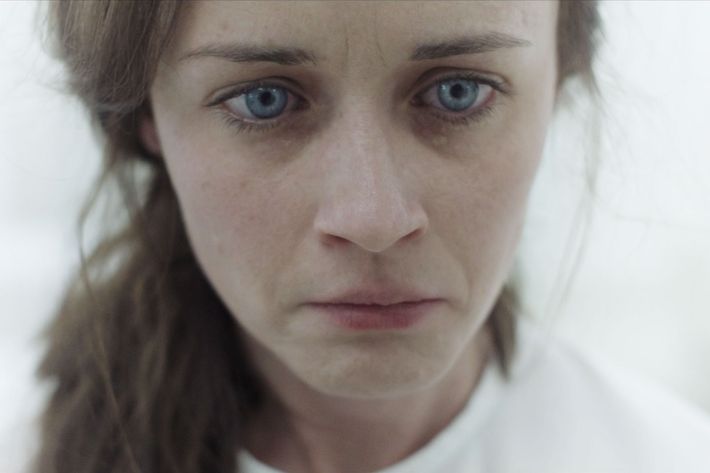 Among the most wrenching scenes of those first three episodes (and, surely, what helped get Bledel that Emmy) is when Ofglen, having lost her lover to that hanging, wakes up in a sterile room with her genitalia wrapped in gauze and realizes she's been the victim of a clitoridectomy — and she's being sent back into the Gilead to continue breeding. Morano shot Ofglen's realization to what has happened to her all in tight close-ups.
"It was handheld," says Morano. "I was holding the camera and talking to her during that part of the scene. And we were shooting her on the 28mm, which is usually reserved for Offred. But because we had switched POVs at that point to another handmaid, I felt like it was justified in that moment, especially given what had just happened to her." Then Morano and her editor, Wendy Hallam Martin, "put in jump cuts so that I could get to the different stages of her realization," says Morano, "like the denial, the realization, the fear, and then finally the anger and the rage."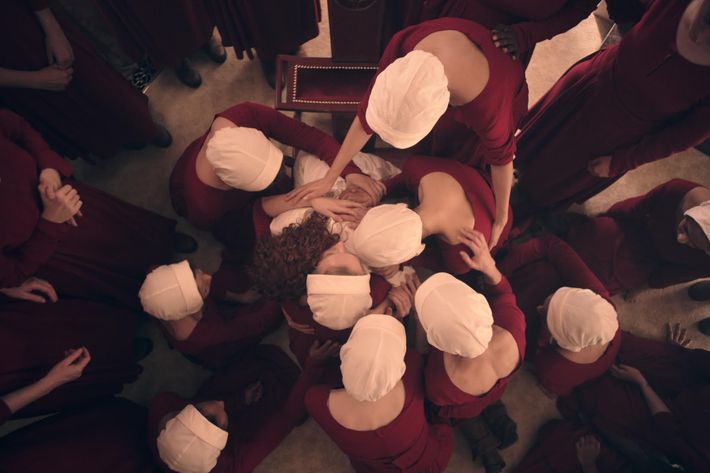 Morano counts this, along with the hanging and the Bledel close-ups, among her top four scenes. It's the one where all the handmaids and wives gather around Madeline Brewer's Janine just after she's given birth, only to have that baby ripped away from her. "There's quite a nice overhead shot of all the handmaids consoling Janine that I think is pretty special," says Morano. "And I really appreciate — just for the beautiful lighting Colin did — the scene where Offred goes into the bedroom to see Janine and tell her, 'You can't bite people.' I love that scene so much. I just think those ladies are so talented, and it just looked beautiful."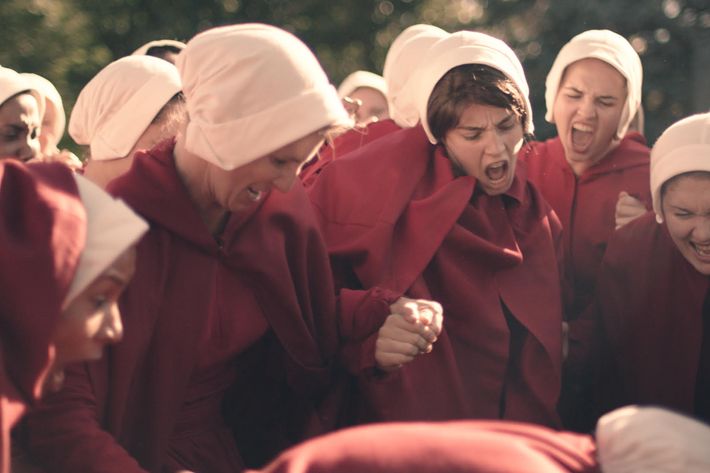 That birthing ceremony overhead shot is actually a callback to an overhead shot from the sequence Morano may be most proud of: "the salvaging," or when the handmaids beat a man to death at the end of episode one. Morano knew from the start that she was going to shoot the sequence in slow motion and fill it with sun flares because, she says, "I just wanted to contrast the violence with something really beautiful, and also, I felt like the slow-mo put you into Offred's head as it's happening — I wanted to stretch out time in her head."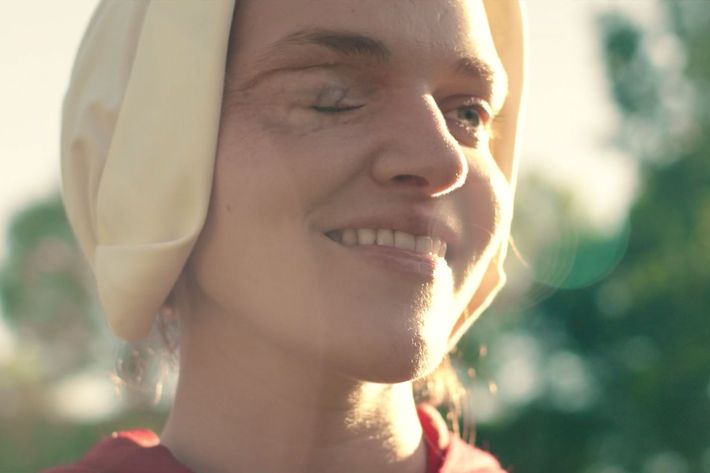 She had her camera operators on the grass, shooting low angles, and then, she says, "in the moment I had this idea that it would be really cool to see Janine wander off and not participate, but also be in the midst of all this violence, just spinning in circles in the sun. I really loved that moment, because it's all about how bizarre this situation is, you know?" Morano clearly has a lot of affection for Janine, as does Offred. There's a beauty in the way she never adopts survival skills, and how removed she often is from the reality of what's happening around her. "I think she's a special character," says Morano. "She's almost gotten to some kind of higher consciousness. Some would say she's crazy. I just say she's just reached another level."