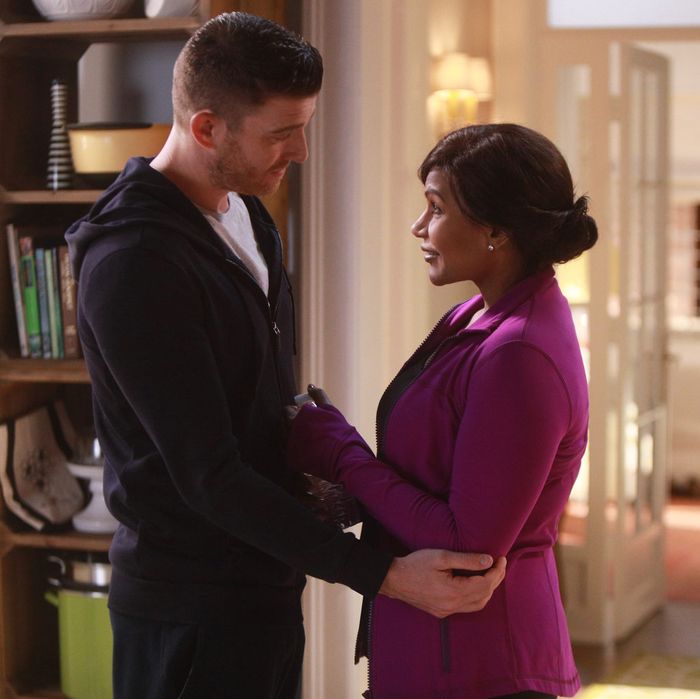 The Mindy Project began streaming its sixth and final season with the possibility of Mindy finding her happily ever after with Ben, so it's a good time for a (nearly) complete tally of her many love interests throughout the show's run. We've counted 21 substantial-enough-to-rank suitors, from Bill Hader as Mindy's dentist ex in the pilot episode to complicated baby-daddy Danny (Chris Messina) to that kind of weird romance with Garret Dillahunt's southern-fried Dr. Jody Kimball-Kinney.
Of course, ranking Mindy's love interests is a fraught exercise: Should we prioritize the qualities that make a good partner for real humans, or should we judge character traits and story arcs? I tried to split the difference, since Mindy Lahiri is not an actual person (alas), but we're rooting for her anyway. If this list shows us anything, it's that anyone can be the star of multiple romantic comedies throughout her dating life — and that the most interesting dates don't always make the best partners.
21. Dr. Tom McDougall (Bill Hader)
The dissolution of Mindy's relationship with the oral surgeon kicks off the entire series: After he leaves her to marry the Serbian Bagel Girl (and tells Mindy he wants someone "with more years to share"), Mindy ends up making an embarrassing speech at the wedding, getting drunk, and riding a bike into a stranger's pool. She promises to get her act together and concentrate on meeting a good guy — the closest we'll ever get to defining the vague "project" of the show's title. He may have been the worst, but he inspired our entire journey with Mindy.
20. Dennis (Ed Helms)
The Wall Street banker seems like a catch during a promising first-episode date, which Mindy has to cut short to deliver a baby like a boss. He was the perfect antidote to her post-Tom meltdown, but he tumbled quickly — first figuratively, then literally, down the stairs in the Thanksgiving episode. Mindy: "Speaking as a doctor you should be dead, but as a person, that was hilarious." Boring guy, good line.
19. Drew Schakowsky (Jay R. Ferguson)
Yeah, that was Stan from Mad Men playing a Princeton football coach during a slumpy between-relationships period in season four. Love the actor, but Coach Drew was so uninspired by his story line that he couldn't be bothered to move closer to Mindy or spend time with her kid. We don't blame him.
18. Dr. Jeremy Reed (Ed Weeks)
Jeremy would rank much higher on a list of Mindy characters in general, but his appearance on this list of her lovers is, frankly, kind of gross. They did hook up at the beginning of the series, back when Jeremy was an entirely different character: a playboy sex addict, not an uptight Brit with a poor-little-rich-boy backstory and an endless list of odd, dorky interests (decorative Japanese fan painting, for starters). It's too uncomfortable to contemplate, but this list wouldn't be complete without him. Moving on.
17. Jason Richman (Ben Feldman)
Feldman is adorable, but his culture writer character does little except serve a larger purpose: Mindy decides to prove to him how cultured she is by bringing him to Danny's ex-wife's photography show, where nudes of Danny are on display. A noble purpose, to be sure, but not much to work with in the way of character.
16. Marcus (Ne-Yo)
Played by Ne-Yo, Marcus takes Mindy on a series of amazing New York dates: a Chinese restaurant where cooks kill the chickens live, a performance-art piece where someone cracks an egg on Mindy's head, a Transylvanian restaurant that serves charred crow. He is, however, exhausting — and in the end, a mere pawn in the Mindy-Jody romance.
15. Brendan Deslaurier (Mark Duplass)
The Duplass brothers are golden as holistic midwife nemeses of Mindy's ob-gyn practice. Given Mindy's attraction to men with whom she clashes, she had to hook up with one of them, right? Appropriately, Mindy specifically chose Brendan as the perfect one-night stand, seeing no future with him and never respecting him.
14. Graham (Timothy Olyphant)
Olyphant looks great doing anything, but here he plays Mindy's complete opposite, a man whom she dates to prove that she's not judgmental. Turns out he's as terrible as initially feared, but their interaction yields this fantastic line from Mindy: "My body is very attracted to your body, but when you speak my brain gets angry."
13. Neel (Kristian Kordula)
This extremely hot Indian character is introduced in season four as a blatant response to criticism that Mindy dates many, many white guys (see: all of this list except Ne-Yo). Neel accuses her of being a "coconut" — a.k.a. Indian on the outside and white on the inside. To his credit, he is turned off by Mindy's lack of interest in her heritage. Even more to his credit, he agrees to help her meet more Indian people. Too bad sparks never flew.
12. Leland Breakfast (Jack Davenport)
I mean, the guy's name alone! Mindy indulges in a flirtation with this acclaimed British actor after seeing him in his one-man production of The Miracle Worker. He's mainly a tool to make Ben jealous during their early stages of dating, but damn if Leland isn't way more interesting, from his role as "Dr. Universe" in the Marvel movies to his excellent British texts. ("You're that cheeky bint with more curves than the Swindon Roundabout, aren't you?")
11. Josh Daniels (Tommy Dewey)
Josh was Mindy's first serious love interest on the show. He seems perfect for her, matching particularly well with her more superficial interests: He's a sports attorney who likes to go clubbing. But the character is unmemorable, except for the heartbreaking scene he causes at their joint Christmas party when Mindy finds out she's "the other woman." That, and this great line: "Indianapolis has a jazz fest? Gross."
10. Cliff (Glenn Howerton)
If you averaged all of the guys on this list together, you'd get Cliff. He's white, he's cute, he has a good job (lawyer), he gives good banter, his hair is phenomenal, but in the end he doesn't distinguish himself. That's why he's about halfway through this list: not memorably terrible, nor memorably great. The most surprising thing about him is that he was around for 11 episodes.
9. Adam (Josh Meyers)
In case you had any doubt whether Mindy had a type, here's proof: In episode two, she goes on a date with a guy played by Seth Meyers. In episode 20, she goes on a date with a prostitute/aspiring songwriter played by Seth's nearly identical younger brother, Josh. He gets a major bump up in the rankings on a number of technicalities: brother casting, embodiment of classic rom-com tropes from Pretty Woman and The Wedding Date, and a hilariously terrible song that casually references 9/11.
8. Charlie Lang (Tim Daly)
Charlie is a traditionally minded police officer who comes to Mindy's office to berate her for giving birth control pills to his teen daughter, but of course, they almost immediately start to flirt. He's basically an older version of Danny, and hot like fire. This could've been an interesting one if the relationship weren't weighed down by the specter of Danny.
7. Dr. Jody Kimball-Kinney (Garret Dillahunt)
Dillahunt is perfection, and so is his southern gentleman character: A fellow doctor accurately describes him as like "the spooky ghost from a Faulkner novel." When he's dressed up, nurse Tamra asks, "Were you arguing against evolution in court again?" He's so white and traditional that he's a fantastic foil for Mindy; one can understand the temptation to pair them off romantically. Some viewers loved the pairing, but I never bought it. They sparred more realistically as co-workers and business partners at Mindy's fertility clinic; their tender moments always struck me as more friendly than lover-y.
6. Jamie (B.J. Novak)
Did Mindy belong with Jamie? Clearly not. The whole point of this arc is that he's the Harry to his female friend's Sally. But it's always a joy seeing Kaling onscreen with her real-life ex/bestie. The episodes in which Novak appears are Mindy at its magical, rom-com best.
5. Matt (Seth Meyers)
The show's second episode indulges a classic rom-com fantasy trope: meeting a cute guy in a bookstore. When he's played by Seth Meyers, well, you tend to remember him, even if he lasted only one date.
4. Sam (Seth Rogen)
Rogen makes a one-episode cameo as a childhood love of Mindy's who's now a soldier and comes for a visit. Rogen's rom-com charm is on blast, and it's hard not to wish he stuck around for a real relationship. They seemed well-matched, if not for the whole Afghanistan deployment thing.
3. Ben (Bryan Greenberg)
Greenberg is cute and charismatic in an everyguy way. (I liked him so much on One Tree Hill (don't judge) and in the underrated movie Prime that I watched all of that show October Road that he starred in.) He's definitely Mindy's type, but much less complicated than Danny or Casey, and that would be a good thing in real life. If I were Mindy's best friend and Mindy were real, I would be happy to see her settle down with this nice, stable pediatric nurse. He has a lovely daughter who loves Mindy. He has a house in Jersey. He's caring and never tries to outshine Mindy. He doesn't judge her or want her to change. He's pretty much perfect. Thrilling to watch, however? Not from what we've seen so far. Here's to hoping he breaks out some surprise dance moves like Danny in the final season.
2. Casey Peerson (Anders Holms)
When Mindy meets Pastor Casey toward the end of the first season, we're as intrigued as she is. He's a character rarely, if ever, seen on TV: a cool, young Christian minister. The Mindy Project maintains an interesting fascination in religion as part of characters' everyday lives — Danny is a proud Catholic — and this allows for fresh characters and story lines. However, the relationship's ultimate detonation almost ruins the whole thing. The show sells us this unlikely union, we fall in love with it, the characters fall in love with each other, and then it's time to get rid of the guy … so he takes a totally unlikely and unpleasant turn: Casey has an existential crisis and decides to quit the ministry to become a DJ (and a doofus-y, less-substantial character). It's funny, sure, but it also feels like the sacrifice of a good character arc to keep Mindy's dating life open.
1. Dr. Danny Castellano (Chris Messina)
No matter what Ben does, he can never match the fire that Danny brought to the show at the heights of his opposites-attract romance with Mindy. Messina and Kaling had old-school enemies turned lovers banter and physical chemistry that radiated off the screen. Danny's dance performances were somehow sweet, awkward, and sexy all at once. Their kiss in the airplane galley is the show's signature scene, the one we'll remember when the memory of the rest of this list fades. The strange and painful dissolution of their relationship, brought on by Messina's exit from the show and the realities of keeping a rom-com TV show moving forward, doesn't negate Danny's contribution to the overall series. If nothing else, he should rank No. 1 just for bringing the legendary Rhea Perlman in as his Ma. I still miss you, Old Danny.