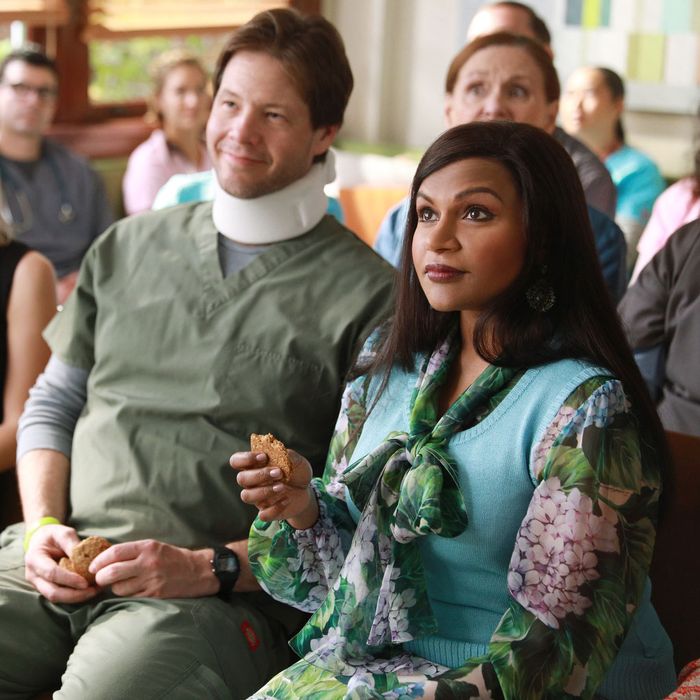 Photo: Jordin Althaus/NBC Universal Television/Hulu
Here we are, at the beginning of The Mindy Project's sixth and final season, and all I can hope is that all of our favorite characters get their happy endings. That doesn't necessarily mean marriage, or even love, of course. I just want them to get their due.
Mindy, for instance, seems to have genuinely grown since the first episode had her giving a drunk speech at her ex's wedding and driving a bicycle into a stranger's pool. But she's also struggling with the boredom that comes after the happy ending, now that she's married to Ben. It's an interesting dilemma, and one that will surely drive the rest of this season.
I'm pulling for the other focus character of this episode, too: the beleaguered Jeremy, a fantastically funny actor (Ed Weeks) and British accent in search of a clear character on this show. He's been a sex-addicted lothario (who used to hook up regularly with Mindy!) and a fat slob. He seems to have finally found his groove as a contentedly quirky Englishman with a pet bird/best friend named Roger, unbridled enthusiasm for needlecraft, and a remarkably sad childhood. Now he also finally has a compelling story arc: his relationship with the equally beautiful, polished, and weird Anna. Here's hoping this season also marks his redemption as a character, along with Mindy's maturation as a person.
So we begin with Mindy post–happy ending, moving in with new husband Ben. After a lifetime spent worshipping romantic comedies and chasing her own rom-com tropes, she is left with no blueprint for moving forward. She has a calm home life with Ben and their two children, with Ben happily making breakfast and Mindy trotting off to spin class. It's so normal that it's weird to see Mindy in it.
At the office, Jeremy is celebrating his anniversary as managing partner — another excellent move for his character, making him the organizing force in an office of chaos. Collette's ex, Karen, still works at the office, and she's made his favorite cookies (all-bran digestives, extra fibrous). Colette, however, wants Karen fired, even though Karen is great at her job — and Colette is the one who left her at the engagement party.
Meanwhile, Anna and Jeremy are celebrating their eight-month anniversary with a date that demonstrates how perfect they are for each other. "We're going to a lecture on 12th-century embroidery at the Cloisters," Anna says. Jeremy replies, "She's been needling me about it all week." Anna: "I hear the lecture is quite a stitch."
Later, in Jeremy's office, Mindy points out yet another way these two are a good match: "Tell me about your sex life. You're both so smooth. Do you just, like, slide all over each other?" And Morgan brings all the story lines together as they then discuss Colette and Karen's strife: "It is crazy that an office romance is devastating this workplace and you have nothing to do with it, Dr. L."
We get our first sign that Mindy doesn't necessarily love this arrangement when she offers to hang out with Jeremy that night instead of going home to Ben. It seems innocent enough: He wants advice on asking Anna to move in with him, plus he knows a place where a Roxette cover band is playing. But it's the beginning of a string of late nights out for Mindy without Ben. Anyone who's faced the quiet, often pleasant boredom of domesticity has to laugh out loud at Ben's genuinely excited text to her: "I'm psyched for tonight. I repurposed our leftovers from last night into kind of a cool soup!!!" Alas, she would choose fake Roxette over that soup.
Meanwhile, Jeremy adorably leads a conversation with Anna from his bird, Roger, through a number of bird puns, to the subject of nests, before Anna cuts him off: "Jeremy, we date, you don't have to segue." He finally tells her that he's trying to ask her to move in with him. She says she'll have to make a pro-con list — characteristic, but hardly auspicious.
The fact that Anna goes to Mindy for advice about this is another sign of Mindy's maturation. She's no longer the one causing the drama with her tempestuous interoffice romances; now she's the wise advice-giver. Anna explains that she's only been with three people: her gymnastics coach, her terrible ex Tim, and Jeremy. Mindy perhaps inadvertently pushes Anna away from settling down with Jeremy by bragging about her own "cool, slutty, feminist phase" … and then offers to walk Anna through all of her former paramours, evidence of whom she apparently keeps in an adorable box near her desk. Fun fact: Oscar Pistorius is among them! This conversation also keeps her late at the office again. And the next night, she volunteers to go to dinner with Tamra, who's trying to become a single mom through Mindy's fertility clinic.
It's the next morning when Mindy realizes that the figure in bed next to her, after she got home late again, is not Ben, but a pile of pillows. When she calls him, he reveals that the pillows have been in his stead the past two nights while he was at his old place in New Jersey. She promises to come home and hang out with him that night, no matter what. But then she delivers a baby until 11 p.m. and falls asleep in the lounge.
Anna follows Mindy's anti-commitment vibe, telling Jeremy that she doesn't want to move in with him. Instead, she wants to see what else is out there, and maybe make some mistakes. Jeremy complains to Jody, "I kept telling her that Mother always called me a mistake."
Clearly, both of these story lines are to be continued. May all of these characters get what they need, if not what they want. They deserve it.