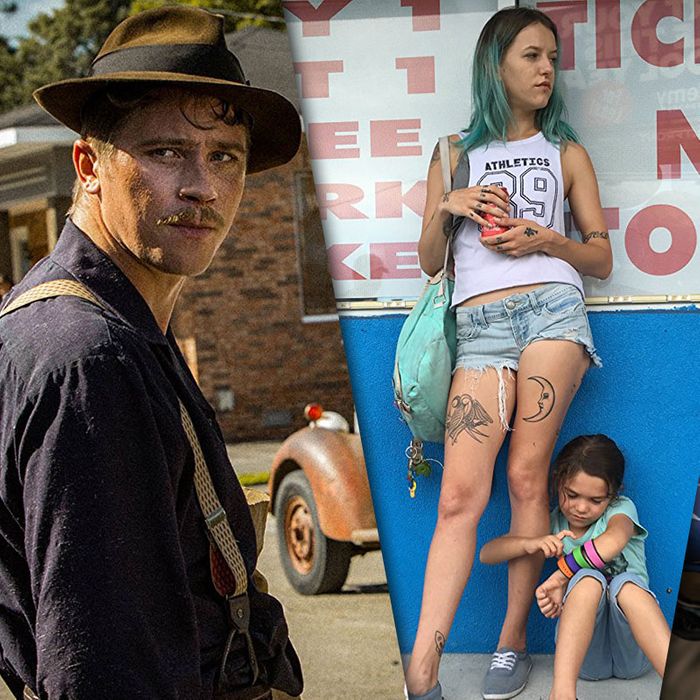 Mudbound, The Florida Project, Last Flag Flying.
Photo: Netflix/A24/Lionsgate
The New York Film Festival kicks off its 55th edition tonight with a slate full of favorites from this year's festivals, as well as some buzzy premieres. Here are the films whose NYC debuts we are most excited about, including the latest from Richard Linklater, Mary J. Blige's breakout performance in an Oscar-worthy role, and Sean Baker's dazzling follow-up to Tangerine.
The Florida Project: Stupendous. Sean Baker's follow-up to the shot-on-an-iPhone comedy about hookers, Tangerine, is something wondrously different: the story of rambunctious children bopping around a transient motel not far from Disney World. The crazy elation of the first half — as 6-year-old Moonee (the astounding Brooklynn Prince) and her friends go up and down the stairs making trouble at the "Magic Castle" motel — yields to something grim and wrenching. Bria Vinaite is very fine as the loving young mother who maybe shouldn't have responsibility for a kid — but who are we to judge? — and Willem Dafoe is unforgettable as the kind hotel manager who can't fix what most needs fixing.
Mrs. Hyde: It stars Isabelle Huppert, what more do you need? Okay, maybe a story, and in this case it's a good one: The Strange Case of Dr. Jekyll and Mr. Hyde transplanted by writer-director (and sometime actor) Serge Bozon to the world of academia. La Huppert — who won Best Actress at the glamorous Locarno Film Festival — plays a weird little widely mocked physics professor who gets struck by lightning and becomes … three guesses. But will she be able to control her blazing new assertiveness? Three guesses.
Last Flag Flying: Richard Linklater and Darryl Ponicsan adapted this alternately ribald and melancholy road movie from Ponicsan's sequel to his well-known novel The Last Detail — the basis of a great 1971 Hal Ashby film starring Jack Nicholson. Linklater has more or less kept the narrative, but given the three male characters new names and backstories. (That was probably a good idea without the original actors.) Steve Carell plays the sad, mousy little clerk who seeks out two former Navy buddies (Bryan Cranston and Laurence Fishburne) who barely remember him, but were the closest thing to friends he ever had. The movie is bitter about Vietnam, bitter about Iraq (it's set in 2003), but sweet — at least — about the prospects of men holding each other together through horror and tragedy.
Wonder Wheel: I don't personally know anyone who has seen Woody Allen's new '50s drama, which has been selected to close the NYFF. But if you listen to advance word (from someone), it's his most powerful in ages. The very limited Jim Belushi allegedly transcends those limits as a middle-aged Coney Island carousel operator married to Kate Winslet (!). The cast includes the often delightful Juno Temple and Justin Timberlake, a better actor than most people give him credit for.
The Other Side of Hope: Aki Kaurismäki, Finnish master of quirky minimalism, won the Silver Bear for Best Director at this year's Berlin Film Festival for this tale of Syrian asylum seekers and their alternately cruel and kind treatment at the hands of Europeans. The protagonist is a brutalized Aleppo refugee who's hired by down-at-the-heels Helsinki restaurateur — who must decide what to do when deportation looms. There's a rockabilly soundtrack, too — Kaurismäki loves heavily filtered echoes of America.
Mudbound: Dee Rees's sprawling mid-century epic made a big impression when it debuted at Sundance earlier this year, and it has its streaming debut on November 17. But with its novelistic scope and rich cinematography by Rachel Morrison, it's the kind of film that's worth seeing on the big screen if you can. Mary J. Blige, Carey Mulligan, Straight Outta Compton's Jason Mitchell, and Garrett Hedlund all give complicated, memorable performances as two families in the postwar South brought together by war and poverty and divided by the deep racism of their community.
The Rider: Chloé Zhao's second feature film after Sundance darling Songs My Brothers Taught Me is a heartbreakingly intimate tale of a rodeo rider forced to quit his profession after a debilitating brain injury. Filmed among a real-life group of riders in South Dakota, the film walks all the way up to the line between narrative and documentary, but Zhao's lyricism elevates it to something grander and more mythical. Like all great movies about humans and their horses, you'll probably want to bring tissues for this one.
The Meyerowitz Stories: Another Netflix film making a stop at NYFF before its streaming debut, Noah Baumbach's The Meyerowitz Stories is nothing groundbreaking — how many dysfunctional families have we seen flail under the influence of a toxic father figure? But the performances are what make it sing, including Dustin Hoffman, and Adam Sandler doing the best work he's done since Punch-Drunk Love. (Yes, you read that right.) It bears thematic resemblance to Baumbach's The Squid and the Whale, but it's somehow both more mature and more neurotic.
The Square: The big winner at Cannes this year is truly unlike any other film you'll see this year. Director Ruben Östlund deftly directs set piece after awkward set piece, loosely following modern art museum director Christian (the excellent Claes Bang) as he sets out to right a minor injustice and ends up bringing his personal and professional life crashing down around him. Elisabeth Moss is dryly perfect as his would-be love interest, and we dare you to find a better one-scene performance than Terry Notary's unforgettable, upsetting turn as a provocative performance artist.
Let the Sunshine In: Claire Denis is about the last director we would have predicted would try her hand at a romantic comedy, but the French director of such personal and political dramas as Chocolat and Beau Travail has naturally put her own spin on the genre. Juliette Binoche stars as Isabelle, an unhappy single woman of a certain age still trying to find connection with a host of eligible and not-so-eligible bachelors. Binoche's performance has been raved about, bringing to life a kind of romantic female lead we're not used to seeing onscreen.
Faces Places: French film legend Agnes Varda teams up with street artist JR for this heartwarming documentary. The odd couple set off on a road trip through rural France to create enormous, striking photo pieces that document the people who still live and work in the country's disappearing villages and rural communities. A festival favorite of 2017, Faces Places has widely been hailed as an essential look at what it means to make art in a rapidly changing world.
Wonderstruck: We don't envy Todd Haynes for having to follow up 2015's gorgeous critical favorite Carol, and we're not here to tell you that Wonderstruck is going to scratch that itch. But a time-jumping children's story is also far from safe, and it's admirable to see Haynes go outside his comfort zone. The parallel stories — one taking place in the 1920s, one in the '70s — feature the promising young Oakes Fegley, and deaf actress Millicent Simmonds in her first acting role.