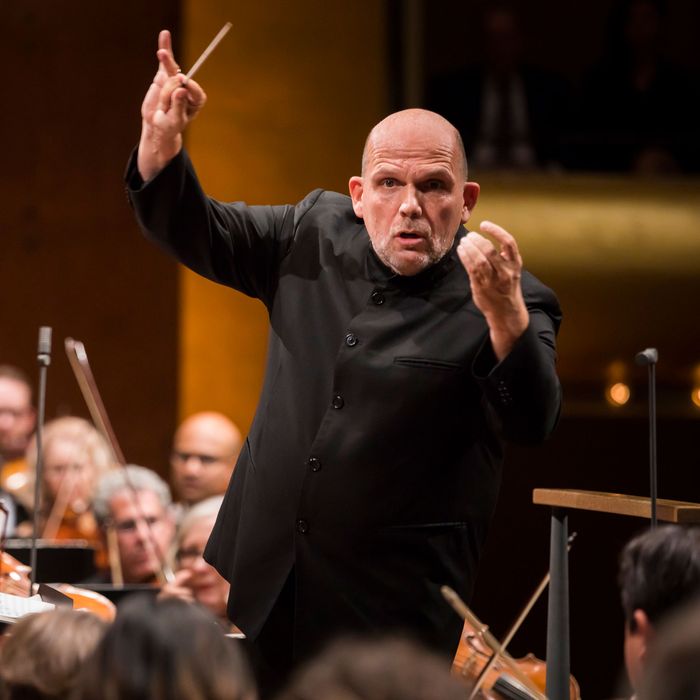 Jaap van Zweden, pumping up the Mahler on opening night.
Photo: Chris Lee
Any conductor craving a triumphant entrance at a new job could do worse than choose Mahler's Fifth, a blazing chariot of a symphony. Jaap van Zweden doesn't officially take over the New York Philharmonic until a year from now, but at the orchestra's opening-night concert on Tuesday, he was clearly the boss, giving a performance of ultrasaturated colors and athletic momentum. After the elegant nuances of the Gilbert years, this was a declaration of a new era. Mahler asks for one section to be played "mit grösster Vehemenz," and maxim vehemence is just what Zweden supplied — not just in that passage but in all of them. The symphony pumped along with blistering vigor, apotheosis following apotheosis like combat scenes in an action movie. Adrenaline flowed freely.
The Adagietto movement has become the ultimate sensitivity test for the tough-guy conductor, and many have responded to the challenge of slowness by making it slower still. Zweden resisted the temptation to slog.
Instead, he kept march-step going at a firm, steady clip, stripping the movement of that ethereal lightness that the best performances can summon.
Mahler sported an inner life of unbearable extremes, many of them dark, and the Fifth Symphony thrives on overstatement. At first, whenever Zweden would follow louder with loudest, or turn the heat up to a rattling boil, I pumped my fist in satisfaction. The Philharmonic's musicians play superbly even on an off night, and Zweden's attentions brought out an extra pop of perfection. The opening trumpet tune glistened, chiseled against the horizon. The nasal snarl of muted horns sliced through thick folds of strings. Timpani rumbled in a controlled seismic tremor.
But constant excitement can get tiresome. Eventually, over the course of the hour-long symphony, I started to chafe against the insistent thrill-seeking. Zweden treated more pensive passages as if they were pauses between sets, rather than experiences with their own more muffled intensity. The strings played the ravishing dirge of the first movement like a great choral exhalation, but as Zweden nudged the quiet snare-drum march and the heavy trombone chords into prominence, you could feel him salivating for a good fortissimo crash. It came soon enough.