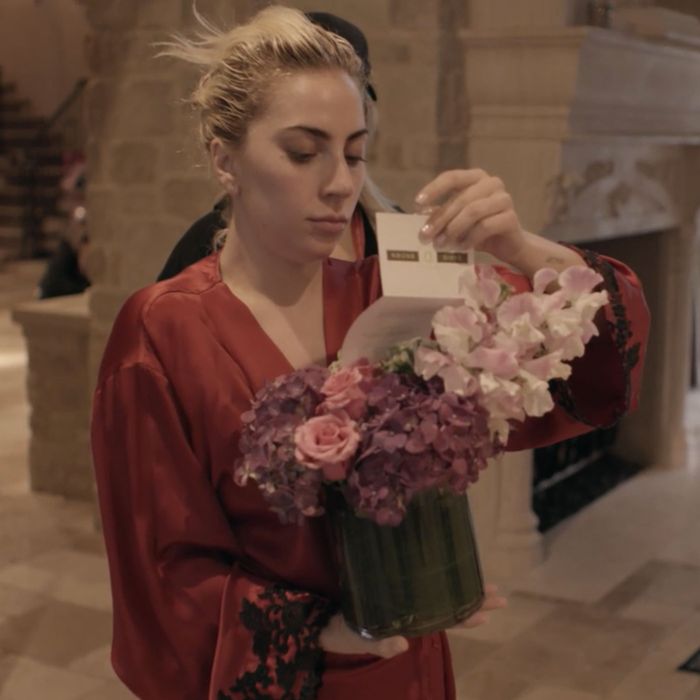 Someone's chopping onions again.
Photo: Netflix
Lady Gaga's new Netflix documentary, Gaga: Five Foot Two, cuts to the chase. She knows you want to know about her personal life, so she gets right into it in one of the establishing shots of the film: "Yeah, me and Taylor are fighting, so that sucks." Gaga is referring specifically to her ex-fiancé, actor Taylor Kinney, and the scene foreshadows their breakup, which will come shortly thereafter in the film, but will only be mentioned in passing onscreen. As she celebrates her casting in Bradley Cooper's A Star Is Born with a makeup-free morning cooking party in her home kitchen — one of the few times she stops to worry about how she looks on camera — she reflects on the crossroads in her relationship while minding the skillet.
"I'm just at a different time in my life now, where I just feel like my threshold for bullshit with men is, just — I don't have one anymore. I don't know if it's cause I'm 30, and I feel better than ever, you know?" she explains, doing a body roll. "All my insecurities are gone. I don't feel insecure about who I am as a woman. I'm not embarrassed or ashamed of what I have. I just feel more sexy and sexual. All of that shit is better." She looks off into the distance. "So I think what happens is … I don't know. In relationships you have to try to move together, I guess, as much as you can." Kinney and Gaga inevitably move apart, as the opening scene warns — and as its audience already knows, considering Gaga's life has been tabloid fodder since she first stepped onto the pop landscape, one Alexander McQueen heel at a time, years ago.
It's the first of many scenes in the film that break the perfect illusion of a pop star, revealing a woman at the top of her game professionally who's otherwise dealing with significant strife. Much of the documentary deals with loss, be it the aunt she never met who inspired her new album Joanne, the sinking reality that her best friend is dying of cancer, or losing control of her body to chronic pain. The doc only briefly acknowledges the loss of the men in her life, and how they've each happened during professional peaks. Instead, multiple instances of Gaga depicted in physical shock, her body half-numb and spasming from fibromyalgia, are sprinkled throughout the film. They're each brutal to watch, but as a viewer, your mind becomes conditioned to expect and endure them as they're repeated. The most difficult scene to watch, then, is one that breaks the monotony with an exchange that's as heartbreaking for the viewer as it must have been for Gaga in real life.
On the morning of the Super Bowl, where Gaga is set to perform at the halftime show in her biggest career highlight to date, she and her three dogs awaken to her foyer transformed into a florist's shop. There are bundles of flowers and balloons everywhere she looks. Then, an assistant hands her one smaller arrangement, purple and pink hydrangeas and roses, with a card attached to it. Gaga reads it in silence, expressionless, takes a deep breath, then closes it and walks to her kitchen. We've previously seen her shove a pillow into her face in agony during physical therapy and appear zombie-like after late-night studio sessions, but this is the most traumatized Gaga looks in the film.
"Well, nothin' like getting flowers from your ex-fiancé on the day of the Super Bowl," she says, trying to laugh off the gesture to relieve tension. She slams the flowers onto her kitchen counter, then into the sink. All her yes-men and -women in the room play along, uncomfortably chuckling and cheering on her sass. Until she turns to the assistant who gave her Kinney's bouquet for a hug that lasts long enough to make it clear she's genuinely unnerved. All the laughing stops. Another assistant raises an eyebrow as if to say, "Awkwaaaard."
Eventually, Gaga changes her mind: "Actually, we'll put them out. Nice and proud," she says, placing them next to the rest of the flowers so that they look like they could be from anyone. "That's very thoughtful," her assistant assures her. No one else in the room seems to know what to say.
Those flowers take nothing away from the accomplishment awaiting Gaga later in the day, but for a split second, they undercut the momentum and, worse, her happiness. We never learn what Kinney wrote in the card — this doc is intimate, but as director Chris Moukarbel told Vulture, it's no tell-all. But Kinney's words aren't as important or telling as the scene itself. On what should have been one of the proudest days of her life, a man could still make Gaga feel like the Super Bowl wasn't enough — and it's an indelibly painful moment to behold.