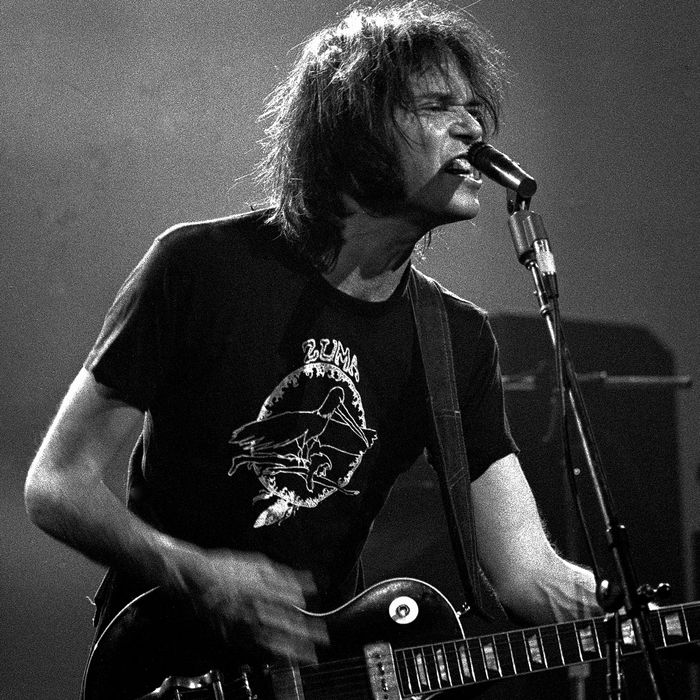 Neil Young in 1976.
Photo: Rick Diamond/Getty Images
Neil Young met his longtime producer and "musical soul mate" David Briggs while hitchhiking in Topanga Canyon in 1968. Eight years later, with Young's personal life in turmoil, the two booked Malibu's Indigo Ranch Studios (with only the actor Dean Stockwell looking on) to record Hitchhiker, a solo acoustic album that was never released until today. The album contains the original versions of some of Young's best-loved songs as well as two previously unreleased tracks.
Harvest, released in 1972, turned Neil Young into a household name. Recorded at Young's sprawling Broken Arrow Ranch near Santa Cruz with David Briggs at the controls, Harvest's songs — "Heart of Gold" and "Old Man" — threatened to pigeonhole Young as a soft-rock icon. In Rolling Stone's original review of Harvest, John Mendelsohn took dead aim, accusing Young of "…invoking most of the L.A. variety of superstardom's weariest cliches in an attempt to obscure his inability to do a good imitation of his earlier self" and that he had "seemingly lost sight of what once made his music uniquely compelling and evocative and become just another pretty-singing solo superstar." And so, sensing complacency setting in and his relationship with the mother of his first child crumbling in Northern California, Young began splitting his time between Broken Arrow and a rented house in Malibu, California. In the liner notes for his 1977 compilation album Decade, Young said, "'Heart of Gold' put me in the middle of the road. Traveling there soon became a bore so I headed for the ditch."
By 1974, Young was singing songs about pissing in the wind and, in the process, alienating folk-music fans in droves. His next three releases, Time Fades Away, Tonight's the Night, and On the Beach — "The Ditch Trilogy," as it's referred to by Neil Young heads — found Young dealing with death, loneliness, and heartbreak. The death of Young's Crazy Horse bandmate Danny Whitten looms large across all three records. Young fired Whitten from his band on November 18, 1972, sending him back to L.A. with a plane ticket and $50. Whitten died later that night. As a result, these records are the darkest of Young's career, and were alienating enough that they all sold poorly at the time of their release.
1974's On the Beach remained out-of-print for decades before being rediscovered and praised as one of the best records of the 1970s. Like most songs on The Ditch Trilogy, there's a sense of dark reflection clouding On the Beach and the fans of the soft moments on Harvest weren't ready for it. Even his close friends didn't like where Young was headed. When his CSNY bandmate David Crosby heard On the Beach's "Revolution Blues," Young's disaffected, pseudo-political ode to his acquaintance Charles Manson, Crosby told him, "Don't sing that. That's not funny."
Almost 30 years old and more famous than he wanted to be, Young retreated to a house on a deserted stretch of Malibu's Broad Beach, just up the Pacific Coast Highway from Zuma Beach. There, he hung out with Rick Danko from the Band, who built their Shangri-La Studios a few hundred yards up the canyon from Zuma. He cruised down PCH in a giant blue 1959 Cadillac Eldorado Biarritz convertible nicknamed "Nanu the Lovesick Moose" by David Briggs.
The Malibu that Neil Young describes in his memoir, Super Deluxe, was one of freewheeling experimentation, both musical and pharmacological. He sheepishly recalls playing Hitchhiker's title track for Bob Dylan one night in 1974: "When he heard "'Hitchhiker'… he told me 'That's honest.' The moment still crosses my mind. It makes me laugh every time I think of it because Bob's humor is so wry. I think it was his way of saying kindly that the song was not very inventive as far as creating a story goes, just that I was following a history and not making up anything new."
Young disliked most aspects of rock stardom but he did like having pretty girls around. After seeing Carrie Snodgress in the 1971 film Diary of a Mad Housewife, Young pursued her and they fell in love. Snodgress gave up her promising acting career and moved with Young to Broken Arrow, where the two started a family, welcoming their son Zeke into their utopian Northern California paradise. The domestic tranquility didn't last long, and in early 1974, Young and Snodgress separated. He describes the breakup in Super Deluxe: "The love had been intense but it was not strong enough to survive … I remember thinking that I would never do that again."
Snodgress eventually left Broken Arrow and moved to Hollywood so Zeke could continue to have a relationship with his father. Young was wary of the fame-obsessed people Carrie hung out with, preferring to spend his weekends with Zeke holed up in the house on Broad Beach, building fires in the sand.
Young eventually bought Meeker Mansion, the last house on a deserted stretch of Malibu's west end, not far from his rented place on Broad Beach. The house was lined with red bougainvillea vines, a tropical plant his mother loved. David Briggs had made the move to Malibu as well, setting up a studio in his basement where Young and Crazy Horse recorded 1975's Zuma. The loose atmosphere of the Briggs basement and Crazy Horse's rudimentary playing suited Young's experimental nature. Fueling that experiment was Young and his cohort's mass consumption of "Honey Slides," a baked combination of marijuana and honey eaten off a spoon that Young describes as "like heroin." The songs that Young, Briggs, and a rotating cast of musicians crafted in that basement — including the seven-and-a-half minute "Cortez the Killer"— are among their darkest, loosest, and most expressive. Briggs took Young's solo sound from folk to experimental hard rock without losing what made Young special. Those Malibu years were defined by Young's loose interplay with Crazy Horse and his willingness to go deeper into his own psyche. His mid-'70s output stands among rock music's greatest hot streaks.
Dean Stockwell and Neil Young met in the late '60s and maintained a friendship and a strong artistic admiration for each other. Young borrowed the title of a sci-fi film Stockwell was trying to make called "After the Gold Rush" for one of his most famous songs. Stockwell, a child actor who later went on to star in Compulsion with Orson Welles and Anchors Aweigh with Gene Kelly and Frank Sinatra and the TV series Quantum Leap, was a renaissance man. His artistic talent is evidenced on the cover for Young's 1977 album American Stars and Bars, which he designed. The two would later co-direct the 1982 film Human Highway, a comedy starring Young (billed as his alter ego Bernard Shakey,) Russ Tamblyn, Dennis Hopper, and the band Devo. Stockwell was also with Young and Briggs the night they made Hitchhiker.
One night in 1976 Young, Briggs, and Stockwell drove up a steep canyon road to Malibu's Indigo Ranch Studios with a bunch of booze, weed, and cocaine. Indigo Ranch, Briggs's favorite place to record, was nestled in 60 acres of wooded canyon, allowing for the kind of deep isolation Young sought for Hitchhiker. With Briggs behind the board and Stockwell watching from the corner of the room, Young opened the ten-song solo album with a question for his closest friend, "You ready, Briggs?"
What follows is a testament to what one person can do with a guitar and his voice. Opening with the earliest recorded versions of "Pocahontas" and "Powderfinger," two Young classics, Hitchhiker has a spare familiarity. Part of the record's charm is hearing a song like "Powderfinger" stripped of the heavy, fuzzed-out lead that dominates the officially released version on 1979's Rust Never Sleeps. With the muscle gone, the song's 22-year-old narrator sounds even more frightened. When he sings the song's key line, "I saw black and my face splashed in the sky" it's alarming not to have that bleak sentiment covered over by the song's signature guitar riff.
Neil Young diehards, of course, already have heard most of Hitchhiker. But apart from the songs already familiar to casual fans, worthwhile deep cuts like "Captain Kennedy" (later released on 1980's Hawks & Doves) and "Ride My Llama" appear in stripped-down fashion. The only unreleased songs on Hitchhiker are "Hawaii," a sad ballad about a drifter trying to get back to the islands, and the haunting "Give Me Strength," which Young occasionally plays live.
The song "Hitchhiker," which Young had played for Dylan years earlier, is a list of various drugs and their effect on Young's psyche. It ends in typical Young fashion, "I wish I was an Aztec or a runner in Peru / I would build such beautiful buildings to house the chosen few."
The album ends with "The Old Country Waltz," with its line about being "in an empty hall, bouncing off the wall," perhaps a reference to the empty Indigo Ranch and the drugs consumed that night. There's a stoned sadness to Hitchhiker that bleeds into every song, Young's high-pitched wail sounds both pained and relaxed. Young commented on the night of recording in Super Deluxe: "It was a complete piece, although I was pretty stony on it, and you can hear it in my performances. I laid down all the songs in a row, pausing only for weed, beer or cocaine." Briggs pulled Young through the haze, mixing live in his favorite studio. The recording is simple and appropriately rough for three guys hiding out in a Malibu recording studio getting blitzed.
On October 23, 1978, a 15-year-old arsonist stuck a lit cigarette into a matchbook and set off the Augora-Malibu Firestorm. The fire destroyed 25,000 acres of land and 230 houses in its path, including Meeker Mansion, the Malibu house where Neil Young held Zeke in his arms and listened to the ocean. Almost two decades later, in 2007, Indigo Ranch would also burn down in a canyon fire that tore through Malibu.
After the fire, Young returned to Broken Arrow where he met a waitress named Pegi. They would marry in 1978 and spend 36 years together. Then in 2014, the couple divorced, and Young, who was now dating Daryl Hannah, returned to Malibu. It is not uncommon to see him driving down PCH, marking the second time that he left Broken Arrow for the seaside paradise. Young told Rolling Stone about his life in Malibu in 2016, "Where I live now, I have a studio nearby; I can just go down there and work in it when I feel like it." He added. "I feel free to do whatever I want to do."
When Neil Young wanted to make a record, he always had David Briggs to help him find the right sound. That night in 1976 when they recorded Hitchhiker is an intimate look at one of those impulses. It's easy to picture Young, now 71, walking the same beaches and canyons where he and Briggs dreamed up the freewheeling sounds that would define both of their careers. David Briggs passed away in 1995, ending three decades of collaboration and friendship. The physical landmarks of Young and Briggs's Malibu in the '70s may be gone, but Hitchhiker seeing the light of day in 2017 is Neil Young's intimate farewell to a friend.