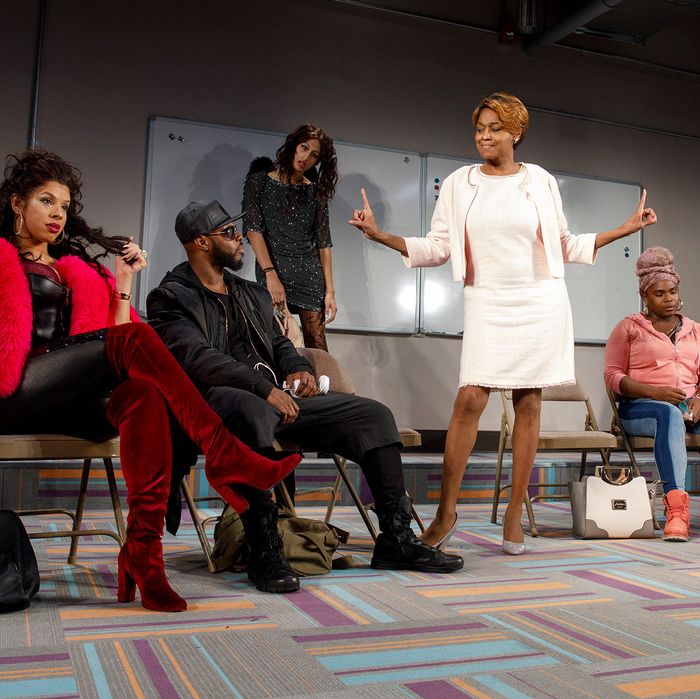 Charm
at the MCC Theater.
Photo: Joan Marcus & Lisa Berg
"Just because you got an ugly past, that don't mean you can't have a beautiful future."
So says the inimitable Mama Darleena Andrews in Philip Dawkins's aptly named Charm, directed with brio by Will Davis at MCC Theater. Mama Darleena (or, once you get to know her, Mama Darlin, or simply Mama) is a 67-year-old black transgender woman with a fondness for colorful suit separates and the etiquette writings of Emily Post. We meet her as she's embarking upon the quest of teaching the latter to the mostly homeless youth at an LGBTQ community center in Chicago's Northside.
It's an audacious project, and it's drawn straight from the real life of Miss Gloria Allen, who (her program bio tells us) began living as her true gender at the age of 19 and, almost 50 years later, started leading weekly Charm School classes at the Center on Halsted in Chicago. Though Dawkins is careful to note that the characters in Charm are fictional, he readily credits Miss Allen with the inspiration for his heroine and his play. Now, having been played in Charm's 2015 Chicago premiere by a cisgender man, Mama Darlin makes her New York debut in the classy and charismatic person of Sandra Caldwell, a fine actress with a career of almost four decades who has only recently begun to speak publicly about her trans-identification (in fact, it was this very project that inspired her to share the truth of herself with the world).
Taken all together, that's a pretty amazing starting point for a play — as director Davis notes in the New York Times article above, "The fact that a trans woman of color in her 60s is alive is a miracle in and of itself." Davis himself is trans-identified and placed the highest priority on casting Dawkins's characters with performers whose own gender identifications matched those of their characters. Not only is his decision a responsible, exciting, and — one hopes — influential one in a world where whitewashing (Scarlett Johansson, Emma Stone …) and ciswashing (Jared Leto, Matt Bomer …) remain rampant in casting, it also led Davis to assemble a truly outstanding company of performers.
Especially fabulous (in all senses of that word) are the "youths" — as the grounded, sympathetic Kelli Simpkins in the role of the community center's administrator, D, calls them. From their first explosive entrance to sound designer Palmer Hefferan's high-octane soundtrack (Hot tip! You can access her Spotify playlist for the show here and, people, it's lit), Davis's young cast members thrive under his brisk and confident hand. He knits them into a clearly cohesive and affectionate ensemble, while allowing each of them to shine. And shine they do. Hailie Sahar is fierce and ultimately full of pathos as the razor-tongued streetwalker Ariela. Marquise Vilson, who has only recently begun his foray into professional acting, is rock-solid and deeply moving in the role of Beta, an alpha gangbanger with a secret. Lauren E. Walker is delightful as Victoria, a heavy girl with no home, two kids, and a huge soft heart. And both Marky Irene Diven (as Lady) and Jojo Brown (as Jonelle) give smart, funny, affecting performances as the two members of Mama's flock who haven't quite settled on a gender identity — on a "side" of trans.
This issue of "sides" sits at the heart of Charm and ends up being the key to its effectiveness. It's what raises Dawkins's play a step above the well-trod, feel-good territory of "unexpected teacher eventually wins over class of marginalized young people" and into a more urgent dialogue about identification and acceptance. Mama, who has lived all her adult life as a woman — as a lady — and who passionately believes in the gospel of good breeding, comes to the Center flush with good intentions, good qualities, and also with a highly gendered view of the world. "I'm gonna need all the boys on this end of the room," she commands as she attempts to teach her "babies" formal dancing. "And all the girls come over here … Pick a side and stay there, for heaven's sake." When Logan (Michael Lorz in a sweet performance of the class's one tourist, a pretty, privileged gay boy who's about to start school at Notre Dame) asks, "What if you're like … in between?", Mama replies with a burst of sass that would make RuPaul proud: "Fine, butch queers over there, sissy queers with me."
It's a huge laugh line, but it also reveals Mama's bias. We all age out of an ability to keep up with the rapid currents of the world — at least, as quickly as those that come after us would like us to — and Mama can't fathom the concept of "in between." In the life she has lived, "picking a side" means both confidence in one's identity and (a higher chance of) physical safety. Now she — like many in her generation, whether cis or trans — is encountering a present where "they" is a legitimate chosen pronoun for an individual, and where someone like Jonelle might write "Male and Heterosexual" on her Center sign-in sheet, use the pronoun "she," and rock sparkly bodysuits, full-face makeup, wigs, and angel wings on her hormone-free, born-male body (and hell yeah, does she rock them). This is not Mama's world, and the intelligence of Charm is that it's actually structured around her awakening, as much as it is around the the transformation of the Youth. They might have some things to learn, but Mama has her share to unlearn, even as she teaches.
The play's more simplistic side emerges in the relative ease with which minds and people are changed for the better. It takes pretty much a single argument — impassioned though many of these conversations are — to open up someone's heart, to alter a long held perspective, to move from conflict to understanding and forgiveness.
And you know what? That's okay. A play like Charm is not mounting an angry assault on the world in which it lives — our world, admittedly a severely unjust and fearful one. Instead, it's attempting to be the theatrical equivalent of those pictures from the '60s where a demonstrator meets the barrel of a rifle with a flower. One could argue that there are two kinds of protest narratives: the condemnation and the celebration. I recently reviewed Fucking A and In the Blood by Suzan-Lori Parks, which participate in the former category, turning a damning gaze on contemporary capitalist sexism, racism, hypocrisy, and greed. But Charm is a celebration, a story rooted in reality but touched with a kind of optimist fantasy: It is attempting to create the world it wants us to live in. (Mama Darlin even clues us into this ethos as she tells her babies about the power of a well-beat face: It makes you fabulous — helps you to make up your own narrative, your own fable.)
If there is a whiff of unreality to Charm, perhaps that is for the good. It doesn't need to be tortured. It can show us a happy ending, and hope to inspire a world in which more of those are possible.
Charm is at MCC Theater.
A trans actor, she is now known as Jorja Brown.