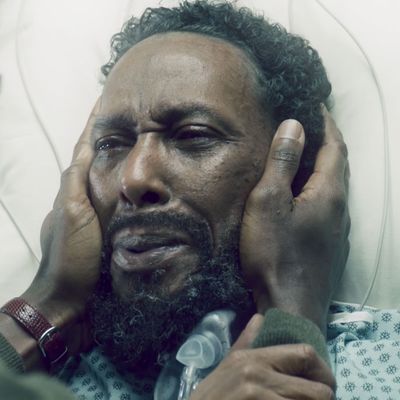 In the debut season of NBC's This Is Us, we learned a lot about the Pearson family. They are all pretty, they are all broken, and man, do they love Thanksgiving. But something else was immediately clear: The Pearsons and pretty much everyone around them love a good monologue. All of them, including their ob-gyn, give good speech. Season one was riddled with declarations of love, angry tirades, musings about life and death and magic T-shirts. In preparation for a whole new batch of moving monologues in season two, Vulture has selected the very best of these moments and ranked them for your reading pleasure. Warning: There will be tears.
11. Kevin's Art Lesson (Episode 5, "The Game Plan")
This moment, in which Uncle Kevin has to do damage control after freaking out his nieces with a misguided attempt to explain death, definitely errs on the cheesy side, but it's easy to forgive because the speech has a lot of work to do. First, it is a big character moment for Kevin: It shows a sensitive, artistic side to the typically self-indulgent actor. He paints! He feels! He is loving and sweet with his nieces! Kevin needs these types of moments. But mostly, this speech is important because it acts as a thesis statement for the entire series. Kevin stops short of literally saying "this is us," but he gets pretty darn close. The painting represents Kevin's thought that life doesn't end at death or begin at birth, that we're all in the same painting everywhere, all at once. That just because we die, it doesn't mean we're not still in the painting. This Is Us, with its jumps throughout one family's history, relies on this very belief. Kevin is real meta, you guys.
10. Miguel's Advice for Kevin (Episode 15, "Jack Pearson's Son")
Yes, it's true: Even Miguel made this list. I don't like it any more than you do, but you have to give props where props are due — and Miguel deserves it for his simple yet affecting speech to Kevin, after Kevin comes looking for his mother to help deal with his opening-night jitters. This speech is short, but not only does it remind Kevin that his father is a part of him, but it also reminds the audience that when Jack died, it wasn't just the Pearsons who grieved the loss. Miguel lost his best friend — he misses his buddy! Sure, he married that buddy's widow, but this moment is a reminder that maybe we all need to reserve judgement until we get some additional details.
9. Rebecca and Jack's Parenting Scale (Episode 2, "The Big Three")
These two declarations of parenting work best as a pair (just like Rebecca and Jack, aww). When Jack comes home late and drunk again, Rebecca puts her foot down: He needs to do better. She asks him how he thinks they are doing as parents on a scale from one to ten. According to Rebecca, the numbers are not in his favor. The next morning, after sleeping outside of their bedroom, Jack is finally able to answer his wife. He's tired of not making her happy anymore. He'll stop drinking. He'll do better. For her, he'll be a 12 (for the kids, an 11). Both of these speeches work so well because, first, they are in stark contrast to the pair of lovebirds we met in the pilot, and second, because the cracks they reveal in Jack and Rebecca's marriage add layers to their relationship. It makes them feel more authentic, and not just like angel people who came down from heaven to grace us with their beauty.
8. Randall Meets William ("Pilot")
The first time Randall meets his biological father, he delivers an epic tirade about his "lights out" family, how he paid $143,000 for his car because he "felt like it," and how he simply wanted to look William in the eyes and tell him he doesn't need anything from him, because his life turned out just fine. It is wonderful. This is one of our first looks into who Randall is, and we learn so much: what he considers "successful," that he obviously still suffers from abandonment issues, that he loves his family. It also introduces us to the tour de force acting of Sterling K. Brown. Not only does he give us gorgeous dramatic nuances to a character in just the pilot episode, but he also shows off his comedic timing. At the end of Randall's monologue, William asks if Randall wants to come in — and after all that yelling, Randall doesn't hesitate. It's perfect.
7. Beth's Toast to William (Episode 17, "What Now?")
Let's be real: Beth Pearson is the best of us. Although she spent most of season one supporting characters with bigger story lines, actress Susan Kelechi Watson made the most out of any moment. Of course, the best example of this is how Beth deals with William's death. So much emphasis is put on William and Randall's relationship, it's easy to forget how William affected Beth, so it's only fitting that Randall hands over the mic when it comes time to honor his late biological father. Honestly, she's the best person to do it properly. Her toast to William's life is honest ("I'm pretty mad at him for leaving"), it is loving ("God, he was my friend"), and it is heartbreaking ("We'll remember things as before William and after William"). It's basically perfect, as is Beth. Can we please spend more time with her? Okay, great, thanks.
6. Kevin's Three Sentences (Episode 13, "Three Sentences")
Kevin's grand gesture and declaration of love to his ex-wife and childhood sweetheart Sophie is very endearing. What can I say? I'm a sucker for a guy who appreciates punctuation.
5. Rebecca's Chat With her Unborn Triplets (Episode 12, "The Big Day")
Hey, everybody! Want to fall in love with Mandy Moore? Watch this scene. It's a joy to watch Rebecca go from excitement over the prospect of making Halloween costumes, to extolling the virtues of Jack ("Oh my God, you guys are going to freak out when you see how awesome your dad is"), to being honest and terrified about her insecurities and flaws. But more important, this moment sheds some light on a character who isn't always easy to love. News flash, you guys: Rebecca knows she isn't easy to love. As the season goes on, this self-awareness makes it easier to respect her as the most complicated character on the show. Also, that moment when Rebecca laughs thinking about her kids laughing? That is really good stuff. It almost makes me want Rebecca to adopt me, but then I remember how she lied to her son for 36 years. Hard pass.
4. William's Thanksgiving Monologue (Episode 8, "Pilgrim Rick")
We know William has a way with words: His nickname was Shakespeare, he writes a book of poems for Randall, and dang it if some of his lines don't just punch you in the heart. One of the best examples is his conversation with Olivia Maine during the Pearson Thanksgiving festivities, when she asks him about dying. Sadly, this brilliant speech is wasted on the likes of Olivia Maine, but hey, at least we get to hear it. The entire thing reads like a poem, but none so more than the end: "Catch the moments of your life. Catch them while you're young and quick, because sooner than you know it, you'll be old and slow and there'll be no more of them to catch." Not to mention, he also uses this time to preach the value of a slice of pie. This speech is firing on all cylinders.
3. Jack on Why He Still Loves Rebecca (Episode 18, "Moonshadow")
Bless Jack Pearson for not making the last memory of season one be the gut-wrenching fight he and Rebecca have before deciding to separate. (Could you imagine spending all summer thinking mom and dad really hate each other and true love is bullshit and we should just eat endless sleeves of cookies until we feel brave enough to face the searing hot sun?) Although we learn that Jack and Rebecca hit a big ol' rough patch before he dies, at least Jack makes one of his patented "love will make everything better" speeches before heading over to Miguel's house to ride out the storm. Boy knows how to drop a mic. During their epic spat, Rebecca asks Jack if he even knows why he still loves her. He can't answer then, but man, does he have an answer for her the next day. That answer is full of things like "you dance funny" and "you laugh with your entire face," which is to say, very swoony and I don't know why Rebecca doesn't kiss him right then and there. (Just kidding, it was probably the aforementioned screaming match.) The real kicker is how the ever-optimistic Jack ends by reaffirming to Rebecca that their love story is just beginning. It is a lovely sentiment that is a real punch to the gut, since we all know Jack doesn't have much time left. What an emotional roller coaster, huh?
2. Dr. K's Sourest Lemon Speech ("Pilot")
If we took a poll to find the moment when This Is Us fans realized this show was a show for them, I'm sure you'd get a handful of people saying, "You had me at Milo's butt." Some might even admit they weren't fully hooked until that big twist landed at the end of the pilot. But I have to believe the moment hovering around the top of this hypothetical poll would be the speech Dr. K gives Jack after informing him that one of his triplets didn't survive the birth. What can a doctor say to a new father faced with such a tragedy? Not much, really. But Dr. K's speech about his own experience losing a child, about how Jack needs keep moving forward, and about how he needs to find a way to take "the sourest lemon that life has to offer and [turn] it into something resembling lemonade," is pretty spot-on. It is emotionally stirring without getting too cheesy, and it is deeply personal while also being universally relatable. Not to mention that both Gerald McRaney and Milo Ventimiglia act the hell out of this moment. In short, this speech represents This Is Us when it is at its best.
1. William's Last Words to Randall (Episode 16, "Memphis")
It was a close fight for the number-one slot, but this entire scene between William and Randall in the hospital can reduce a person to tears simply just by thinking about it, and in a show that loves to talk about how it makes you cry, that needs to count for something. True confession: Hearing William call Randall "my beautiful boy" and "my son" turns me into a puddle, so the whole bit about William considering his life a good one since the two best things in his life were "the person at the very beginning and the person at the very end" turns me into a sobbing wreck. It is beautiful and heartbreaking and will remain a standout moment in the This Is Us canon. This moment is special. William is special. Now, I need to go find some Kleenex.