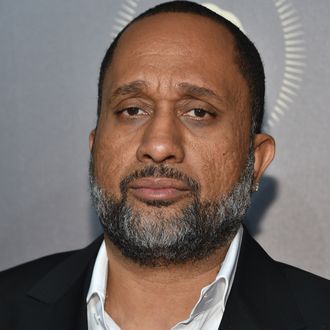 Photo: Mike Coppola/Getty Images for Peabody Awards
The first Coming to America starred Eddie Murphy and was directed by John Landis, and it was a smash hit comedy in 1988. Now, almost 30 years later, it's getting a sequel. According to The Hollywood Reporter, Jonathan Levine has been hired to direct Coming to America 2 with Kenya Barris brought on to rewrite the script. Murphy is involved with the development of the decades-later second installment, but there is no deal in place yet for him to star. In the first movie, the comedian played an African prince who tried to get out of an arranged marriage by going to New York City so he could find a woman who loved him for his personality, instead of for his vast wealth and important title. It co-starred James Earl Jones, Arsenio Hall, Shari Headley, and John Amos.
Levine earned strong reviews for his earlier features, 50/50 and The Wackness, with his most recent movie being the Christmas comedy The Night Before. Barris has found great success with his show Black-ish, and he also co-wrote the summer smash hit Girls Trip. So Tiffany Haddish is already onboard then, right?