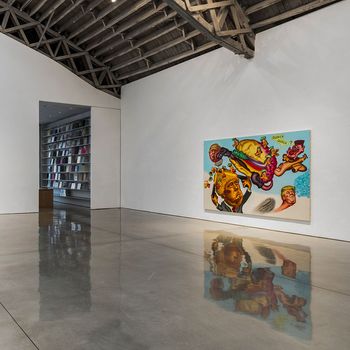 From Peter Saul's exhibit at Mary Boone Gallery.
Photo: Mary Boone Gallery
Trevor Paglen; A Study of Invisible Images
Metro Pictures
519 W. 24th Street / through October 21
Trevor Paglen is a darling of brainy curators on the institutional dole (and of all those who tell themselves that mediums like painting are ossifying and that digital algorithmic art or something will be the future). At Metro Pictures his show consists of a whole bunch of overproduced, shiny blurred images of faces; all-over fields of fuzzy color in the shapes of clouds or deserts or interiors; videos flashing idiotic pictures (mandatory); and hundreds of little pics of excellent artist Hito Steyerl making faces (presumably for street cred or to show he at least knows the real deal when he sees it and wants a piece of it). We're seeing way too much of this kind of thing — call it Conceptual Zombie Formalism — these days, and to offset the fact that the work is all 100 percent generic, each work formally comes with a silly paragraph or two of smarty-pants jargon to explain what these images are supposed to be and certainly aren't, which allow us to see just how intimidated much of the art world must be of things more individualistic, risky, maybe physical, original, and not primarily textural, and that exist only in the mind of the artist, the verbose wall labels, and those who tell themselves that art without a "message" is bad art when all art has a "message," even, as in Paglen's case, that it is unoriginal and affected.
Maya Lin; Ebb and Flow
Pace
537 W. 24th Street / through October 7
I was very wrong to think that when Lin's Vietnam Memorial was dedicated in Washington D.C., in 1983, that it was primarily derivative of Richard Serra — in fact, I see now she was able to make one of the most suspect phenomena in America (formalist geometric abstraction) tell stories of valor, love, loss, and offer balm to generations. Since then, Lin has been an architect and designer, but also an artist, who in her current show — as in most of her previous ones —gives us easy-on-the-eyes, well-researched, Tara Donovan–like (Andy Goldsworthy fits here somewhere too) works of environmental conceptualism dealing with climate change, rising waters, disappearing ice and river basins. The work speaks a public language and is elegant and abstract and would look lovely in any town square or skyscraper lobby, while never really probing much deeper, which means it may not offer enough to really make it art.
Peter Saul; Fake News
Mary Boone
541 W. 24th Street / through October 28
Thank God for Peter Saul, old-school 83-year old master blaster of wild color, free-riding political marauding, insanely twisting composition. Here Saul is willing to take on the current president like an artistic weapon of mass destruction, showing up with an exhibition of paintings that includes Trump as a sticky slug amid a hurricane destroying Mar-a-Lago, a chomping alligator, and maybe having his head blown to pieces by Santa Anna's Mexican soldiers at the Alamo. Go, behold a painterly version of a Robert Capa or Danny Lyon, an artist who knows how to make art political; no one does it better or more flagrantly.
Jordan Casteel; Nights in Harlem
Casey Kaplan
121 W. 27th Street / through October 28
Jordan Casteel's new exhibition Nights in Harlem shows this very talented 28-year-old Yale graduate (and Alice Neel in embryo) picking up her painterly and visionary game to great effect in portraits of her Harlem neighbors that reveal profound empathy for the inner lives and consciousness of her subjects. As in her previous work, her main subjects are men she knows — Harold selling detergent outside a laundromat; Joe and Mozel, of Pompette Wines; Tito, who painted his father in different stages of his life on another laundromat; Louis and A-Thug, designers who sell their clothes on the street. She's also started painting women, as seen in the exceptional multi-portrait of the window of a hair salon with numerous depictions of models and styles, a painterly update on Walker Evans's great picture of a photo-studio photographer's window with hundreds of little pictures; Casteel seems prepared to take a rightful place on the front lines of contemporary painting.
Aneta Bartos; Family Portrait
Postmasters Gallery
54 Franklin Street / through October 14
Aneta Bartos stages a kind of moral sneak attack on unsuspecting middle-class art-world values in her possessed photographic portraits, which capture both her Polish body-builder father (always almost-naked in a Speedo) and herself (always close by, similarly stripped down or naked). All the while, the two exist in different psychic worlds — avoiding incest in practice but offering something that feels incestuous and freakish. Her work has not changed enough since being seen to great effect in last season's stellar "Spring Break" show, but this is a sensibility so potent, perverse, willful, and free that much more seems to be on the horizon for this artist who comes naturally to radical vulnerability.
Jessica Dickinson; Are: For + remainders
James Fuentes
55 Delancey Street
It's no secret that I have had my critical problems with the many redoes of 1960s and '70s monochrome painting and painting that confuses process for content — artists making pretentious empty canvases by leaving them in the Red Sea or rubbing them on the sidewalks of Ferguson, Missouri. I have been following Jessica Dickinson's work for a long time and while I still think she may be just another one of these later-day process painters, there is some sort of resonance to the way, for example, she makes a rubbing of every stage of a painting, and then shows, as she does here, all the rubbings and the painting. That at least lets me know that even things that can look like nothing — like these rubbings and the paintings — may really be something, so I'm still on board — for now.
Helen Rae
White Columns
320 W. 13th Street / through October 21
Confession: I only went to the packed opening of White Columns (by now there's no way not to count this venerable not-for-profit space among the strongest, most individualistic, and free-minded places in America), but there I was instantly smitten by and wanted one of the gnarly, bejeweled colored-pencil drawings of abstract shapes that morph into fashion pictures —including one of Rihanna — all by the deaf, 77-year-old Helen Rae. Her tiny areas of carefully worked prismatic color refracting and playing off one another in tightly packed optical clusters transform and expand into larger constellations of shapes and spaces and then congeal once again into new wholes that mushroom with pictorial imagination. Rae, who is part of the great First Street Gallery & Art Center in Claremont, California, should be a candidate for the next set of biennials — that is if brainy curators can loosen their sphincters and accept that not all artists have to come from the same places and make art about the same things and that the world contains multitudes.
Urs Fischer, Rotten Foundation
Karma
188 E. 2nd Street
Karma, which never fails to challenge, here shows us a harrowing abstract image of America today in Rotten Foundation, made by the excellent Swiss artist Urs Fischer in 1998 when he was 25 (!), which has never been seen in the United States until now. The piece is as brutally simple as it is beautiful: a large, butterscotch-colored cinder block wall constructed atop a crazy "foundation" of real fruit and vegetables, which are rotting and home to new ecospheres of insect and mold life, causing the wall to tilt, crack, begin to collapse, and stink. Instantly you see what happens when foundations rot, when we try to build "a Wall" on a base of unsound ideas and the bad faith of something like an Empire committing unintentional suicide at the hands of Republicans, white nationalists, nativists, and people who say they are not racist but who always come off as more racist than they say.
Alex Chaves; Dizzy Buchanan
Martos Gallery
41 Elizabeth Street / through October 21
For his second outstanding show at this perennially nervy gallery, Alex Chaves, 28 and already adept at declarative opaque color and metamorphosing roiling surfaces, picks up his game, bringing it more firmly into realms of visual pleasure, cryptic politics, and decorative magic. Unafraid to crawl inside the skins of masters like Vuillard, Baselitz, Guston, and Van Gogh, Chaves gives us flowers up close; juicy sluices of paint that form a clock; Khalif, a gorgeous Bernard Buffet–meets–Egon Schiele portrait of a nude black man reclining before what looks like a Bavarian townscape; and finally, a broken-up figure that instantly conjures Georg Baselitz's early-1960s mold-breaking Hero paintings of fallen German figures. If this L.A.-based painter, poet, and performer (and other younger artists working in similarly lit-up figurative territories) can stay the course, good things lie ahead for an art world in obvious transition and rebuilding.