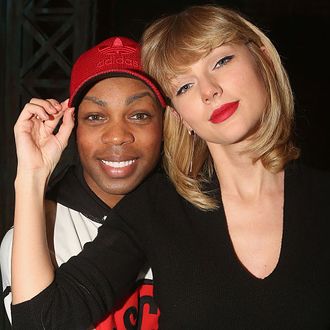 Todrick Hall and Taylor Swift.
Photo: Bruce Glikas/2016 Bruce Glikas
Todrick Hall came to friend and collaborator Taylor Swift's defense on Friday in an interview with Yahoo! Music, lambasting the "woke police" for deeming him not "down enough" and for making the "huge assumption" that Taylor voted for Donald Trump in last year's presidential election. Hall, who appears as a backup dancer in Taylor's "Look What You Made Me Do" video, implied that he's been shut out by many on social media for his friendship with Taylor — a backlash which he says is unfounded. "Taylor has never to my knowledge come out and said anything about her being pro-Trump," he explained. "But people would still rather believe that she is the one who is pushing Trump's agenda." Taylor, of course, has long drawn skepticism for her silence surrounding the election, and it's been renewed with intensity since the release of her record-breaking, very era-appropriate new single. As such, many have been defending her in response — with more than a few pulling the "But what about Kanye?" card. Hall himself couldn't resist: "I'm like, 'So you are mad that you think she might support Donald Trump, but you're not mad that Kanye has been very openly pro-Trump?'" With Hall not the first to make such a comparison, it seems that "Look What You Made Me Do" has officially dragged the president and all he represents into its orbit of backlash. How very fitting.