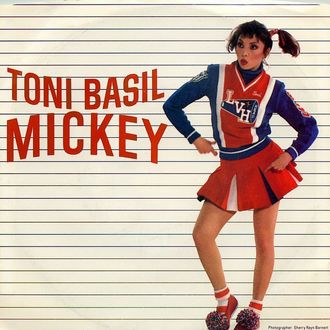 Her mind is blown again.
Photo: Chrysalis
You've taken her by the heart and the hand for the last time: Toni Basil, of "Mickey" one-hit-wonder acclaim, is suing just about everyone who's ever used her totally pure and innocent 1981 cheerleader anthem without her authorization. In a lengthy lawsuit, Basil has revealed that she's not so fine with entities ranging from the actual Mickey Mouse to South Park cribbing her hit. Her lawsuit includes the Walt Disney Company for "damaging" her publicity opportunities "by the coupling with Mickey Mouse and the Disney brand"; the producers of South Park for using "Mickey" in a 2008 election episode that flipped her lyrics to say "Obama you're so fine"; Forever 21 for using "Mickey" in a commercial to promote its Disney line; and Viacom for airing an episode of RuPaul's Drag Race on VH1 in which the queens lip-synced a Spanish version of "Mickey."
Basil claims that a company called Razor & Tie Direct has been illegally licensing her song and image without her consent for decades, due to numerous rights transfers that she also allegedly did not authorize. She says her recent discovery of the extent to which the song has been used without her permission has caused her to become "withdrawn, despondent, and physically ill." But, in another fact to blow the mind, despite the many accused thieves, Basil is only suing for $25,000 in damages.