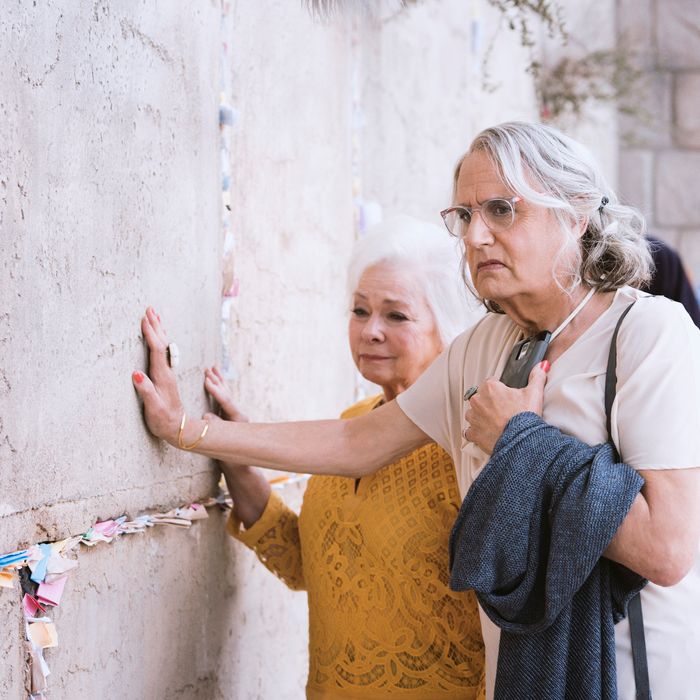 The Pfeffermans go to Israel.
Photo: Jennifer Clasen/Amazon Studios
The fourth season of Transparent is built narratively and thematically around a Pfefferman family trip to Israel. Roughly half of the season takes place in the Holy Land, a place that serves as a spiritual beacon for millions of people and is also synonymous with conflict between two opposing groups who can't agree who truly belongs there. Similarly, in all ten new episodes of the Jill Soloway–created dramedy, which begins streaming Friday on Amazon, each member of the Pfefferman family is seeking his or her own sense of peace, while constantly fighting a war, internally or with each other, that stands in the way of achieving it.
Given Transparent's interest in exploring the Jewish-American experience, a journey to Israel was practically inevitable. It also gives the season a different flavor than previous ones. There are moments that come across as a bit forced and rushed, perhaps in part because the writers are trying so hard to push the plot and characters toward that pilgrimage to Tel Aviv and Jerusalem. The opening of the first episode, directed by Soloway, hops so quickly from scene to scene that right away, the focus seems scattered. The more emotionally rich and resonant material plays in the second half of the season, once everyone has assembled overseas. Perhaps that's the point: Things can't settle down until they arrive on sacred ground.
The trip comes about initially when Maura (Jeffrey Tambor), who's now teaching again, is invited to speak at a conference, and daughter Ali (Gaby Hoffmann) decides to tag along. An unexpected reconnection between Maura and a long-lost relative prompts the rest of the Pfeffermans — Sarah (Amy Landecker) and husband Len (Rob Huebel), with whom she's reconciled; the perpetually lost Josh (Jay Duplass); family matriarch Shelly (Judith Light); and Maura's sister Bryna (Jenny O'Hara) — to join them, in a place that is both foreign and like home all at once.
There are some wonderfully moving moments in the sixth episode, including one where Bryna tearfully says hello to a man she's related to by blood but barely knows. Unfortunately, Bryna's feelings about this reunion are not explored much further, which feels like a missed opportunity, especially when a large chunk of one episode sidebars into telling a whole backstory about Davina (Alexandra Billings), Maura's close friend who's still back in L.A. Billings is terrific and Davina is core to the series's mission of exploring transgender lives. But her story feels shoehorned into a season otherwise heavily concentrated on family.
Dualities, particularly with regard to gender, have always been present in Transparent, but that motif is dialed up a few notches this season, via everything from various characters' shifting ideas about their own sexual orientations to arguments about whether Israelis or Palestinians deserve to occupy the West Bank. (A subplot involving an obnoxious Airbnb-er who's renting the upstairs of the Pfefferman home clearly connects to the notion of interlopers occupying land that does not belong to them.)
Transparent also still possesses the capacity to surprise. When the Pfeffermans visit the Western Wall in Jerusalem, where men are relegated to one side for prayer and women must assemble on the other, your Transparent Spidey sense tells you that someone will likely hassle Maura for standing in the "wrong" space. But the scene goes in a direction that's completely unexpected.
This probably goes without saying at this point, but the acting on Transparent remains superb. Tambor, appropriately, becomes detectably more confident in Maura's skin with every passing year. In fact, everyone in the ensemble is so comfortable with each other that there's never a question that these flawed weirdos have similar chromosomes. The big stand-out this season, though, is Light, who's always fabulously naggy as Shelly, but uncovers a whole new side to the character — and a whole new macho alter ego named Mario, once Shel starts taking classes at the Upright Citizens Brigade. Shelly has all the markings of a stereotypical Jewish mother, but Light continues to find the mix of warmth, obliviousness, stubbornness, and anxiety that make her a distinct human who cannot be pigeonholed. She also drops a bomb of a revelation on her former spouse and kids that is a pretty big deal, but weirdly, is never spoken of again. Like I said: Transparent can be as scattered and distracted as its characters at times.
When a show reaches its fourth season, it can start to hit notes that sound overly familiar, and that does happen in this case. Josh remains fixated on his memories of Rita, his deceased former lover, but there doesn't seem to be much to say about that relationship. Sarah still has the same old insatiable sexual appetites and tries to satisfy them via a three-way relationship with Len and a young woman named Lila (Alia Shawkat). Their scenes are provocative and ultimately set up a potential dilemma for season five, but they don't run as dramatically deep as what's happening with Maura, Shelly, or Ali, who succumbs to a major identity crisis.
The music from Jesus Christ Superstar is used so often this season, it's practically a supporting player in the cast. The season notably opens and closes with the song, "Everything's Alright," in which Mary Magdalene soothes Jesus by singing, "Try not to get worried, try not to turn on to / Problems that upset you, oh / Don't you know / Everything's alright, yes, everything's fine." We know by now that the Pfeffermans will always have problems that upset them. But after this season-four journey — which is worthwhile, even with those aforementioned hiccups — it seems like these difficult people may be a tiny bit closer to being all right.