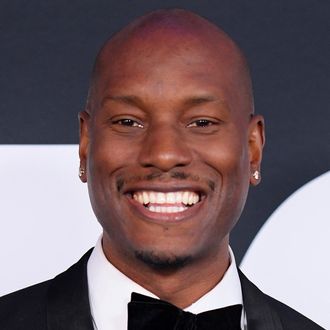 Tyrese Gibson.
Photo: Dimitrios Kambouris/Getty Images
Fast and the Furious might be one of the highest-grossing franchises of all time, but instead of using managers, agents, mediators, and the like to settle behind-the-scenes drama, the very buff stars seem to prefer a free method of communicating with each other: Instagram. While the Rock used his social-media platform to decry an anonymous "candy ass" on the set, and Michelle Rodriguez used her Instagram to threaten to leave the films if the women characters didn't get "more love" in the next movie, Tyrese Gibson used his to make an impassioned plea for Dwayne Johnson to answer his texts. In a since-deleted 'gram, Gibson begged his co-star to put Fast 9 before the rumored spinoff film centered around Johnson's character, Luke Hobbs. "I want you to shoot it just not right now cause the #Fast9 release date has already been announced," Gibson argued. Adding, "Didn't you see how HUGE #Fast8 was?? It's because we announced and KEPT our release date bro."
While the post mostly reiterated how important it is to keep fans happy, Gibson did seem to acknowledge a more personal reason for wanting another movie coming down the pipeline. He wrote, "I'm doing this only on behalf of our families so we keep them all in private school….God bless you good brother!!!" Since Gibson was so interested in keeping it real, he also admitted that he didn't like Johnson's summer movie Baywatch, though he added that he was surprised at his singing abilities in Moana.
Gibson added, "once you hit me back I will delete every post." The 'grams have since been deleted, so presumably the Rock finally picked up the phone and reassured Gibson about Fast 9 and its April 19, 2019 release date.