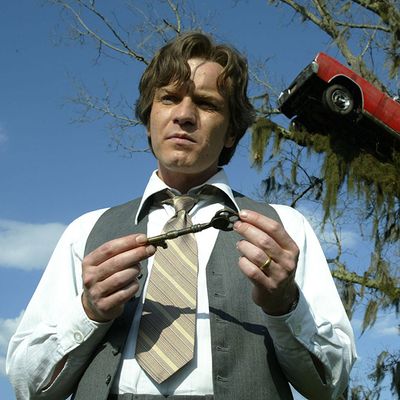 At the beginning of (and during) every month, Hulu adds new movies and TV shows to its library. Below, you'll find our recommendations for October 2017. For more comprehensive coverage of the best titles available on Hulu and elsewhere, check out Vulture's What to Stream Now hub, which is updated throughout the month.
Leaving October 31
If you want something utterly delightful: Big Fish
The first time I saw Big Fish, I immediately got mad at everyone I knew for not telling me how good Big Fish was. Perhaps the last great Tim Burton film, Big Fish follows in the footsteps of Edward Scissorhands's off-key fairy-tale aesthetic, except it leans more wondrous than macabre. It's about a man who spent his whole life hearing his father spin a version of his history that seemed more like a tall tale than anything that actually happened — but when his father falls ill, he has to come to grips with the fact that he may never know what is fact and what is fiction. A celebration of stories, Big Fish is a film with a huge heart full of such earnest and bittersweet joy that it's hard not to gush about it once you've seen it.
Leaving October 31
Because fall is the best season for rom-coms: Hitch
Hitch isn't a perfect film, nor is it a particularly novel one. It's really quite formulaic, a "loathe him then love him" romance between a "date doctor" and a married-to-her-job gossip columnist with lots of high jinks in the middle and a dance number at the end. It would even be forgettable if it didn't star Will Smith and Eva Mendes, who exude charm from their pores. But sometime between Hitch and the present, rom-coms built around letting a charming actor be charming and little else faded away. (In another instance of how frustratingly backward Hollywood is and was, Smith alleged that Mendes was cast because Americans would have objected to a white love interest, and a black one would have narrowed the movie's audience.) Here's the thing, though: I am totally fine with rom-coms that are just about two charming people crushing on each other. Until anyone makes more of them, we'll have to watch the old ones like Hitch. There are worse fates!
Leaving October 31
If you want to watch a grim war movie: Apocalypse Now
Both Apocalypse Now and its 2001 director's cut, Apocalypse Now Redux, are leaving Hulu this month. You've got a choice to make: Should you watch the original or the newer, longer cut? Maybe both? Francis Ford Coppola's cinematic take on The Heart of Darkness remains a vital film either way, a portrait of a war not long past that in some ways feels like the wars waged in the present — a haze of violence and listlessness and resentment, to no discernible end, achieving no substantial good.
Movies
Leaving October 31
• Akeelah and the Bee 
• Among Friends
• Apocalypse Now 
• Apocalypse Now Redux
• Arthur 
• Bad News Bears 
• Bandits
• Benny & Joon 
• Beverly Hills Ninja 
• Big Fish 
• Bill Durham 
• The Blob 
• Delta Force 
• Dream a Little Dream 
• Eight Men Out 
• Encino Man 
• Fall Time 
• Get Well Soon
• Guns of the Magnificent Seven
• Kingpin 
• Hammett 
• Hey Arnold! The Movie 
• Hitch 
• Joe Dirt
• Killing Zoe 
• Outbreak 
• Poseidon 
• Sacred Ground 
• Sahara 
• Shooter 
• Surf's Up 
• Teen Witch