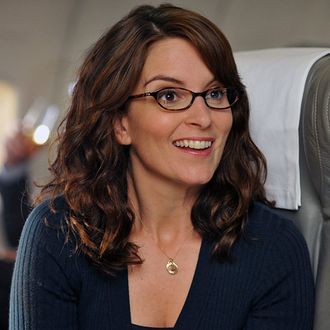 Each month, several films and TV shows leave Netflix's catalogue. We provide a list of departing titles and recommend a few standouts so you can watch them before they're gone forever (or are just available on a different site). For more comprehensive coverage of the best titles available on Netflix and elsewhere, check out Vulture's What to Stream Now hub, which is updated throughout the month.
Blerg, blerg, blerg: 30 Rock
Jack Donaghy's long-running quest to destroy NBC hasn't fully come to fruition yet, but he'll be a good way toward destroying Netflix once Liz Lemon and TGS leave the building. One of the best one-liner factories in sitcom history, 30 Rock will always be the ideal Tina Fey blend of showbiz humor and solid, character-based gags — usually both at once, as in the standout fourth-season episode "Dealbreakers Talk Show #0001." Netflix may think its subscribers will be satisfied with the ongoing run of Unbreakable Kimmy Schmidt, but Tituss Burgess's true fans know where he appeared first. Leaving October 1.
For all the crazy dreamers: Mulholland Drive
If you never watched a David Lynch project before Twin Peaks: The Return, you must have had a mind-melting summer. And there's plenty more where that came from: Lynch's 2001 masterpiece, widely considered to be one of the greatest films of the 21st century, repurposed a failed TV pilot into a hallucinatory nightmare on the grand illusion of entertainment ("No hay banda!") and the monsters awaiting us all behind the dumpster at Winkie's. Naomi Watts and Laura Harring will break your heart as a loopy, elliptical narrative steers you down the windy mountain roads of Lynch's mind. Leaving October 1.
If you're a fan of Akira Kurosawa: Kagemusha
Soldiers by the hundreds march into battle for a dead leader in Akira Kurosawa's late-period epic, financed with the help of George Lucas and Francis Ford Coppola. The story, which centers on a look-alike to an emperor who is brought on to assume the throne when the real emperor dies so that his dynasty can maintain the illusion of control, is a moving query on the nature of power and honoring figureheads. Kagemusha is often overlooked in the Kurosawa canon, but its ruminative qualities and sharp color scheme should be cause for elevation. Leaving October 1.
(Noteworthy selections in bold.)
Leaving October 1
30 Rock: Seasons 1–7
The Bernie Mac Show: Seasons 1–5
David Attenborough's Rise of the Animals: Triumph of the Vertebrates: Season 1
Friday Night Lights: Seasons 1–5
Malcolm in the Middle: Seasons 1–7
My Name Is Earl: Seasons 1–4
One Tree Hill: Seasons 1–9
Prison Break: Seasons 1–4
The Wonder Years: Seasons 1–6
Leaving October 19
The Cleveland Show: Seasons 1–4
Leaving October 21
Bones: Seasons 5–11
Leaving October 27
Lie to Me: Seasons 2–3
Louie: Seasons 1–5
Leaving October 29
Family Guy: Seasons 9–14
(Noteworthy selections in bold.)
Leaving October 1
A Love in Times of Selfies
Across the Universe
Barton Fink
Bella
Big Daddy
Carousel
Cradle 2 the Grave
Crafting a Nation
Curious George: A Halloween Boo Fest
Daddy's Little Girls
Dark Was the Night
Day of the Kamikaze
Death Beach
Dowry Law
Dr. Dolittle: Tail to the Chief
Happy Feet
Heaven Knows, Mr. Allison
Hellboy
Kagemusha
Laura
Love Actually
Max Dugan Returns
Millennium
Million Dollar Baby
Mortal Kombat
Mr. 3000
Mulholland Drive
My Father the Hero
Patton
Picture This
The Shining
Titanic
Leaving October 27
Hotel Transylvania 2