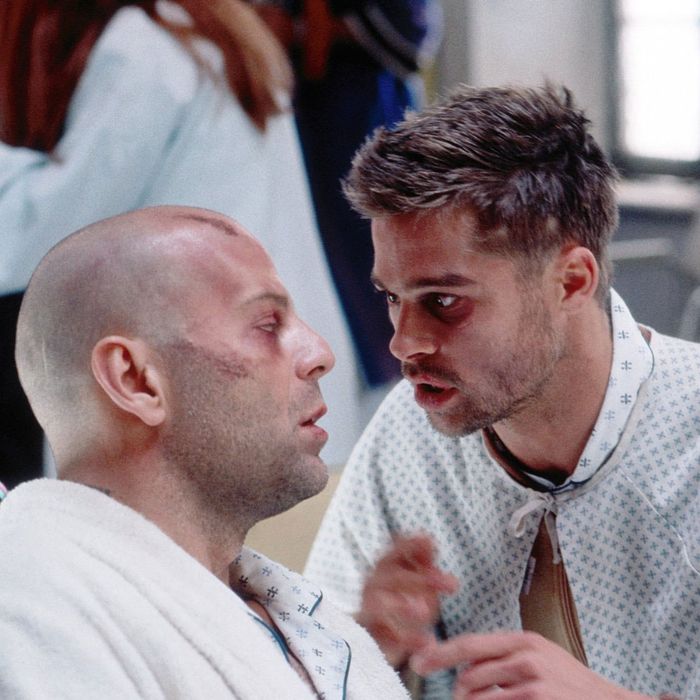 Bruce Willis and Brad Pitt in
12 Monkeys
.
Photo: Universal Pictures
At the beginning of (and during) every month, Showtime adds new movies and TV shows to its library. Below, you'll find our recommendations for October 2017. For more comprehensive coverage of the best titles available on Showtime and elsewhere, check out Vulture's What to Stream Now hub, which is updated throughout the month.
Leaving October 12
Because sci-fi should be weird: 12 Monkeys
Few science-fiction stories about time travel are as delightfully odd as Terry Gilliam's 12 Monkeys. Eschewing the slickness of Star Trek, the cool disrepair of Star Wars, or even the aesthetically pleasing slums of Blade Runner, 12 Monkeys gave us a future that wasn't just crude — it was gross, like a sewage pipe. Of course, much of the movie's plot takes place in the present day, as James Cole (Bruce Willis) has to convince the world he's not really insane, just a time traveler who arrived too early to stop a cult from releasing a virus that'll wipe out much of humanity. Twisty, weird, and fun, it's also the basis for the surprisingly good SyFy channel TV series of the same name, which you might want to check out after the movie leaves Showtime. Leaving October 12.
Leaving October 31
And superheroes should be weird too: The Death of 'Superman Lives': What Happened?
Possessing what's the clumsiest title imaginable, The Death of 'Superman Lives' does what it says on the tin: It offers an exhaustive and thorough account of a Superman movie so troubled, its premature death is more fascinating then whatever shape it might have taken in cinemas. This is the Superman movie that Tim Burton was going to direct, the one that Nic Cage tried on costumes for, a movie that Kevin Smith wrote and was offered to everyone from Robert Rodriguez to Michael Bay at one point or another. What sets Superman Lives apart from other aborted superhero films is the amount of preproduction work and how many people spoke to documentarian Jon Schnepp. The Death of 'Superman Lives' might not be a terribly artfully constructed documentary, but it is an informative one, and like the best comic books, it leaves you wondering "what if." Leaving October 31.
Leaving October 18
This one isn't weird, it's just good: Jet Li's Fearless
Originally pitched as Jet Li's final wuxia film (a notion disproven when he returned to make The Forbidden Kingdom with Jackie Chan, an exception we can all understand), Fearless is loosely based on the life of Huo Yuanjia, a Chinese martial artist credited with restoring national pride by taking on foreign fighters from around the world. You've likely seen movies like Fearless before: It's similar to Ip Man and other martial-arts biopics that are more about fighting and broad inspirational themes than history, following a pretty formulaic structure that depicts Yuanjia's martial-arts training, hubris, and eventual transformation and triumph. It's also, like the rest of Jet Li's wuxia oeuvre, absolutely gorgeous. Watch a good martial-arts movie this month — it's always a good call. Leaving October 18.
Movies
Leaving October 2
• Alexandre Dumas' The Count of Monte Cristo
Leaving October 3
• G.B.F.
Leaving October 6
• Dazed and Confused
• The Sting
Leaving October 7
• Larry the Cable Guy: Health Inspector
Leaving October 9
• The American
Leaving October 12
• 12 Monkeys
• Fear
Leaving October 14
• Animals
• The Bank Job
Leaving October 16
• Scar Tissue
Leaving October 17
• Cinderella Man
Leaving October 18
• Jet Li's Fearless
Leaving October 21
• Doom
• Hannah Montana: The Movie
Leaving October 22
• Don Jon
Leaving October 24
• Beaches
• D2: The Mighty Ducks
• Dangerous Minds
• Let Us Prey
• The Program
• Three Men and a Baby
Leaving October 25
• Brokeback Mountain
• Wonderland
Leaving October 30
• The Hurricane
Leaving October 31
• 11 Blocks
• Adult World
• The Adventures of Baron Munchausen
• Battlefield Earth
• Bernie
• Casualties of War
• Crocodile Dundee in Los Angeles
• The Death of 'Superman Lives"': What Happened?
• Fifty Shades of Black
• Growing Up and Other Lies
• Hard Candy
• Rampart
• Santa Claws
• Tanner Hall