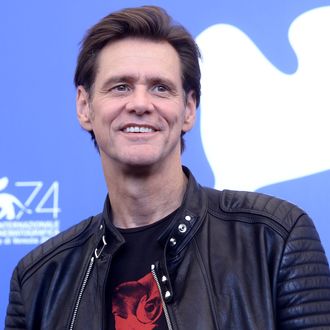 Carrey.
Photo: Filippo Monteforte/AFP/Getty Images
Have you heard the news? Jim Carrey's gotten kind of weird lately. The beloved comedic actor has made a bit of a career change, choosing to focus on visual art while rattling off existential truisms like a freshman who just discovered Nietzsche. To promote his first ever gallery opening — "Sunshower," opening this weekend at Signature Galleries in Las Vegas — Carrey spoke with W Magazine about his artistry, and in doing so dropped an interesting nugget about his newfound fans:
"I don't really want to give people's names, but I have a lot of big athletes come through [to my house] that want to see certain things, whatever inspires them."
So who are these athletes who frequent Jim Carrey's house for his art? Aside from LeBron James, who once tweeted that he was impressed by Carrey's painting and wanted to see it in person, we'd guess that Denver Bronco and known eccentric Von Miller might be into it. Fashion-world darling Russell Westbrook might have his finger on the pulse of celebrity art, given how he's been known to rub shoulders with the likes of Anna Wintour. This feels like just the thing Dennis Rodman would be into, because of course. And Mike Tyson has likely been to Carrey's abode, especially since he's always looking for something to chew on.