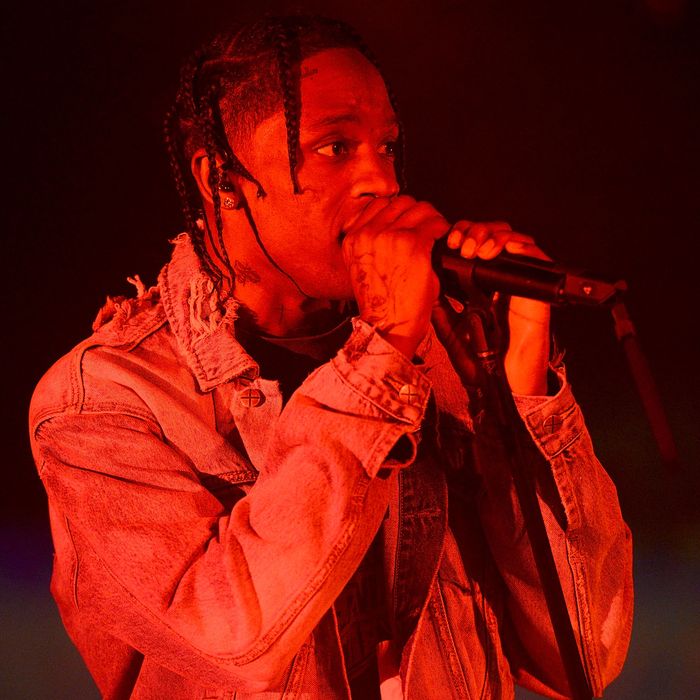 Travis Scott.
Photo: Scott Dudelson/Getty Images
Neither hip-hop artist Travis Scott nor girlfriend Kylie Jenner have confirmed Friday's TMZ report that Jenner is pregnant with Scott's daughter, but there are silences that deny and silences that confirm, and this case belongs in the latter category. Both Scott and the extended Kardashian clan (minus Kendall) are known for being gifted engineers of their own media coverage, and it seems doubtful that a leak like this was unintentional; furthermore, silence feeds speculation, which in turn feeds ratings (it's no accident that the new season of the Kardashians' reality show is premiering next Sunday), which in turn feed profits. It's just good business sense to make fans thirst for verification and to broadcast it on semi-live television.
Anyway, once it's confirmed, the news is sure to send Scott's celebrity stock, already steadily surging for the past few years, soaring into outer space. By the time his long-awaited third album Astroworld drops, it's all but guaranteed that he'll be close to superstar status. After all, if an off-and-on liaison with Kylie could keep Tyga in the headlines long past his personal expiration date, marriage and offspring between her and Scott (a better artist than Tyga by some orders of magnitude) will exponentially increase his fame. It won't be long before the individuals and masses huddled by their televisions wonder just who this dude Travis is, and in anticipation of that time we've prepared a short but sweet guide to shed some light on the famously nocturnal artist.
Think Kanye, but if Kanye had grown up listening to Kanye.
The parallels between Kanye West and Travis Scott run long and deep. Both are black American men raised middle class in a very large American city on neither the East nor West Coasts: Kanye's Chicago (No. 3 in population) is matched by Travis's Houston (No. 4). Both are producers who perform as artists while outsourcing the generation of much of their actual material to others; their reputation is built on superb curatorial selection regarding other people's work as much as on any lyrical prowess or distinctive vocals. Both, leaving college behind them, made pilgrimages to an even larger city in search of a come-up. Kanye's break came in New York when he was taken up by Jay-Z and signed to the elder artist's Roc-A-Fella imprint, Travis's in Los Angeles when he was discovered by T.I. and signed to the elder artist's Grand Hustle imprint. And, of course, both have entered into alliances with a Kardashian — to buttress and extend their fame but also, by all indications, out of love. Formalized on wax with Scott's production credits on Yeezus, Kanye's production credits on Scott's debut solo mixtape, and Kanye's feature on Travis's debut album Rodeo, the relationship between the two likely began through Mike Dean, the Houston producer and longtime Kanye lieutenant; Dean seems to have supplied his fellow Houstonian with many of the introductions necessary to kickstart his career. It's as if Kanye had had the chance to grow up on his own music, and perhaps to learn from his own conduct. (You won't find Travis making any of the scandalous public statements Kanye has become known for.) Scott's work picks up where Kanye's tails off, which is to say with digital vibes and a relaxed (or at least rumored to be relaxed) attitude toward producing one's own beats.
He's a great networker.
Times change, but the need for social networking remains the same. Scott has, by all indications, the special ability to befriend just about anyone else in the music business. His collections (2013's solo mixtape Owl Pharaoh, 2014's free album Days Before Rodeo, Rodeo itself in 2015, and last year's Birds in the Trap Sing McKnight) are enlivened by features from a who's-who of contemporary rap: veterans (Kanye, T.I., Andre 3000, Juicy J, personal idol Kid Cudi, even Paul Wall), Maybach Music stalwarts (Meek Mill and Wale), Atlanta trailblazers (Young Thug, Migos, Future, Swae Lee, 21 Savage), chillwave standouts (Toro Y Moi), up-and-comers from unexpected places (Bryson Tiller, Nav), the Weeknd, and Kendrick Lamar. He's not getting perfunctory deliveries from them, either. Again, like Kanye, Travis has a knack for coaxing the best performances out of the best artists. Scott's career is proof that people become like the people you're closest to. The trick to being famous lies in how hard it is to get close to celebrities whose calendars are already crammed, but Scott seems to have no troubles in this regard.
That's not his real name, but, in a way, it is.
As an aspiring artist attentive to first impressions, Jacques Webster was quick to realize that no star would ever be named Jacques Webster. Jacques Webster doesn't get the adolescent youth of America moving. Jacques Webster does his homework, finishes school, and becomes a certified public accountant who marries his college girlfriend (a college librarian); their idea of fun is two glasses of white wine on Friday nights at home with Netflix. So Jacques did the smart thing and reinvented himself as Travis Scott. Travis Scott rocks the fuck out, and fucks the rock out, and if you stop him and tell him that no, that's not actually a phrase, fucking the rock out, he'll be like, nah brah, and turn away, and down another shot of Captain Morgan, and pass out, but wake up 150 seconds later and do some more crazy shit involving three vapes, three strippers, and the creature from legendary Japanese artist Hokusai's seminal 1814 print The Dream of the Fisherman's Wife. Anyway, just know that Travis wasn't born this way, but made himself so.
Travis Scott rocks the fuck out (and fucks the rock out).
There's always been a prominent strain of electric-guitar samples in Scott's work, particularly on Rodeo. More than most rappers (and most rock musicians too, now), Scott is attuned to the electric guitar's potential to, well, electrify people, get them to do amped-up shit. He commands a fan base that puts the fanatical back in fan. Their loyalty manifests itself in mosh pits at concerts and mad traffic on the SoundCloud servers, but also in singular and dorky ways, like when Santa Barbara television anchor Scott Daniels wedged 42 references to Scott's music into a three-minute sports news roundup.
Calling him artificial would be to miss the point.
Artifice is central to the Travis Scott experience. The cover to Rodeo displays a plastic action figure of Scott, short braids and chiseled abdomen on display, slumped in a chair; Birds' cover centers on Scott adorned with black wings and looking like a brooding Final Fantasy anti-hero. Along with being orchestrally complex in the best Kanye tradition, Scott's sound is unremittingly dark, syncretic, hi-res, and above all unnatural. The point is to create something willfully out of this world. He wasn't born with those abs, or that name, and that sound didn't come naturally to him either. The whole point is to become someone else, because life sucks. We're saying this ironically, but it actually does suck, and it's very important to look for ways out, which leads us to …
Drugs! (Not really, though.)
Travis Scott likes drugs and his lyrics double as a pharmacy, so often do they reference intoxicants. The guy has a song titled "Drugs You Should Try It," for Christ's sake. But by all reports the guy doesn't actually do drugs at all; it's just part of the image, you know? It's tempting to call Travis fake for not walking the drug-addled walk while talking the drug-addled talk, or to accuse him of tempting the impressionable youth of America into popping copious quantities of recreational pills. But an artist who's staked his identity on artifice is immune to charges of fakery, and the youth of America are already taking thousands of tons of pills. The point is whether the music sounds good or not, and for the most part it does, and you don't need drugs to enjoy it, though I'm sure they help. (Don't take drugs if you can help it, they're bad for you.)
He's got one hell of a motto.
J.R.R. Tolkien claimed that "cellar door" was the most beautiful phrase in the English language, but for our money Scott's "May LaFlame live forever" (LaFlame's a nickname for the artist, close relative to Gucci Mane's LaFlare), with its deft, coiling alliteration and assonance, sounds a lot better. Weirdly enough, Scott's music has much in common with a cellar door: Both serve as gateways into a dark, artificial cavern.
He's still improving.
Each Travis Scott collection has been better than its predecessors; given the quality of Birds in the Trap Sing McKnight, an album with no skippable tracks, this suggests that Astroworld, whenever it does end up dropping, will be major indeed. Strong vibes cohering in a distinct, euphoric sound and mated to a sober, well-considered plan for development. All told, it's pretty impressive for a guy who's currently only 25 years old.