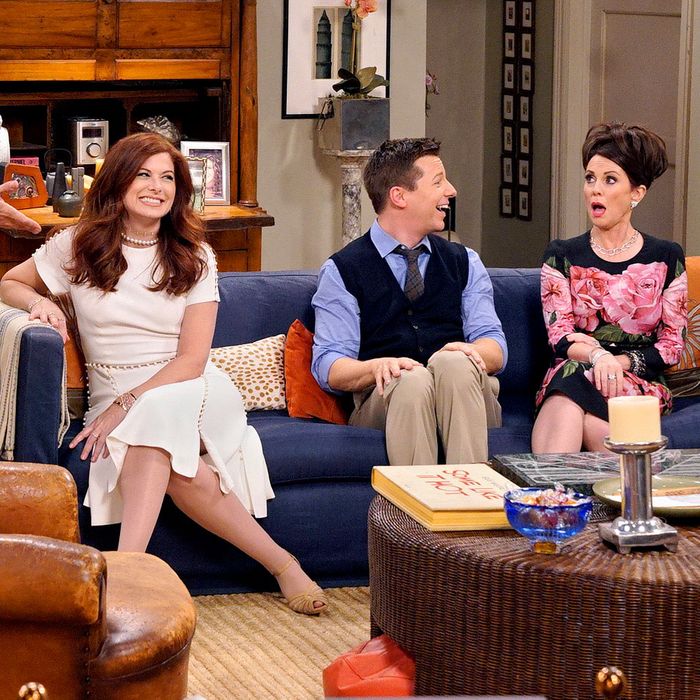 Life after an era-defining sitcom is never easy. For every Woody Harrelson, there is a Kristin Davis. For every Tina Fey, there is a David Schwimmer. The point is, sitcom stars might go on to lucrative second acts, but sometimes they fade into the background to collect residual checks and occasionally make a bad show about a restaurant in the Bronx. (Even then, there's still a chance they'll surprise: Schwimmer got himself an Emmy nod for his role in The People v. O.J. Simpson!)
The quartet behind Will & Grace are no exception to this pattern. By looking at their careers since 2006, when the hit sitcom first went off the air, we can see both sides of the spectrum. Ahead of W&G's return to NBC on Thursday night, let's take a look at how each of the four stars have fared.
4. Eric McCormack
Things have not gone especially well for America's favorite queer sitcom roommate. His biggest post–Will & Grace forays into TV were both on TNT: Trust Me fizzled out during its sole season in 2009, and Perception languished for three years before its 2015 cancellation. He's done the usual guest spots — The New Adventures of Old Christine, Monk, Law & Order: SVU, The Mysteries of Laura — and the odd Lifetime movie, but nothing very popular or memorable. McCormack also produced a couple of shows, like Lifetime's Lovespring International, but none of them really connected. Thank God we finally have him back as Will.
3. Megan Mullally
Her forays into starring roles haven't been all that great, with parts in the short-lived sitcoms In the Motherhood and the second season of Breaking In. (Yeah, I didn't remember those either.) But Mullally has kept her visibility high with memorable roles in the best sitcoms of the last decade: She did recurring guest spots on 30 Rock, The New Adventures of Old Christine, and Parks and Recreation, playing the ex-wife of her real-life husband Nick Offerman. She's also been a part of some serious cult favorites, like Bob's Burgers, Party Down, Web Therapy, Trophy Mom, and Children's Hospital. Mullally even showed off her singing chops in the Broadway production of Young Frankenstein. Not a bad run! But the less said about her self-titled talk show, the better.
2. Debra Messing
She was the most famous of the bunch going into Will & Grace (shout out to Ned & Stacy!) and she's decidedly the most high-profile going back into it. Shortly after W&G, she was nominated for an Emmy for her work on USA's The Starter Wife. Then she moved on to become the world's most prominent bad-scarf model on NBC's cult hit Smash. Then she had a couple more years on your aunt's favorite show, The Mysteries of Laura. And now, after tweeting up a storm in support of Hillary Clinton, she's back where she started at 155 Riverside Drive.
1. Sean Hayes
You might be thinking, "Seriously? I haven't seen him in anything but Hairspray Live! and that crappy sitcom that got canceled." But Sean Hayes is the only Will & Grace star that The Hollywood Reporter says "took over Hollywood." That's because Hayes has been working behind the scenes at his production company Hazy Mills Productions, which he started with his college best friend Todd Milliner. They not only made Sean Saves the World, a one-season sitcom on NBC, but a slew of hit shows, including Betty White's comedy Hot in Cleveland, Cedric the Entertainer's The Soul Man, NBC's long-running sci-fi show Grimm, game show Hollywood Game Night, and the documentary The History of Comedy. As an actor, his biggest movies have been a role in The Three Stooges and a voice in The Emoji Movie, but he's lapping the rest of the cast as a Hollywood player.