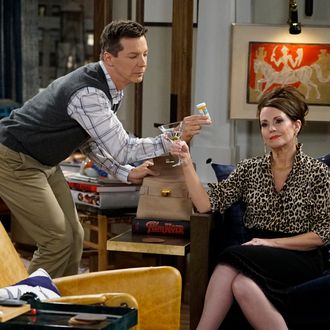 Photo: NBC/Chris Haston/NBC
NBC's Will & Grace revival was greeted very warmly by audiences on Thursday: Just over 10 million same-day viewers tuned in to see the show's first new episode in 11 years, making it the night's most-watched entertainment program, per Nielsen. More amazingly, Thursday's premiere drew a bigger crowd than any episode of W&G's final season in 2005–06, excluding the series finale.
While W&G ratings declined notably in the show's last two years, making it easier for the revival to look good in comparison, it's also impossible to ignore just how much TV viewing habits have changed over the last decade. The rise of streaming and the spread of DVR and on-demand viewing have cut same-day audiences dramatically. For W&G to come back stronger than it left is a major accomplishment.
The revival's premiere also did well among adults under 50, notching a 2.9 rating in the key demo. Although that puts it behind CBS's big comedies of the week — The Big Bang Theory and new spinoff/prequel Young Sheldon both scored higher numbers on Monday night — W&G easily beat Thursday's No. 2 entertainment show, Grey's Anatomy (2.3 rating) and doubled the performance of NBC's other Thursday shows (which all notched between a 1.2 and a 1.5 rating). What's more, there's a good chance W&G will add substantial viewership over the next week via platforms that weren't even around when the show last air, pushing its overall audience closer to 15 million. NBC execs have to be very happy about their decision to renew the series for a second season before the first episode even aired.