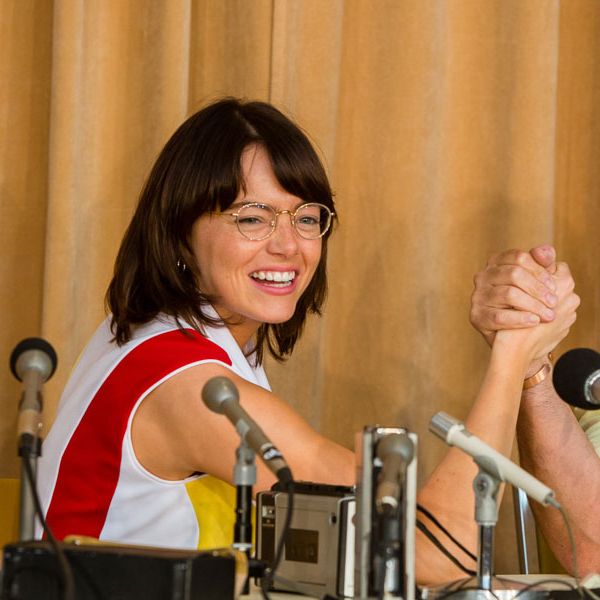 Battle of the Sexes.
Photo: Melinda Sue Gordon/2016 Twentieth Century Fox Film Corporation
This year's Best Actress race is stacked with laureled veterans and exciting newcomers, and it promises to be a real contest. Many of those leading-lady contenders will be appearing at this week's Toronto Film Festival, and Vulture is on the ground in Canada to help you sort through their Oscar odds. Which of these talented women will make the final five?
The Actress: Emma Stone, 28
The Awards History: Stone won the Oscar and Golden Globe last year for her work in La La Land. She was also nominated for Best Supporting Actress for Birdman, and in 2010, scored an additional Golden Globe nomination for Best Actress in a Comedy or Musical for Easy A.
The Role: In the 1970s-set Battle of the Sexes, Stone plays Billie Jean King, a top women's tennis player who's sick of being mistreated by the old boys' club that runs her league. Instead of enduring more sexist treatment and the smaller tournament awards given to women, she gathers other strong female players together to strike out on their own and form their own league. It's not long, though, before King is drawn back into a gender war: Blowhard tennis has-been Bobby Riggs (Steve Carell) is setting exhibition matches where he plays top female players to prove that the best talent that women can offer will still fall to his racket. King knows she is her gender's best hope to defeat Riggs and nip his retrograde thinking in the bud, and thus, the famous match known as the Battle of the Sexes is born.
The film, and Stone, may surprise you. The real heart of Battle of the Sexes is something they're not showing you in the trailers: As King is making history, she is also falling for hairdresser Marilyn Barnett (Andrea Riseborough). King is not out, has never had an affair with a woman before, and is married to stand-up guy Steve (Austin Stowell), which presents plenty of complications even before you factor in the fact that she's about to play in the most famous tennis match ever televised — and if the public finds out about her relationship with Marilyn, her career might implode. On the court, King knows exactly who she is and conducts herself with steely efficiency. Off the court, she is still finding her way, led not by her head or athletic limbs but by her heart.
It'll sound like a poster quote, but you've never seen this side of Emma Stone before. She is quiet, sensual, adult, and sensational. Stone has played plenty of winsome rom-com women and King is about as far away as you can get from that: While the character is unafraid to speak her mind, Stone delivers her lines in an entirely different register than her comic tirades in films like Birdman and Crazy, Stupid, Love, and her famously large eyes narrow to a watchful squint. King is one of the most confident women on planet Earth until she realizes she doesn't know herself that well at all, and as her affair with Marilyn flourishes, her game starts to suffer from neglect. Can King reconcile who she thought she was with who she wants to be? Watching Stone try to think her way through what she's feeling is one of the film's most absorbing facets.
In Her Favor: Stone is enormously well-liked in the industry and she's on an obvious roll with the Academy, having won the Oscar just last year. Her Battle of the Sexes performance doesn't feel repetitive; instead, it's an acknowledgment that she's ready to graduate to more adult roles. The Academy loves a de-glammed, real-person performance, and Stone's press tour with the real Billie Jean King will offer the Academy the chance to honor a political trailblazer with Stone as the conduit.
Working Against Her: It's awfully rare for a Best Actress winner to be nominated the following year. (In the aughts, that award was almost thought to be cursed, since the women who won Best Actress like Halle Berry, Nicole Kidman, and Reese Witherspoon would face a career lull immediately afterward.) Stone will also face some significant contenders from her own studio: Fox Searchlight has an enviable amount of Best Actress options this year, including The Shape of Water's Sally Hawkins and Frances McDormand in Three Billboards Outside Ebbing, Missouri. Then again, when has Billie Jean King ever blanched when presented with a challenge?