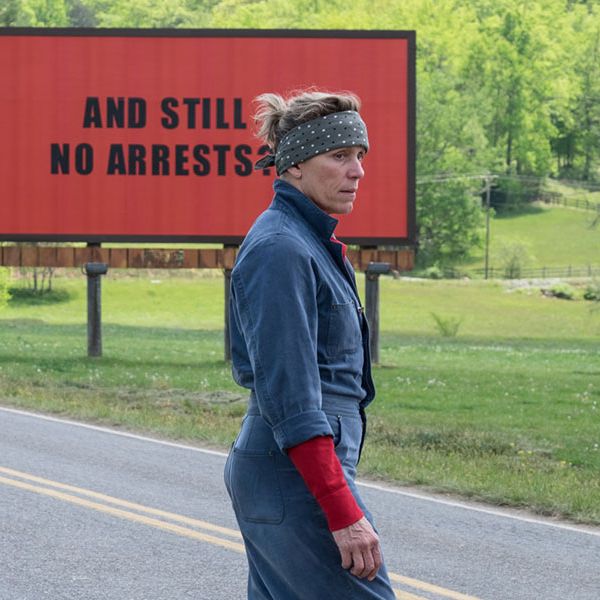 Frances McDormand.
Photo: Fox Searchlight Pictures
This year's Best Actress race is stacked with laureled veterans and exciting newcomers, and it promises to be a real contest. Many of those leading-lady contenders will be appearing at this week's Toronto Film Festival, and Vulture is on the ground in Canada to help you sort through their Oscar odds. Which of these talented women will make the final five?
The Actress: Frances McDormand, 60
The Awards History: McDormand won the Best Actress Oscar for 1996's Fargo, and she's been nominated three other times for Best Supporting Actress. She's also earned five Golden Globe nominations over the course of her career, though the only trophy she earned from the Hollywood Foreign Press was a special award given to the ensemble of 1994's Short Cuts.
The Role: In Three Billboards Outside Ebbing, Missouri, Frances McDormand is motherfucking great as a mother you don't want to fuck with. Forgive the blue language, but it seems apropos given the expletive-studded arias that writer-director Martin McDonagh has composed for McDormand to deliver in this film. Her character, Mildred, is motivated by righteous rage: After Mildred's daughter Angela was raped and murdered several months ago, the police in her Missouri town have still not found the perpetrator, and barely seem to have given the search any thought. So Mildred rents three billboards, paints them blood-red, and emblazons startling messages on them: "Raped While Dying," "Still No Arrests?," and "How Come, Chief Willoughby?" They're a gauntlet throw to the town sheriff (Woody Harrelson) but ultimately the billboards shake up all the residents of this town, including a small-minded, quick-trigger cop (Sam Rockwell) who ultimately embarks on the biggest journey of them all.
Mildred isn't content to let those billboards do all the talking, though. Always a little bit of a hard-ass, Mildred's family tragedy has only spurred her to further speak her mind, and she will mercilessly read anyone who gets in her way, whether cop or priest or child. You know McDormand is a pro because even as she's testing her fellow citizens' empathy for her plight, she never loses the audience's sympathy. Mildred will not wallow in self-pity, not even for a moment, but if everyone else expects to get away with their complacent attitudes, they've got another think coming. She is an unusual avenger, and it's gratifying to see McDonagh write such a bracing female character after letting that gender down in his other films.
It's also terrific to see McDormand front and center on the screen again. Anyone who watched her acting master class in HBO's recent Olive Kitteridge mini-series will know McDormand's flinty side well, but this is easily her best big-screen work since Laurel Canyon. Consider this her own version of billboard advertising: "60 Years Old," "Rarely Given a Role I'm Worthy Of," "How Come, Hollywood?"
In Her Favor: The performance is such a tour de force that it's hard to imagine McDormand not getting nominated. She monologues, she cusses out every character actor on earth, and she juggles dramatic and comic beats like she was born to do this. Crucially, though Mildred can be stubborn as an ox, the movie gives her several moments where she drops that tough façade for just a minute, reminding you that her wall is built to hold back a flood of feelings. McDormand's last nomination was over a decade ago for North Country, and it feels right to welcome her back into the fold for this film.
Also, given that Hollywood is flooded with for-your-consideration billboards during awards season, I can't wait to see what this profane movie that's literally about billboards will come up with to tout McDormand. If she doesn't end up with the best FYC billboard on the Sunset Strip — something that could power a whole press cycle — then someone has seriously dropped the ball.
Working Against Her: As she's gotten older, and as awards season has become more of a thing, McDormand has pretty much refused to play the game. She will show up to your fancy ceremony in a jeans jacket and not give a shit! That's why we love her, of course, but if other actresses are willing to do a full-court press by showing up for every party and Q&A, twirling on the red carpet, and granting interviews to any outlet that asks, McDormand will have to hope that Academy voters select her on performance alone. A radical concept, I know.