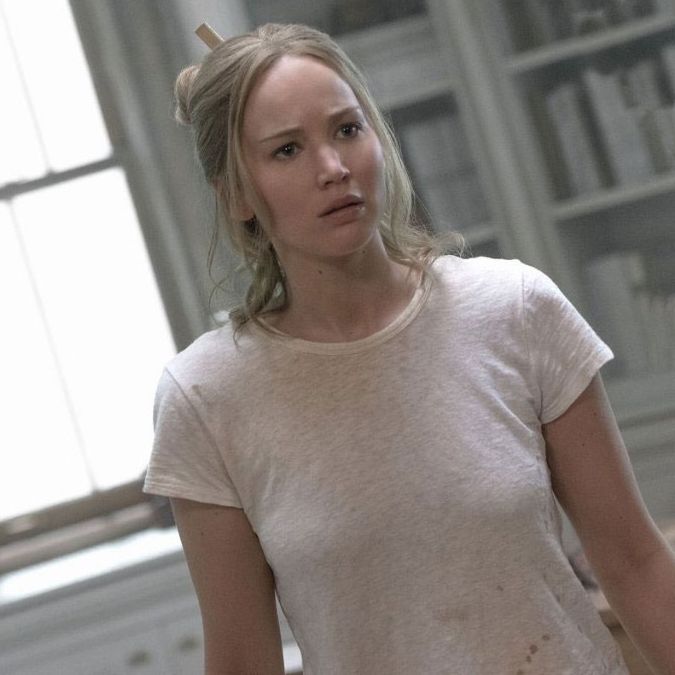 Jennifer Lawrence in
Mother!
Photo: Paramount Pictures
This year's Best Actress race is stacked with laureled veterans and exciting newcomers, and it promises to be a real contest. Many of those leading-lady contenders will be appearing at this week's Toronto Film Festival, and Vulture is on the ground in Canada to help you sort through their Oscar odds. Which of these talented women will make the final five?
The Actress: Jennifer Lawrence, 27
The Awards History: Lawrence has won one Oscar, for Silver Linings Playbook, and been nominated four times since 2010. (That's a Streep-caliber level of awards-season consistency). Lawrence has also been up for four Golden Globes, and the Hollywood Foreign Press is clearly wild about her: She won three of those times.
The Role: On the poster for Mother!, Jennifer Lawrence offers her heart, and to hear the actress tell it, she was prepared to sacrifice even more of herself while shooting the Darren Aronofsky–directed film. "I tore my diaphragm from hyperventilating," Lawrence told the press this week. "I did it to myself. It was my own doing."
It all starts so idyllically: Lawrence wakes up in the dream house she shares with Javier Bardem's acclaimed poet and wanders from room to room of this well-restored fixer-upper, which she's been spearheading the renovations on. But if hell is other people, then things start to go to Hades each time a new, uninvited houseguest shows up at Lawrence and Bardem's remote hideaway. First, Ed Harris worms his way into the house as a curious doctor, then Michelle Pfeiffer struts in as his insinuating wife, and then a pair of feuding brothers show up … and then, and then, and then until this lovely home is packed to the gills with a terrifying number of interlopers who eye Lawrence suspiciously and just won't leave.
I've seen a few tweets tweaking Lawrence for this story, as though she were offering an Oscar-hungry narrative on par with Leonardo DiCaprio's tales of physical woe for The Revenant. But, listen, the girl was not lying! Lawrence's character is in a state of constant, mounting anxiety all through this film and after two hours of Aronofsky putting her through the wringer, you might be hyperventilating, too.
Even before any blood is spilled, Aronofsky jangles your nerves with his oppressive sound design and a disorienting deep dive straight into the story. He's practically strapped the camera to Lawrence — at least half the movie is an ongoing close-up of the actress, whom Aronofsky is now dating — but since all the people in the movie have been boiled down to archetypes, we learn precious little about Lawrence's character and never even get her name. She is a metaphor, an audience surrogate, a blind item: Really, she's whatever you want her to be, and this is less a test of Lawrence's ability to craft a character and more an example of her uncanny ability to stir your empathy. Other actresses could have ably conveyed what this woman is feeling, but when it's Lawrence quaking onscreen, you feel like you're going through it, too.
In Her Favor: She is clearly an Academy favorite, scoring a recent nomination for Joy, which got no other Oscar nods. That's proof that even when Lawrence's films are not to the Academy's tastes, they'll make an exception to reward her. And this is not a cushy acting role. Lawrence is put through absolute hell in Mother!, so much so that if she doesn't get an Oscar nomination for it, she at least deserves the gift basket and a spa day.
Working Against Her: I won't spoil the film since you should go in as disoriented as Lawrence's character, but near its end, Aronofsky pushes the whole enterprise into some pitch-black places that will cause many Academy members and general audiences to revolt. I think there are things about Mother! that are undeniable: The sound work absolutely deserves an Oscar nomination, for one, and if you interpret the film as an act of atonement for an artist too consumed by his own work, there's a kernel there that industry voters will be able to relate to.
But Mother! is by no means a traditional awards-season vehicle: It's a thrown bomb. And when the Best Actress race is as crowded as this year's, voters will be looking for performances they can clutch to their chests, not films designed to blow up in your face. It will be one of the most talked-about, endlessly debated films to come out this year. It just may not be an Oscar movie.