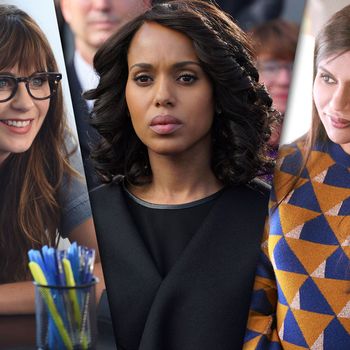 New Girl, Scandal, and The Mindy Project
end this season.
Photo: FOX/ABC/Hulu
You know the old saying: Don't cry because it's over, smile because you got hours and hours of watchable content. As the fall television season gears up in a matter of days, not all of our favorite shows will be coming back for another round of episodes this time next year. We'll be bidding farewell to five popular shows — although, of course, that number could soon increase as networks recalibrate their needs. Prepare your eulogies and read on for what the television gods are taking from us for the rest of 2017.
The Mindy Project
Premiere date: September 12, Hulu
Final episode count: 117 over six seasons
What's going on? Mindy Kaling decided to end her rom-com series to be able to pursue more projects outside of the television landscape — and she also believes she's told all of the stories surrounding the merry folk at Shulman & Associates that she's capable of. "We're really excited about this last season. I think the timing is exactly right," Kaling explained in an interview. "We started this series when she was single, and now she's married and has a kid and she has a stepdaughter, and it kind of just felt like [a few] more episodes was all we needed to wind this down." The final season will also see Mindy adjust to life as a newly divorced woman. (That was a short marriage, huh?)
The Middle
Premiere date: October 3, ABC
Final episode count: 215 over nine seasons
What's going on? We guess we can say it was one heck of a ride. This consistently charming working-class family sitcom may not have garnered as much interest as Modern Family, but it had a whole lot of heart. "Last year we sat down with our cast and made the bittersweet decision together that in this ninth season it is time to bring the Hecks' story to a close. It's been an amazing run, a once-in-a-lifetime experience, and we're looking forward to having an entire year to say good-bye," the show's co-showrunners said. "Plus, we wanted to go out before too many people knew we were on the air." The last season ended with the eldest son, Axl, getting the opportunity to travel around Europe with his college friend for work. His family is very proud that he managed to escape Orson, Indiana … and a little jealous.
Scandal
Premiere date: October 5, ABC
Final episode count: 124 over seven seasons
What's going on? Showrunner Shonda Rhimes believed that seven seasons was the perfect amount of time to tell the story she wanted to tell. "Deciding how to end a show is easy. Deciding when to finish is quite simple when the end date is years away," she explained in a statement. "But actually going through with it? Actually standing up to say: This is it? Not so much. So, next year we are going all out. Leaving nothing on the table. Creating this world in celebration. We are going to handle the end the way we like to handle the important things in our Scandal family: all together, white hats on, gladiators running full speed over a cliff." Let's see what kind of mischief Olivia Pope, chief of staff, gets herself into.
New Girl
Premiere date: Late 2017, Fox
Final episode count: 146 over seven seasons
What's going on? After being on the verge of cancellation, Fox decided to renew New Girl for a shortened season of eight episodes. The swan song of a season promises "major milestones for all main characters over the period of one year, including a big one in the series finale," but perhaps most interestingly, the sitcom will be flash-forwarding three years in the premiere. What could possibly be a bigger milestone than finally learning Schmidt's first name?
Red Oaks
Premiere date: Late 2017, Amazon
Final episode count: 30 over three seasons
What's going on? Amazon's delightful '80s nostalgia comedy follows a college student who takes a summer job as an assistant tennis pro in a quirky New Jersey country club. There's lots of sex, drugs, and sports. "We've always hoped to send these characters off to their futures with a third and final season," the co-creators said. They got their wish.
Additionally, a few shows with summer debuts will be ending their respective runs in the coming weeks. FX's The Strain will be bowing out after four seasons on September 17; MTV's Teen Wolf is ending after six seasons on September 24; and Showtime's Matt LeBlanc–led Episodes is ending its run on October 8.