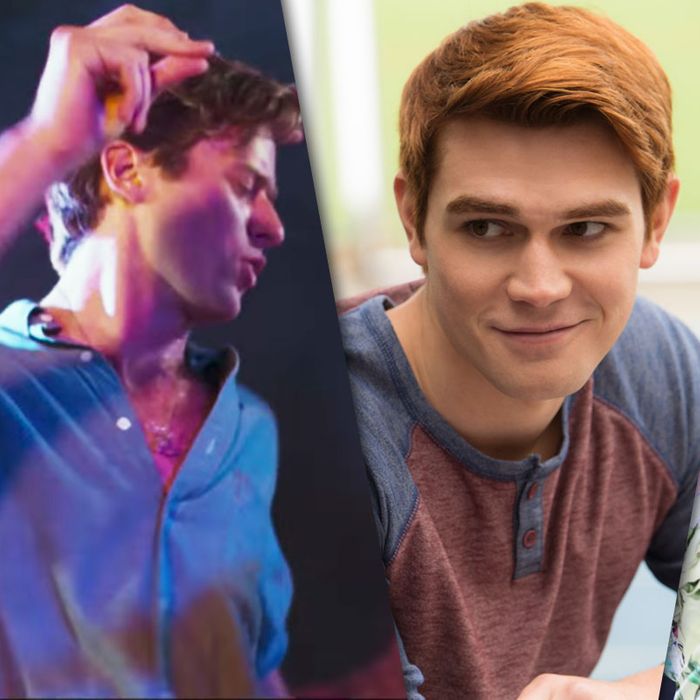 Photo: Sony Pictures Classics/The CW/Getty Images
Man. Can we all just hug for a minute? This week has been a tough one for the entertainment industry, with over three dozen women coming forward to accuse megaproducer Harvey Weinstein of sexual harassment, assault, and even rape. These incredible women have been sharing their painful stories for days and the accusations show no signs of going away. At times like these it can feel like everything is terrible, and while we in no way want to diminish the bravery of these accusers, let's try to remember that some good things also happened this week. Trust us, it will help your soul. Here are six things that made us smile this week.
1. Armie Hammer Danced
In the words of Eliza Hamilton, how lucky we are to be alive right now. Now being a time in which Armie Hammer is in a beautiful film, based on a beloved novel, in which he plays a sexy houseguest in Italy. This clip from the movie Call Me by Your Name shows Hammer doing his best dad moves while wearing beat up Converse, a blue button-up and — deep breath — a thin, bouncing silver chain. The clip caused such a stir that it inspired a Twitter account of Armie dancing to different pop classics, including "Gasolina," "Green Light," and "Bohemian Rhapsody." Treat yourself and watch every one of them.
2. Riverdale Returned
The sexy, syrupy teens of Riverdale are back. With the show streaming on Netflix over the summer, the series gained a huge new following in the past few months, bringing in over 2 million viewers on the night of the premiere. And, oh, what a premiere it was, my friends. Blood, scheming, shower scenes. We'll be thinking about Archie's dripping cast for weeks.
3. Jeff Goldblum Answered Your Questions
The early stages of the Thor: Ragnarok press tour have been delightful. Mark Ruffalo is wearing henleys, Tessa Thompson dazzled the red carpet, and Jeff Goldblum is trying to figure out social media. As part of the film's marketing campaign, Marvel asked its fans for their best answer to the question "What is Ragnarok" with the cast reading the answer. Suffice to say, Jeff Goldblum did not stick to the script. Here he is describing the wonders of Cate Blanchett, then he waxes poetic on the jazz piano, goes on a tangent about Currier and Ives, and discusses the history of the name Abigail. We don't deserve him.
4. Princess Nokia Threw Soup at a Racist
This story is the only good thing about the New York City transit system. Earlier in the week, a belligerent subway rider was yelling the N-word on the L train, when he was forcibly pushed out of the car and onto the platform by several passengers. One rider went so far as to throw her cup of Au Bon Pain soup at him. That passenger was rapper Princess Nokia. "Yes I threw hot soup in this mans face and kicked him off off the train , and kicked in the face," she tweeted. "Any other racists wanna try us again?"
5. Britney Spears Painted
You know that scene from The Notebook where Allie peacefully paints in a sunlit room, the wind blowing her hair, while wearing nothing but a tousled sheet? This is like that, but better, because it's Britney Spears, and the paint is neon watercolor, and the score is Mozart's "Rondo Alla Turca."
6. Robert Pattinson Became Single Again
Bad for FKA Twigs. Good for us.