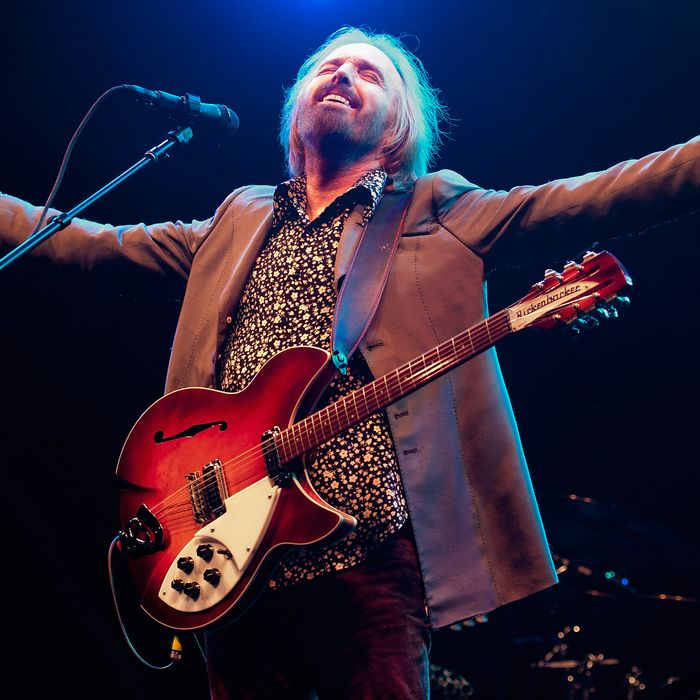 Photo: Erika Goldring/WireImage
On Monday, rock legend Tom Petty died at 66, just one week after wrapping up his and the Heartbreakers' hot-ticket 40th anniversary tour with three nights at the Hollywood Bowl. Prior to its first stop earlier this year, Petty referred to the tour as "the last big one" the band were likely to do, telling Rolling Stone, "I don't want to spend my life on the road." But following 40 years with the Heartbreakers, plus several more with Mudcrutch, the Traveling Wilburys, and on his own, both Petty's life and career were structured around a prolific touring presence that stretches back decades. "The road and the studio are the only places I've ever felt completely okay," he said this past June. Indeed, Petty thrived on the road up until the end. Below, we remember some of the performances that proved Tom Petty was a consummate rock front man.
Farm Aid 1985
For the inaugural family farmers benefit concert, Petty opened the show with a Chuck Berry cover and closed it with a four-song guest set from none other than Bob Dylan, which is practically the textbook guide to bringing down the house.
Live at the Wiltern, 1985
1989 MTV VMAs
Not that many decades ago, when MTV still took applaudable risks, they would occasionally pair together artists that didn't look right on paper at the VMAs – like Tom Petty and Axl Rose. It almost always worked and this was no exception; they both look mutually starstruck, which is loads more amusing to see come from Petty rather than Axl. Come for the "Free Fallin'" duet, stay for their even better "Heartbreak Hotel" cover.
Saturday Night Live, 1994
Such was the genius of Petty that when the Heartbreakers lost Stan Lynch as their drummer ahead of an appearance on SNL — where Petty would go on to be a regular musical guest — he phoned Dave Grohl's manager and convinced Grohl to get in the drummer's seat. The decision made for a sizzling performance of "Honey Bee," which Grohl said was the "first time I'd really looked forward to playing the drums since Nirvana had ended."
Concert for George Harrison, 2002
2004 Rock and Roll Hall of Fame
This performance of "While My Guitar Gently Weeps" in honor of George Harrison's posthumous induction to the Rock and Roll Hall of Fame is less about Tom Petty, and more about one of the finest guitar solos you will ever hear, performed to perfection by Prince. Sometimes, the mark of a great front man is knowing when to let a member of your backing band show off — particularly when that member happens to be Prince, who at one point turns his back to the audience to play directly to — and seemingly for —Petty. "You see me nodding at him, to say, 'Go on, go on.' I remember I leaned out at him at one point and gave him a 'This is going great!' kind of look," Petty recalled of the performance after Prince's death. "He just burned it up. You could feel the electricity of 'something really big's going down here.'"
Live From Gatorville, 2006
After 13 years, Tom Petty and the Heartbreakers returned to Gainesville for their 30th anniversary. And, as a special treat, they brought along "honorary Heartbreaker" Stevie Nicks to perform "Stop Draggin' My Heart Around," her fiery duet with Petty.
2008 Super Bowl Halftime Show
As far as Super Bowl musical spectacles go, bringing the Hearbreakers' logo to gargantuan, in-motion, neon life as the kickoff to "American Girl" still holds up as one of the more impressive.
"Free Fallin'," Hollywood Bowl, September 25, 2017
For his final performance, during which Petty thanked the crowd for 40 years of riding with the Heartbreakers, he launched into his biggest hit with a simple question: "Wanna do a big sing-along?"