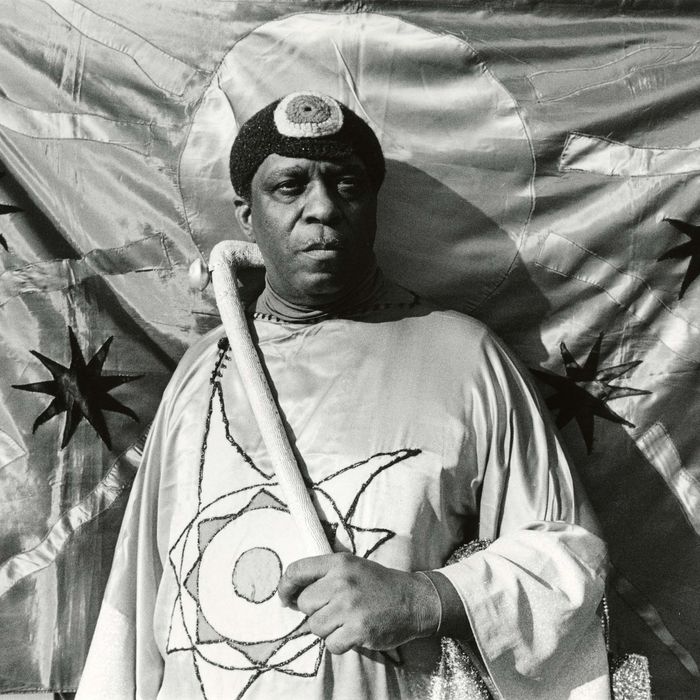 Sun Ra.
Photo: Jim McCrary/Redferns
Every few years, jazz visionary Sun Ra returns like a comet on an elliptical course with pop culture, his blinding brilliance experienced anew by the next generation of listeners. While the man born Herman Poole Blount in Birmingham, Alabama (though he would later cite Saturn as his true home), left his terrestrial form back in 1993, the influence of Sun Ra on musicians both hugely popular and deep underground is so vast that his gravitational pull goes well beyond the confines of jazz music.
This past month has seen local arts organization Blank Forms stage its first-ever benefit concert by honoring the Sun Ra Arkestra under the direction of Marshall Allen (the reedsman who played in Ra's band since the late '50s and who has helmed the spaceship since Ra's death) and featured the likes of indie-rock legends Yo La Tengo and Detroit house producer Mike Huckaby paying tribute. The former had previously covered Sun Ra's early '80s single "Nuclear War" (with it's chillingly still-pertinent refrain of "It's a motherfucker, don't you know?/ If they push the button, your ass gotta go") while the latter released a series of disco edits of the man's music.
Back in May, on what would have been Sun Ra's 103rd birthday, Solange shared a special Tidal mix of his music, tweeting out: "These songs got me through the last few years. Happy earth arrival day @SunRaUniverse. Thank u for your frequencies." That Sun Ra has held sway on the younger Knowles sister might seem strange at first glance. But from the sci-fi soul that infused her 2008 Sol-Angel and the Hadley St. Dreams to last year's pop polemic A Seat at the Table, there's a latent influence on Solange's own cosmic journey and her manifestation as a politically minded artist and visually arresting live performer. In establishing his own imprint Saturn Records in the 1950s, Sun Ra was one of the earliest independent artists. Look closer at the works of Frank Ocean and Chance the Rapper as they wrest complete control of their music and some of Sun Ra's independence can be gleaned. Creative resistance becomes equal to racial resistance. Or Sun Ra once stated, "I was trying to uplift black people out of this condition they in, and I only played for them."
For much of his lifetime and in his legacy afterward, Sun Ra was too often seen by the jazz Establishment as an extraterrestrial oddball, conjuring cosmic noise on his keyboard with his band garnering more notice for their handsewn cloaks and solar-system hats than for their formidable chops. When he penned a forward to the reissue of Sun Ra's singular 1974 film Space Is the Place, the Flaming Lips' Wayne Coyne wrote "Well … he thinks he's from outer space … He's crazy," likening Ra to Bob Dylan and uh … Miley Cyrus. Or as George Clinton once quipped: "Sun Ra is out to lunch — the same place I eat at." But Clinton himself knew that Ra was onto something and set about interjecting profundity into his funk, using that mothership to serve as a source of uplift for African-Americans in his own music.
Sun Ra is one of the 20th century's most revolutionary musicians and thinkers, encapsulating within his space music very real lessons for planet Earth well into the 21st century. In his book A Pure Solar World: Sun Ra and the Birth of Afrofuturism, author Paul Youngquist argues that Sun Ra was primarily a political artist, protesting not just war (he was jailed for being a conscientious objector to the draft during World War II) but also organized religion, handing out broadsides in the streets of South Side Chicago during the 1950s. As Youngquist wrote: "His activism drew its inspiration not from a moral or political imperative but, more simply and beautifully, from sound: music to change the planet, space music heralding other, happier worlds."
In his melding of ancient Egyptology to futuristic realms, Sun Ra is the father of the aesthetic that after his passing came to be known as Afrofuturism. Afrofuturism has since wormed its way into pop culture, with the likes of Outkast, Madlib, Deltron 3030, Janelle Monáe, and even The Late Late Show bandleader Reggie Watts all embracing that aesthetic. Claiming to be abducted by aliens from Saturn, Youngquist argued that Sun Ra slyly "retells the whole harrowing history of African slavery … the slave ships of the Middle Passage were the first alien motherships. Alien abduction assimilates a three-hundred-year history of subjugation to futuristic images of flying saucers and spacemen."
With nearly two hundred albums released over his lifetime (and entire books dedicated to trying to document them all), there's a galaxy of sound to explore: from doo-wop to abstract noise, big-band swing to polyrhythmic miniatures, free jazz rocket blasts to gravity-free space chants. And while a great portion of his catalogue has fallen out of print, the Cosmic Myth imprint was established earlier this year with the Sun Ra estate, reissuing crucial albums like The Magic City and My Brother the Wind from the original master tapes, presenting the music for the next generation of adventurous listeners. As thanks for his frequencies, we offer up some albums that best represent the universe of sound that is Sun Ra.
Singles: The Definitive 45s Collection (1952–1991)
In 1956, Sun Ra and close associate Alton Abraham founded El Saturn Records, one of the earliest black-owned record labels. As Ra biographer John Szwed put it in his book Space Is the Place, establishing an artist-owned label that kept the music firmly in the hands of its creator was "so daring, so unprecedented, as to be heroic in the music business."
While Sun Ra's recorded legacy rests on his full-length albums, from the label's inception, it also released 45s in minute pressings (some as small as 50 copies), which even the most ardent of Sun Ra collectors might have never happened upon. When these ridiculously rare singles were first compiled, they presented a parallel universe of Sun Ra. Across these 60-plus three-minute sides, Sun Ra offered up his singular spins on boogie-woogie, doo-wop, jump blues, Duke Ellington, and disco. You can also hear the man bestow Christmas greetings as well as a vow to "unmask the Batman."
Super-Sonic Jazz (1957)
Recorded in Chicago in 1956, Super-Sonic Jazz is often regarded as the first Sun Ra album. Sun Ra's vision for jazz is evident in its hand-drawn cover art: keys, drums, upright bass, and horns sounding against the black void of space. Sun Ra's career took off when he took a role as pianist and arranger for Fletcher Henderson's big band after the end of WWII. While the era of big bands was on the wane, Ra knew the power and magic of such a large ensemble. As he recalled in Szwed's biography: "In the Deep South … the only thing [black people] had was big bands. Unity showed that the black man could join together … so it was important for us to hear big bands." So while big-band arrangements are the order of the day on his debut, there are moments that hint of Ra's vision for the future. Lots of exotic percussion bangs around the arrangements of "India," and "Advice to Medics" is a solo outing from Ra on electric keyboard that twinkles like a distant star.
Jazz in Silhouette (1959)
In the late '50s, two cultural trends seduced the American mainstream: exotica and the space age. It was part of Sun Ra's genius to invert both and conceptualize a futuristic image for himself and his band that would continue on into the present moment. In 1957, the Soviet Union launched Sputnik into orbit, sending the American government into a tizzy, shoveling millions of dollars into "the space race" even while problems like racial inequality and segregation still reigned in the country. Exotica arose from the tiki bars of the postwar era and was captured on disc to great success by Les Baxter and Martin Denny, even as they blanched the exotic sounds of Africa, Asia, and the like.
For his second album, Sun Ra slyly copped to the exotica style in cover art, with Jazz in Silhouette featuring topless African women drifting over a planet's surface. It sure didn't sound like exotica to potential listeners, but it was part of Ra's vision. Or as Youngquist puts it: "If blacks couldn't flourish in segregated cities, then maybe they could follow exotica into space." Bop and swing abound in Sun Ra's charts here but an epic composition like "Ancient Aiethiopia" takes hand drums, muted trumpets, dramatic piano, and a wordless chant and lets it float in outer space.
The Heliocentric Worlds of Sun Ra (1965)
In 1960, Sun Ra and his Arkestra left Chicago and wound up living communally in the East Village, putting them at the nexus of jazz and smack dab in the middle of the psychedelic hotbed that was the neighborhood during that era. Here, Sun Ra's transformation from bop and swing master to leader of the avant-garde was complete, his singular vision influencing everyone from John Coltrane to Pharoah Sanders and Lonnie Liston Smith.
In one of the rare instances of Ra stepping away from his own label, his debut for ESP-Disk put him in the company of the Fugs, Holy Modal Rounders, and Albert Ayler. The year 1965 featured all manner of firebrand jazz recordings from Coltrane, Ornette Coleman, and Ayler, but The Heliocentric Worlds stands apart. It's chaotic and cathartic, but it also reveals an underlying structure, moving from roaring horn blasts and roiling tympanum to intricate tribal rhythms and luminous vibraphone. And that's just on one song.
The Magic City (1966)
Of the hundreds of albums Sun Ra released, by every measure The Magic City remains one of the most totemic and vertiginous in his catalogue. With a nod to Ra's terrestrial birthplace (Birmingham, Alabama's nickname in the 1920s was "The Magic City"), the title track is a 27-minute odyssey of sound. It sounds like a modern chamber orchestra one moment, and a madman at a church organ the next — the piece gracefully moves from chaos to alien beauty and back. The reed work of John Gilmore, Pat Patrick, and Marshall Allen are a master class in and of themselves, weaving around echoing drum tattoos, bowed bass strings, bumped microphones and Ra's buzzing bee keyboard, their melodicism holds the massive composition together.
Strange Strings (1967)
A critic of '60s-era free jazz might sniff that the blat of horns sounds like amateurs playing them for the first time. In the case of this strange effort from Sun Ra, he captured the sound of such naïveté, handing out an array of exotic stringed instruments to his band and bidding them to improvise. Whether you call it untutored or a perfect example of free jazz as outsider art, Strange Strings remains the most avant-garde album Sun Ra ever released (which really is saying something). Sawed, plucked, and strummed strings create quite the cacophony, while kitchen-sink percussion and a healthy slathering of reverb across everything pushes it to the outer reaches of sound.
Interstellar Low Ways (1967)
While its release date was at the height of jazz's fiery "New Thing" and the Arkestra itself was making a name as the most mind-expanding musical venture happening in New York City during the Summer of Love, this album dates back to the Arkestra's time in Chicago a decade prior. The album title itself is a play on the Federal-Aid Highway Act of 1956 and that playfulness extends to the music itself. The horns swing rather than skronk, the music hews closer to big band than Big Bang. But the results are so catchy and charming that it makes for one of the more winsome entries here. "Interplanetary Music" floats and bops along like something out of a Walt Disney film and "Rocket Number Nine Take Off For the Planet Venus" is furious and fun in equal measure, not unlike Charlie Parker and Dizzy Gillespie's breakneck bebop standard "Salt Peanuts."
Cosmic Tones for Mental Therapy (1967)
Sun Ra began utilizing cosmic imagery for his music from the jump, invoking planets, comets, and other heavenly bodies in his titles. But Cosmic Tones for Mental Therapy (recorded in 1963) was one of the first albums to actually sound like a signal beamed from another planet. Utilizing a small group, John Gilmore's bass clarinet and Marshall Allen's oboe speak an alien language as they grapple with Ra's B-3 organ and Clavioline (though he's credited with "astro space organ" as well). Adding to the spaciness of the session is that most of the hand percussion is run through a panoply of echo and reverb. So while the reeds sound like something from outer space, the drums sound like something echoing out from deepest Africa. Abstract as it can get, the sinewy rhythm of "Moon Dance" is about as groovy as Sun Ra and his band from outer space ever got.
Angels and Demons at Play (1967)
This is another anachronistic Sun Ra album that dates back to sessions from almost a decade previous made in Chicago. As such, it acts as a tonic to the more avant albums emanating from the band at this time. Flutes wind across drums tapped out in 5/4 time as if charming snakes on "Tiny Pyramids" while big band number "Urnack" swings with an urgency that suggests that the Arkestra was disciplined enough to tighten up on the bandstand. "A Call for All Demons" showcases Ra's work on the keys, somewhere between stride piano and the clanging interval leaps of Thelonious Monk. Meanwhile the title track shows Sun Ra also had a singular touch when it came to playing the harpsichord.
My Brother the Wind Vol. 1 and Vol. 2 (1970)
Two important new elements to Sun Ra and his Arkestra arise on My Brother the Wind, the Moog synthesizer and the voice of June Tyson. (And naturally, since Sun Ra's discography doesn't follow a linear trajectory, Vol. 2 appeared first, while Vol. 1 followed a few years later.) While the Moog was perceived as a novel device to be deployed by the likes of the Monkees and the Beatles, in Sun Ra's hands it became the voice of space itself. In a Down Beat article from that time, Sun Ra notes: "Some musicians continue to feel that electronic instruments are gimmicks and toys … [but] the Moog Synthesizer in its potential and application to and for the future is tremendous in scope." Vol. 1 of this series marks Ra's first encounter with the Moog, pushing the novel device into the deepest reaches of space.
The Moog might re-create the sounds of space, but June Tyson gave voice to Sun Ra himself, conveying his poetry and message in such a manner as to make them into catchy slogans. The first female member of the Arkestra, Tyson might not rank as the greatest voices in jazz, but her exuberance and delivery carry the space chants of this era, turning phrases like "Space Is the Place" and "Outer Spaceways Incorporated" into something that bounces as readily as walking on the moon.
Lanquidity (1978)
In 1968, Sun Ra and his band left New York City, relocating to the Germantown neighborhood in Philadelphia (though they still commuted into the city for the weekly residency at Slug's Saloon for a few years), the city they would call home for the next 25 years until Ra's passing in the early '90s. After the extremes of sound explored during their time in NYC, a kinder, gentler incarnation of the Arkestra manifested during this era. While they could still blast to the outer reaches of space, they also emphasized their big-band roots and also embraced funk, soul, and R&B.
That latter development makes Lanquidity one of the most accessible entries in the Sun Ra discography. The groove of the title track sounds like Bitches Brew–era Miles covering Mingus's "Goodbye Pork Pie Hat" and it ripples like the best jazz fusion, pliant and languid, the electric guitar lines making for a rare appearance in Sun Ra's music. Some of disco's slink crops up elsewhere, while closer "There Are Other Worlds (They Have Not Told You Of)" features plenty of ethereal whispers that makes a close encounter of the third kind sound rather seductive.
Disco 3000 (1978)
Never properly revered in their home country, Sun Ra and his Arkestra began to tour internationally in the early '70s, traveling through Europe and even in Egypt. One of his most forward-thinking concerts took place in Milan in January of 1978. Originally released as Disco 3000, it's one of Ra's most electronic albums (it was later reissued as a complete concert). Foregrounding a drum-machine rhythm that anticipated techno by a good decade, the horns spin like dervishes around this steady beat as Sun Ra adds plenty of synth sparkle and chants to the epic title track, the band even detouring into "Space Is the Place" before pushing outward once more.
God Is More Than Love Can Ever Be (1979)
Alternately known as Blithe Spirit Dance, Days of Happiness, and Trio, the 1979 album God Is More Than Love Can Ever Be is one of the rarest Sun Ra records. It's also one of the few times we can hear Ra without the likes of Gilmore, Patrick, or Allen in some form or another. Working with bassist Hayes Burnett and newest Arkestra member drummer Samurai Celestial (a.k.a. Eric Walker) Ra's piano work is front and center here. The rhythmic interplay on display is lean yet supple, giving plenty of room for Ra to showcase his formidable piano skills. For all the superlatives that get deployed to describe his legacy, his gifts as a pianist often go unrecognized. This streamlined album remedies that.
Nuclear War (1982)
Sun Ra was so certain that he was going to have a smash hit with "Nuclear War" that he approached Columbia Records about releasing it. While getting its message out to the people was paramount, it's not surprising that the label balked at a chorus that went: "Nuclear War / It's a motherfucker, don't you know? / If they push the button, your ass gotta go." Instead, Sun Ra found himself in the company of funky punks like the Pop Group and Maximum Joy, releasing the album to little notice. A pity, as it finds Ra in a buoyant mood. He covers not just Duke Ellington but also Charlie Chaplin (!). And June Tyson's appearance on "Sometimes I'm Happy" is sure to brighten your mood. Which is all the more crucial with the imminent threat of nuclear war still a possibility.
Soundtrack to Space Is the Place (1993)
One part blaxploitation film, one part early-'70s sci-fi flick, one part student art film, one part cosmic riddle, director John Coney's 1974 film Space Is the Place is the most vital document of Sun Ra ever put to film. During the early '70s, Sun Ra taught a course entitled "The Black Man in the Cosmos" at University of California, Berkeley (an example of "free speech" at the campus that has never quite been matched). Lectures might run the gamut from Egyptology to Bible scripture, Neoplatonic doctrines to Madame Blavatsky (you can hear one recorded back in 1971 here). And then after such discourse, Ra and the Arkestra would perform for the student body.
And while an album bearing that same name was released, it was only during a reissue campaign in the early '90s that the soundtrack to Space Is the Place came to light. Eerie, elegant, boisterous, refined, ultimately mysterious, the 16-track soundtrack touches on the myriad aspects of Sun Ra in one album. Furious drum workouts, big band showcases, blasts of astral noise, and utterances like "I Am the Alter Destiny." And at the core of it all, June Tyson entices earthbound listeners to turn our attentions heavenward and — if you find earth boring — realize the profundity that "space is the place."