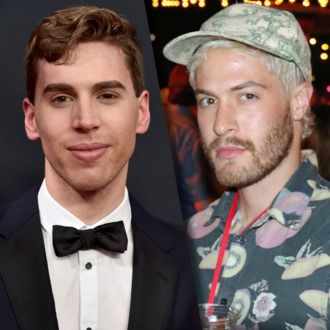 Jordan Gavaris and Blaise Godbe Lipman
Former APA agent Tyler Grasham was fired last week after three men accused him of sexual assault. Now, a fourth man has come forward, accusing Grasham of offering career advice in exchange for sex, according to Deadline. Michael Podraza, now a business and legal affairs manager at Lionsgate, issued a statement saying that Grasham invited Podraza and his partner over to his house in West Hollywood in July 2013, made several inappropriate sexual comments, and later texted Podraza that he could offer career help if he'd agree to sleep with him. Podraza's partner of 12 years confirmed the texts to Deadline: "I recall in 2013 Michael showing me his text messages with Tyler — that Tyler was looking for sexual favors in return for offering Michael help in getting auditions and a leg up in the industry," he said.
That August, Podraza said, he confronted Grasham about the text messages via his official APA email. "I am still upset that you suggested I have sex with you in exchange for your help. I have strong values and that rubbed me the wrong way. I do appreciate the advice though," he wrote. In Grasham's reply, the agent denied the accusation, saying he was just annoyed. "No No…I didn't ask you to have sex with me," he wrote. "Don't take it that way. I just send annoying text messages when I get inundated from actors." Two other men — former child actor Blaise Godbe Lipman and film and TV editor Lucas Ozarowski — have accused Grasham of sexual assault. Another man named Brady Lindsey has said Grasham touched him inappropriately during two meetings. Orphan Black star Jordan Gavaris also said Grasham harassed him.
Update, October 27, 2017, at 5:35 p.m.: Another man contacted Vulture Friday to allege sexual misconduct by former APA agent Tyler Grasham in 2012, when he was 25. The man, an actor who chose to remain anonymous, said that Grasham assaulted him at an Oscar party. "The party was at his home and he was showing me the house, and he took off his pants and threw himself at me in a private room," he said. "There were a lot of people there, and I ran back to the party, and eventually out of the house."