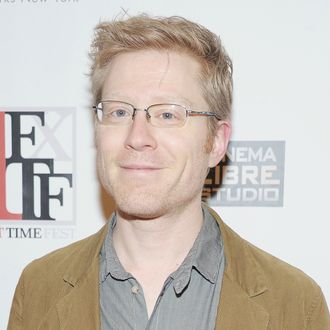 Anthony Rapp.
Photo: Michael Loccisano/Getty Images
In an interview with BuzzFeed News, Star Trek: Discovery's Anthony Rapp alleges that in 1986, Kevin Spacey invited the then-teenaged performer to a party at his home and, at the end of the evening, physically carried Rapp to bed and attempted to initiate sex. Spacey would have been 26 at the time; Rapp was 14. "My stomach churns," the Beautiful Mind actor says of the experience now. "I still to this day can't wrap my head around so many aspects of it. It's just deeply confusing to me."
The Rent star, who appeared as Mark Cohen in the show's original run, says Spacey befriended him during his turn in Precious Sons with Ed Harris. Spacey was also starring on Broadway at the time, across from Jack Lemmon in the revival of Long Day's Journey Into Night. The pair met at a post-show party attended by multiple casts. After going out with the actor and his friends, Spacey invited Rapp to his home for a party. As the only child in attendance, Rapp grew bored and settled in to watch TV, not realizing he was the only guest left until Spacey came to him "drunk" and hoisted him into bed. "He was trying to seduce me," Rapp recalls. "I don't know if I would have used that language. But I was aware that he was trying to get with me sexually." Rapp was eventually able to "squirm" free from underneath Spacey and, after collecting himself in the bathroom, told the House of Cards star he was leaving. "He followed me to the front door of the apartment, and as I opened the door to leave, he was leaning on the front door[frame]. And he was like, 'Are you sure you wanna go?,'" says Rapp. "'I said, 'Yes, good night,' and then I did leave."
"The older I get, and the more I know, I feel very fortunate that something worse didn't happen," the performer says of the encounter, which weighed on him more as he became an adult himself. "And at the same time, the older I get, the more I can't believe it. I could never imagine [that] anyone else I know would do something like that to a 14-year-old boy." He saw Spacey again later when the older actor visited the set of the 1993 film Six Degrees of Separation, an experience that panicked Rapp. "It started to occur to me: What am I supposed to do if I ever work with him?" he says. At the 1999 Tonys they saw each other again, the Star Trek: Discovery actor performing with the cast of the You're A Good Man, Charlie Brown revival and Spacey nominated for the revival of The Iceman Cometh. "Does he have any recollection? Is there any feeling about what happened?," wondered Rapp after they briefly met each other's gaze. "Does he regret it?"
At one point Rapp met with a lawyer discuss the incident. The lawyer told him "there was no case worth pursuing." He revealed the encounter to several friends, as well as in a 2001 Advocate interview with Spacey's name redacted. Rapp says the ongoing Harvey Weinstein sexual-misconduct scandal, and the women who have spoken out about their harassment and assault, inspired him to talk. "Part of what allowed the Harvey situation to occur was that there was this witting and unwitting conspiracy of silence," Rapp says. "The only way these things can continue is if there's no attention being paid to it, if it's getting forgotten." According to BuzzFeed News, Spacey's representatives did not respond to their attempts to contact he actor about Rapp's allegations.