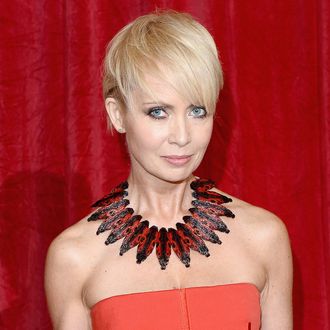 Photo: Jeff Spicer/Getty Images
In an essay published in Britain's Sunday Times, actress Lysette Anthony alleges producer Harvey Weinstein not only raped her but also subjected her to years of sexual harassment, leveraging his professional clout to repeatedly force her into sexual situations. Anthony, who currently stars on the British soap Hollyoaks, tells the story via her friend Charlotte Metcalf, who Anthony reportedly told about the assault 15 years ago.
According to Anthony, she met Weinstein in 1982 while doing press for the 1983 fantasy-adventure movie Krull. Over the next few years, the pair saw each other socially several times, catching up at parties and getting lunch together, all without incident. "The lunches were invariably in hotel suites but I felt comfortable in Harvey's company. We had become friends." Anthony says of their relationship. The tone of their friendship suddenly changed, however, one night at the producer's rental home. "The next thing I knew he was half undressed and he ­grabbed me. It was the last thing I expected and I fled. I blamed it on myself because I was tired, a bit drunk and ­therefore so completely off my guard," says Anthony.
After that, she says Weinstein would stop by her home at all hours. One morning, Anthony let him inside, whereupon he allegedly raped her. "He pushed me inside and rammed me up against the coat rack in my tiny hall and started fumbling at my gown. He was trying to kiss me and shove inside me. It was disgusting," the actress recalls. After the producer left, Anthony struggled with the reality of the assault. "I was disgusted and embarras­sed, but I was at home," she says. "I thought I should just forget the whole disgusting incident. I blamed myself. I'd been an idiot to think he and I were just friends." Sometime later, Weinstein bought Anthony a coat, which she took as "his unspoken way of apologising for what had happened."
Unfortunately, that was not the end of the abuse Anthony claims Weinstein inflicted on her. Afraid for her career, the actress later agreed to meet with Weinstein for what her agent, who didn't know about the attack, assumed was a promising meeting with the then-head of Miramax. Once there, Weinstein allegedly subjected Anthony to the same bathrobe-and-massage proposition familiar to dozens of actresses. Says Anthony, "By then I'd just given up. I knew I was powerless and at least I wouldn't have to do much. I was just a body, young flesh. It wouldn't take long and no one knew." According to her, Weinstein "finally let go of me" after repeated instances of sexual harassment and assault in 2002.
Compelled by the stories of the many other women who have come forward about Weinstein's abuse, Anthony reported the rape last week to police. "I can't stand by and see all these brave women tell the truth and not stand up alongside them," the actress says. She concludes, "The truth is that Harvey Weinstein raped me — not in a hotel suite with ­champagne and ­caviar on tap, but up against a coat rack on a grey morning in my own home."
Meanwhile, Scotland Yard is investigating three other allegations of sexual assault against Harvey Weinstein stemming from incidents that occurred in London between 2010 and 2015.