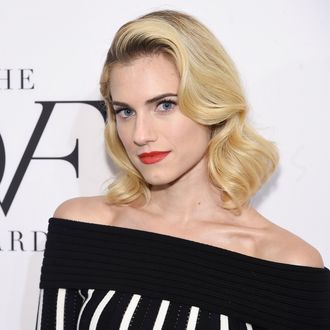 Photo: Jamie McCarthy/Getty Images
Do you miss the icy, poised Allison Williams from the end of this year's Get Out, pointedly eating one dry Fruit Loop at a time? Maybe her upcoming turn as one of "two cello prodigies" in a story about "a sinister obsession" will satisfy your craving? According to Deadline, the Girls actress will star in Richard Shepard's upcoming horror-thriller The Perfection. Based on the name alone, you just know Williams's character isn't one of your normal, laid-back cello prodigies with pleasant obsessions.
The film's screenplay was written by Eric Charmelo, Nicole Snyder, and Shepard, who worked with Williams as the director of a dozen Girls episodes. While not much more is available on the film's plot as of yet, Williams says cryptically, "Without spoiling it, I'll just say this: We've all been talking about this movie — without realizing that we've been doing so. And I feel very fortunate and grateful to be able to take part in its realization." Hmm, okay, so it could just be about our collective love of perfectly performed cello music? Just kidding. There will definitely be a body crammed in that cello.