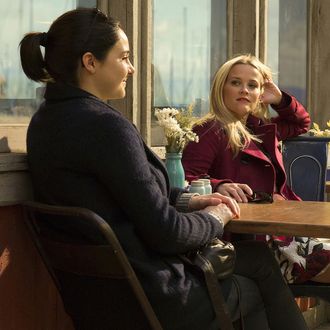 Never doubt Madeline Martha Mackenzie.
Photo: HBO
In the great streaming wars, Netflix dominates, Hulu is ascendant thanks to The Handmaid's Tale (and its Emmy wins), and Amazon is still trying to figure out what the heck it wants to do. After the network decided to deemphasize its pilot season and Jeff Bezos pushed for the site to make its own Game of Thrones, a new piece from The Wall Street Journal paints a grim picture of the state of the company's entertainment division. Amazon reportedly passed on the chance to bid on The Handmaid's Tale and Big Little Lies (who needs Nicole Kidman when you have Woody Allen making poorly received period comedy?) and has alienated many on the creative side. David E. Kelley, who wrote Big Little Lies and left Amazon's Goliath because of creative differences with Billy Bob Thornton, described the creative division as "a bit of a gong show. They are in way over their heads." Shawn Ryan, of the canceled Mad Dogs, said the site's conflicting notes put "everything in chaos" and weren't "artist friendly."
People working with Amazon also told the WSJ that the site's executives pushed employees to include their friends and romantic partners in projects. Joe Lewis, head of comedy and drama, reportedly pushed to include his girlfriend, Jane the Virgin's Yara Martinez, in The Tick, though creator Ben Edlund denies any such pressure. The WSJ reports that studio chief Roy Price pushed a project called 12 Parties from his fiancée, Lila Feinberg, which seemed to include characters based on Price and Feinberg. After a conflict-of-interest review, Amazon passed on the script. Too bad, it could have been the next Game of Thrones.