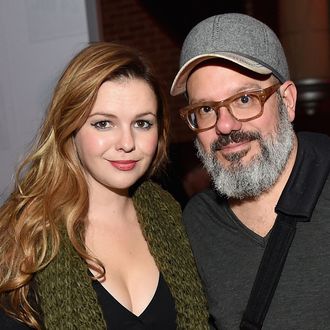 Amber Tamblyn and David Cross.
Photo: Nicholas Hunt/Getty Images for Urban Arts Part
After her husband, David Cross, was accused of making racist jokes to comedian Charlyne Yi, Amber Tamblyn has said that she reached out to Yi with support. Earlier this week, Yi recalled the time she met Cross: He made fun of her pants and asked her if she spoke English, saying, "Ching-chong-ching-chong." Cross said that he remembered the encounter differently, and that he was simply doing a racist Southern character from his stand-up routine. When Tamblyn's Twitter followers pressed her about this controversy, she admonished them for holding her accountable for her husband's actions — this was his bad behavior, not hers — and said that her real concern was for Yi. "I spoke to Charlyne. I believe her. I'm about HER feelings/emotional health right now," Tamblyn tweeted. You can see her full statement below.