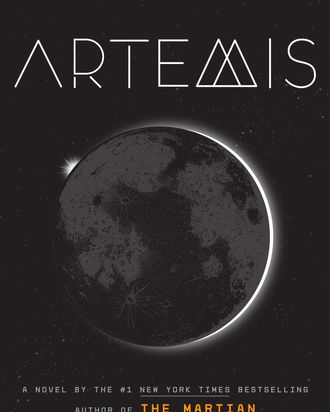 Photo: Penguin Random House
After the massive success of his debut book, The Martian, sci-fi author Andy Weir has written a crime caper, titled Artemis, with a heroine whom actress Rosario Dawson describes as "super MacGyver." Dawson, who voices the protagonist, Jazz, in the audio version of Artemis, took part in a panel at New York Comic Con with Weir (via satellite), moderated by New York Magazine and Vulture contributing editor Jada Yuan. Both the audio and print version of the book will be available on November 14, but 20th Century Fox has already acquired the film rights and filmmakers Phil Lord and Christopher Miller (21 Jump Street, The Lego Movie) were swiftly tapped to make the film after they exited the Star Wars Han Solo spinoff film. The story centers on Jasmine "Jazz" Bashara, a young Saudi Arabian porter and newbie smuggler trying to survive on the first city on the moon, Artemis. Read on for eight more things we learned from Weir and Dawson about the forthcoming book and film.
The Earth still exists. Artemis takes place around the late 2080s and "Earth is fine," Weir said vaguely. But "Artemis exists because there is an economic reason for it to," he added. It's a tourist location (and economic boon) that anyone can visit for around $70,000, for two weeks. "Lunar tourism would be something middle-class people could afford," he said. "You know, as a once-in-a-lifetime kind of thing."
Artemis is split up into districts. Called Armstrong, Aldrin, Conrad, Bean, and Shepherd. "Armstrong is industry, Aldrin is the tourist center with casinos and hotels and stuff, and Conrad where the blue-collar folks live," Weir explained. "Bean is sort of like suburban life — it's town folks — and then Shepherd, there are, like, really rich people there."
Before Artemis, there was Zhek. After Weir's first sci-fi novel, The Martian, became a best seller, Weir signed a contract with Penguin Random House to finish his second book within a year. But with 70,000 words of Zhek already written, and a looming deadline, Weir realized, "This book sucks." He scrapped all 70,000 words and started over. (To put that number into perspective: The Martian tallied some 105,000 words.)
George R.R. Martin gave him advice while he was writing Artemis. Weir was hanging with the Game of Thrones author in Sante Fe, New Mexico, (as one does) and told Martin he was worried that Artemis wouldn't be as good as The Martian. "You'll be working on your 28th book and you'll still feel that way," Martin offered, which weren't quite the words of comfort he was searching for.
Jazz wasn't going to be the protagonist. In fact, she was only going to have a couple of lines. "That story wasn't very good, the plot didn't flow very well," Weir said. "So I scrapped it." Again. The book went through a lot of revision before settling with Jazz as the lead character.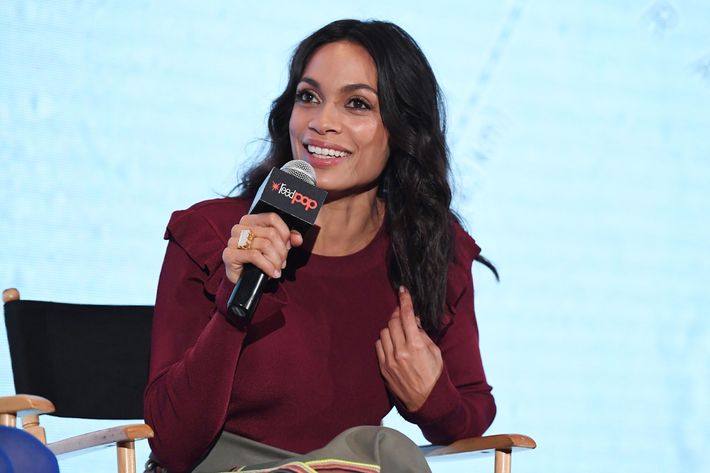 20th Century Fox gave him a "big pile of money" for the film rights to Artemis. "It was a slam-dunk offer for a straight-up purchase," Weir said. "Not the option. A purchase. Which is a big distinction."
Weir is not adapting the book into the screenplay himself. "I wouldn't want to adapt my own book into a screenplay," he said. "It's so hard. It's all about cramming everything into 120 minutes. So you're like, 'Which one of my children do I love the least?' I think it's best for adaptations to be done by a different author." A screenwriter is yet to be named, but Weir hinted that it will be someone who has worked with Lord and Miller before … and praised screenwriter Drew Goddard for his work on The Martian.
Rosario Dawson does not have her heart set on playing Jazz in the movie. "What I love about this is how diverse the cast has the potential of being," she said. "It would be really amazing to have and find a young Saudi Arabian actress to play this role and really cast people appropriately, which doesn't happen very often."
Artemis is available for pre-order on Audible.
*An earlier version of this piece incorrectly stated the Artemis release date. It will be available on November 14.