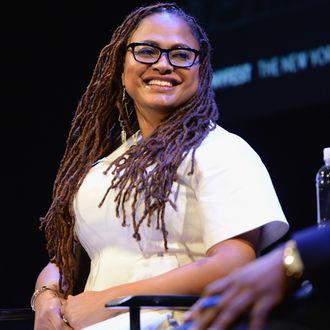 Ava DuVernay at
The New Yorker
Festival.
Photo: Andrew Toth/Getty Images for The New Yorker
Speaking at the New Yorker Festival on Saturday night, Ava DuVernay told the crowd she didn't know what audiences will think of her vision for Disney's A Wrinkle in Time. "We're really really in the weeds on trying to finish the movie right now," she said. "I love it, but I don't know how it's going to be received. I feel something very deep in my gut when Oprah's voice says, 'There's a darkness in the world and the only one who can stop it is …' smash cut to a black girl. I don't know. I don't know. I don't know if people are going to feel that like I feel that."
She said she doesn't know if the film will satisfy certain audience expectations and, at its core, the film is about a girl of color saving the world. "It's not shied away from. It is front and center," said DuVernay. "She is hopping planets and flying and saving the freakin' world. She's saving the world. Saving the world from darkness, and in the film, darkness is defined as the darkness within us. She's saving us from ourselves. It's deep."
DuVernay said this is the first time she's experiencing such uncertainty. "With The 13th, I was, You know what. I don't care. This is what I want to put out. If people get it, they get it. If they don't, I'm onto the next," she said. "With Selma, I was like, You know what, I'm nervous … But I know that I believe in this. I know that this is a record, and it needs to be there. Some other people are going to get this. This, I don't know."
Later, DuVernay acknowledged that audiences haven't seen many new worlds created by women in film. "You're seeing worlds being built from the point of view of a black woman from Compton," she said. "So when I'm told, 'Create a planet.' My planet is going to look different from my white-male counterparts' planet, which we've seen 97 percent of the time, so you're used to seeing that. So is this going to be as interesting, as intriguing? These are all questions that we've only barely been able to ask with Patty Jenkins's great work in Wonder Woman. What do worlds through a woman visionary's lens even look like?" We'll have to wait until next spring to find out.
Update: An earlier version of this post incorrectly quoted DuVernay as saying, "[Selma was] my first thing that kind of has a faux pas" and "So is this going to be as fallible?" We misheard her, and we've updated it to more accurately reflect her words.