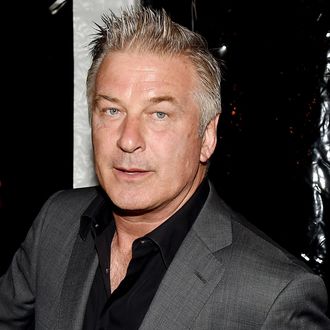 Alec Baldwin.
Photo: Patrick McMullan via Getty Image
Alec Baldwin, who has a history of making ill-conceived decisions with regard to his Twitter usage, has fallen into old habits again. This time it's over Decider's piece about a film he made with director James Toback, whom more than 200 women have accused of sexual harassment. The movie in question, Seduced and Abandoned, is a 2013 documentary starring Toback and Baldwin as they try to pitch a movie at the Cannes Film Festival. In her article on Decider, writer Kayla Cobb looked back at the movie in light of the accusations against Toback, Harvey Weinstein, and others, writing, "knowing what we do now, Seduced and Abandoned's 'boys will be boys' tone transforms from mildly charming to repulsive." Near the end of her article, Cobb also noted that watching the movie makes Baldwin's silence on Toback even more deafening, since the actor often speaks out on these sorts of controversies. She noted that Baldwin appears in Toback's new film The Private Life of a Modern Woman, which played in Venice recently.
Baldwin did not take kindly to Cobb's assessment of Seduced and Abandoned or his silence, and responded on Twitter account, claiming that "the Decider wants to tar me w[ith] the Toback brush." Cobb replied asking if he would like to make a statement about the director, to which Baldwin said, "I would send you an email, on any subject, if you weren't such a dishonest, awful writer" and then, pressed for comment again, wrote, "why don't you let prosecutors and real journalists investigate such cases and you stick to divorces and plastic surgery." Vulture has reached out to Baldwin's reps to see if he has any formal comment on Toback.