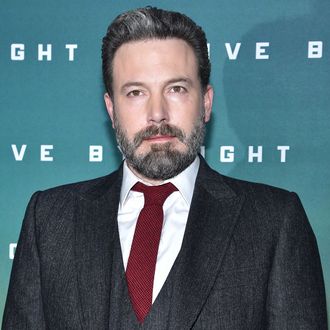 Ben Affleck.
Photo: Pascal Le Segretain/Getty Images
After Ben Affleck denounced Harvey Weinstein on Tuesday, actress and former TRL host Hilarie Burton recalled the time Affleck groped her during an appearance on the show. Burton shared a video from TRL: Uncensored where she laughs off her discomfort about the incident, in which "he comes over and tweaks my left boob." That Uncensored clip doesn't show the grope, but another one does: In that video, a producer describes seeing something like "a little squeeze." As Burton says in the clip, "some girls like a good tweakage here and there. I'd rather have a high five."
At the time, Affleck's move was treated as funny, naughty moment in TRL's history, but as Burton says now, "I didn't forget [about it] … I was a kid." According to the TRL historians at ONTD, Burton was 18 at the time.
The moment is reminiscent of another interview with Affleck — this time with an Montreal TV host Anne-Marie Losique from 2004 — that periodically makes the rounds on social media. In the clip Affleck pulls Losique into sitting on his lap, talks about the firmness of her breasts, and proposes she take her top off.
None of the behavior in the clips approaches the level of Weinstein's alleged crimes, but it's another reminder of the ways, large and small, that women in Hollywood are forced to accommodate the whims of men.
Update: On Twitter, Affleck apologized to Burton for his behavior during the TRL interview:
Update: In a statement released Wednesday, Anne-Marie Losique defended Affleck's conduct in that 2004 interview. "This was for the camera," she told The Hollywood Reporter. "You have to understand that we have done dozens and dozens of interviews like that. It was for a show I was producing, so I was not at all a victim. When the cameras rolled, we would start to do that game. As soon as it stopped rolling, there was none of that." Losique also said she's not "thrilled to have that interview mixed in with the other stories" because she doesn't see Affleck's conduct as similarly wrong.