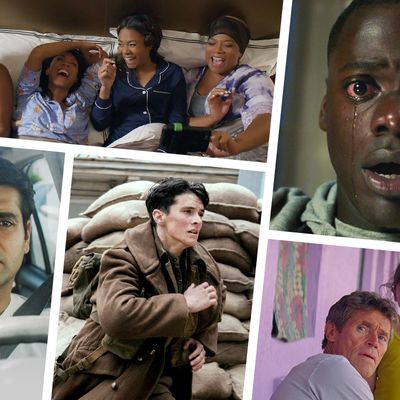 Clockwise from top-left: Baby Driver, Get Out, The Salesman, The Beguiled, and Personal Shopper.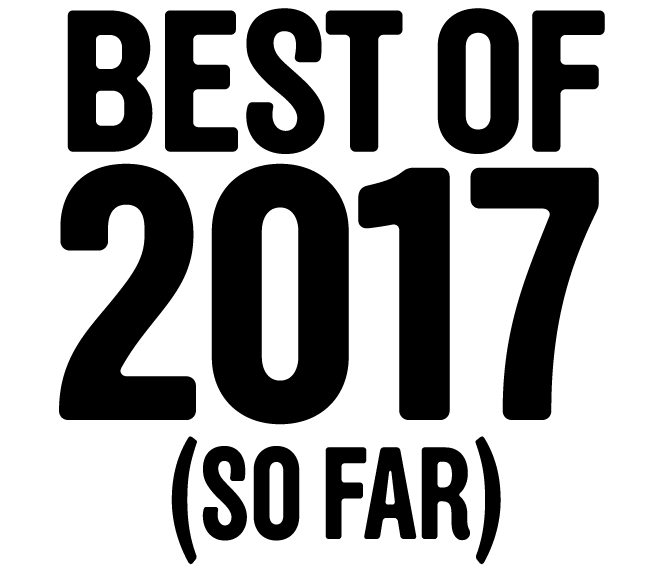 This list has been updated to include October releases.
This year has already seen one attempt at crowning a best film go awry, but we won't be deterred: With 2017 more than halfway over, it's time for us to take stock. Here are the best movies Vulture has reviewed, according to our movie critics David Edelstein and Emily Yoshida.
(A quick note about our methodology: We've restricted this list only to films that have had an official release in the first seven months of 2017, though we will continue to update it throughout the year.)
All I See Is You
Blake Lively gives her best film performance to date in Marc Forster's strange and ultimately gripping psychological drama. She stars as Gina, a blind woman living with her husband (Jason Clarke) in Bangkok, who undergoes experimental surgery to partially restore her vision. What she sees (literally) fundamentally changes her marriage, but Forster isn't content to let his film look like a standard domestic drama, and he and cinematographer Matthias Koenigswieser make All I See is You one of the loopiest and expressive exercises at the movies this year, a meditation on sight itself that's ultimately in service of a not-half-bad potboiler.
All This Panic
An unusually rich and suggestive documentary directed by Jenny Gage and centering on a group of teenage Brooklyn girls who confront (writhe about, squirm over, wrestle with) matters of identity, family, love, and their place in the world. That sounds a little broad, especially for a movie that runs a scant 79 minutes, but the filmmakers obviously shot a ton of footage, and what they chose has a fullness that can be loosely called Chekhovian. The title itself is one of those accidents that come from casual conversation — how a girl named Delia describes the start of a new school year. It's so offhand and so comprehensive.
Baby Driver
Ansel Elgort is the beautifully stringy, poker-faced youth who wears earbuds and drives the getaway car for an increasingly psychotic gang of bank robbers (among them Jamie Foxx and Jon Hamm) at the behest of the icy "Doc" (Kevin Spacey). The 43-year-old U.K.-born Edgar Wright is just about the perfect 21st-century genre director. He has a fanboy's scintillating palette without a fanboy's lack of peripheral vision. And he choreographs car chases dazzlingly — and without CGI. It's a joyride.
Beatriz at Dinner
Salma Hayek and John Lithgow face off in what feels like a battle for the soul of the world in this deceptively small-scale dinner party drama. Hayek is Beatriz, a physical therapist and healer who finds herself sitting across the table from a man who represents everything she opposes. This is the fast-acting version of writer-director duo Mike White and Miguel Arteta's HBO series Enlightened: a bitter, often quite raw depiction of what it means to speak truth to hopelessly entrenched power.
The Beguiled
Sofia Coppola's hushed, atmospheric remake of the 1971 Don Siegel–Clint Eastwood Civil War–era drama focuses on a wounded Union soldier (Colin Farrell) who takes refuge in a southern girls' boarding school, where the staff and small group of students debate whether to turn him over to the Confederate army. Siegal's version had a gothic horror kick — a primal male dread of being torn apart by females. In Coppola's take, the primal threat is to women. The antebellum manor is here a beacon of civilization in an ugly (male) world, and the man introduces dirt, blood, flesh — and earthy desire. Even hobbled, he exercises power. It would be fascinating to watch the two films back to back.
The Big Sick
Kumail Nanjiani and Emily V. Gordon's leisurely paced, consistently funny portrait of the unusual beginning of their relationship is the kind of movie that sneaks up on you. Nanjiani and Zoe Kazan star as himself and Emily respectively, a Pakistani comedian and a grad student who fall in love, break up, and then go through a life-threatening emergency together. It's a "comedian movie" that never feels desperate, and it handles its culture-clash themes with a personal, non-message-y touch. Ray Romano and Holly Hunter are as good as you've heard as Emily's frazzled parents.
BPM
The title — from "beats per minute "— suggests a heartbeat or a discotheque, both of which figure in Robin Campillo's starkly fictionalized story of the French branch of the ACT UP movement in 1989, when the government and Big Pharma seemed to be taking their sweet time as people died by the tens of thousands. The members devise disruptive stunts and then meet in a vertical classroom to discuss — as civilly as they can manage— the next stage in the ongoing war against the people and institutions who are supposed to be helping them. The first half is chill and impersonal, but a central pair of lovers emerges, one a fierce man whose first gay encounter would prove to be fatal. The movie is vital for the history it depicts, but also important in the here and now, as a testament to public action. It forces you to ask, "How disruptive are we willing to be?"
Brad's Status
It's like a dramatized first-person short story, narrated by a man (Ben Stiller) being eaten away by envy — mainly but not entirely of four college buddies who got rich and/or famous and left him behind. Stiller once directed and starred in a grandiosely sentimental adaptation of James Thurber's The Secret Life of Walter Mitty, and this is like a grim meditation on the same themes. Stiller, with his zest for humiliation, fits the role of Brad so well that he's hard to watch. But writer-director Mike White has empathy for people on the outside looking in, and he finds his way to a humane — if not entirely conclusive — resolution. Fine supporting performances by Austin Abrams, Luke Wilson, and Michael Sheen.
Dunkirk
Half a great movie. The 1940 Allied retreat from the beaches of France as the Nazis close in is stark and harrowing, but muddled by Christopher Nolan's signature "Nolan Time," that arty temporal scramble that he thinks is more illuminating than it is. Three time periods with different main characters (Tom Hardy in a flight mask, Mark Rylance on a boat, and a bunch of look-alike soldiers on "the mole") finally sync up in the lump-in-the-throat climax while General Kenneth Branagh wipes away a tear. People talk about seeing Nolan's movies being so rich they have to see them twice. Maybe it's because his storytelling is so convoluted. Hans Zimmer supplied the effective, unresolved (until the end) score.
The Florida Project
Sean Baker's near-perfect follow up to 2015's breakout hit Tangerine is an ode to childhood, shot in vivid, Floridian panoramas. Unforgettable newcomer Brooklynn Prince stars as Moonee, who lives in a long-term stay motel in the shadow of Walt Disney World with her young mom Halley (the also-great Bria Vinaite.) As with Tangerine, the would-be desperation of the milieu could be relentless downer, were it not for Baker's insistence that joy, no matter how fleeting, be accessible to everyone regardless of socioeconomic status. Willem Dafoe is a standout as the stoic but loving proprietor of the hotel, who looks out for Moonee and her friends when their parent can't or won't.
Get Out
Jordan Peele's breakthrough is a satire of liberal racism in which black men go to the suburbs with their white girlfriends, meet their hearty families who say they voted for Obama, and turn strangely docile, like Stepford Blacks. It's a ludicrous paranoid fantasy — and a just-about-perfect horror film. Peele uses the wide screen like John Carpenter in Halloween, to throw you off center. You jump, laugh at your jumpiness, and jump again.
A Ghost Story
Dead Casey Affleck visits the land of the living with a sheet over his head and sad-sack eyeholes in David Lowery's pretentious but often affecting drama. He remains in his old house even after his widow (Rooney Mara) drives into the sunset and new people move in — and out. There's a party scene in which Will Oldham delivers a monologue about humans' vaporous legacies while the ghost leans in to listen. The image of Affleck under that sheet while the movie goes on around him is indelible, and Lowery evokes the passing of days, months, and years with real lyricism.
Girls Trip
Behold, the hard-R ensemble comedy of 2017 that actually overdelivered. Girls Trip never claimed to be more than a bawdy girls' night out, but the chemistry of its four leads makes it something more than that, a cathartic dose of female-driven silliness and camaraderie that's confident enough to not devolve into winking self-parody. Queen Latifah, Regina Hall, and Jada Pinkett Smith are a delight to watch let loose, but Tiffany Haddish is the comic revelation of the year.
Good Time
Robert Pattinson gives a career-best performance as Connie, a small-time Queens criminal trying to get his brother out of prison over the course of one crazy night. Josh and Benny Safdie (the latter of whom co-stars as Pattinson's brother) never let their foot off the pedal, and their gorgeous, neon-tinged nightscapes are as thrilling to take in as Daniel Lopatin's seething, hyperbolic score. What makes the thrill stick, though, is the Safdies' portrait of pure, but ultimately destructive brotherly love.
Jane
Newly discovered footage of primatologist Jane Goodall in Gombe is the core of this captivating documentary: Goodall, all of 26, looks as if there's nowhere she'd rather be than perched in her shorts behind trees, gazing for hours on wild chimpanzees. She's both the image and the essence of humans' desire to understand what Goodall calls "the great mystery." Director Brett Morgen fudges the chronology, tarts up some of the visuals, and uses an exciting but thoroughly un-apt score by Philip Glass. But he does a fine job filling in and rounding off Goodall's life story, which moves fluidly from her observation and understanding of chimpanzee society to her fierce conviction of ways for all species to live lightly on the Earth.
John Wick 2
A superior sequel to the hit revenge film in which Keanu Reeves's title character fights off a horde of would-be assassins on two continents. Director Chad Stahelski is a former stunt double, and he choreographs the action in breathtaking long takes, as if to create a Rite of Spring for gore-hounds, each kill more convulsive than the last, each attacker a nastier gag sprung by sonofabitch gods. The palette is so evocatively tragic that you could fool yourself into thinking it's more than a great splatterfest — but alas, it's not.
Lady Macbeth
This icy, formalist British psychodrama is not really from Shakespeare but Nikolai Leskov's Lady Macbeth of Mtsensk, the story of a provincial woman who becomes an adulteress and then a murderer. It has been transplanted to northern England, where a 17-year-old (Florence Pugh) is essentially bought from her working-class parents by an elderly northern England industrialist to marry his 40-year-old stick insect of a son. She doesn't accept her subjugation for long. William Oldroyd's film (from a script by Alice Birch) teases you with the idea its protagonist is an early feminist, but soon this woman with little power is victimizing people (blacks, to be specific) with even less. It eats into the mind with its vision of evil as a contagion that transforms victims into oppressors.
Last Men in Aleppo
Dreadful, essential. Syrian director Firas Fayyad focuses on the White Helmets, who are emergency volunteers in Syria's largest city — now leveled by President Assad's bombs as well as those of his Russian allies. The White Helmets aren't soldiers. They're mainly rubble divers. A bomb falls in the distance, they race to the scene, and they comb what's left of buildings. Occasionally they find a survivor. Occasionally. After you watch what these men do, footage of distant, falling bombs will never seem so abstract, so far removed from the hell that they bring.
Lemon
Janicza Bravo's debut feature feels like the work of someone with four or five films under her belt, mostly because of its assured sense of style and hilarious, fearlessly bleak script. Bravo's co-writer and husband Brett Gelman stars as Isaac, the titular dud of a human, a failed actor looking for love after his blind girlfriend (Judy Greer) dumps him. But make no mistake: This is not the flailing-white-male Sundance dramedy it looks like on paper, and Bravo's not here for silver linings. Nia Long and a sublimely hilarious Michael Cera co-star.
The Little Hours
A deliciously deadpan sex farce set in a medieval Tuscan monastery and castle, very loosely adapted by Jeff Baena from Boccaccio's The Decameron. The locations and score have a splendid period accuracy, but the nuns (among them Aubrey Plaza, Alison Brie, and Kate Micucci) have 21st-century Americanese potty mouths. Among the cast's great clowns are Dave Franco (as the stud who pretends to be a mute), John C. Reilly (the gentle stumblebum padre), Fred Armisen, and Lauren Weedman. The more matter-of-fact the lunacy is, the more screamingly funny.
Logan
Most people's reaction to this R-rated Marvel X-Men spinoff is a series of four-letter words exclaimed at regular intervals. It's staggeringly violent and incredibly bleak. Director James Mangold and his co-screenwriters plainly aren't sanguine about the future: The X-Men are dead or incapacitated, the government is exterminating the rest, and the military and Big Pharma are doing hideous experiments on Mexican women. The middle-aged Hugh Jackman is still muscled-up and ropy, the veins standing out in his arms and chest as if they're pumping acid. He gives his last stand as Wolverine everything he has, from animal rage to mute despair.
The Lovers
Debra Winger and Tracy Letts are a long-married couple headed for splitsville, each with a passionate younger lover. They know their time is over, but after years of speaking in chill monosyllables they begin to regard each other as a blessed — and sexy — relief from those overemphatic kids. Writer-director Azazel Jacobs has made a very smart movie about a very dumb idea. The charm is from the farcical symmetry and waltz-like score and the sight of Winger and Letts gazing at each with crazy indecision.
Marjorie Prime
In the near future, people with money can own computer-generated holographic doubles — "Primes" — of their dead loved ones, which ends up not so much giving comfort as opening the floodgates for emotions never resolved when the people were alive. Director Michael Almereyda adapted this near-perfect chamber drama — a ghost sonata — from a play by Jordan Harrison, and his reflections and refractions and cool framing devices bring us closer to his subjects instead of distancing us. The lead quartet is stunningly good: Jon Hamm, Geena Davis, Tim Robbins, and Lois Smith as Marjorie.
The Meyerowitz Stories
Noah Baumbach returns to territory that made him a star in 2005's The Squid and the Whale, but with a newfound maturity and tenderness that suits him and his stellar cast extremely well. Through a series of increasingly connected vignettes, we are introduced to the Meyerowitz clan: the three adult children (played by the excellent Elizabeth Marvel and Ben Stiller, and a best-in-years Adam Sandler) of Dustin Hoffman's bitter, never-quite successful artist. A crisis looms on the horizon, and after all the blow-ups and fights go down, Meyerowitz is not afraid to let its characters hug and learn. This is a cozy, ultimately uplifting film that doesn't sacrifice an ounce of Baumbach's signature acerbic wit to get there.
Nowhere to Hide
Some great documentaries cut through inessentials and help you make sense of an apparently senseless world. Others shock you into an even greater confoundment. This one's in the latter camp. It's told from the perspective of a central Iraq medic who accepts a camera from a departing documentary crew when the U.S. withdraws, agreeing to document what he thinks will be the rebuilding of his country. The grueling 80-plus minutes that follow span four years of increasing disintegration and flight. He can't make sense of the horror he sees, but he knows he must keep filming it.
Okja
Like his English-language debut Snowpiercer, Bong Joon-ho's wackadoo creature feature feels like it's been beamed in from an alternate Hollywood. The bighearted, foulmouthed story of a girl (Ahn Seo-hyun) on a mission to rescue her giant pet "super pig" from conflicting nefarious forces, particularly Tilda Swinton as the braces-and-couture wearing CEO of a Monsanto-like corporation. It's off-kilter and occasionally maddening, but inevitably just a big fun blockbuster that an American studio would never make in a million years.
Personal Shopper
Kristen Stewart is an American in Paris who buys clothes for a rich woman and spends her days mourning her dead twin brother, who might or might not be reaching out from the beyond. The director, Olivier Assayas, is a demon for beautiful actresses in tune with a certain kind of spiritual indefinition — a vacuum that drives them into perilous psychological (and often physical) realms. Assayas flirts with the thriller and horror genre but is too pretentious to deliver the full climactic payload. You might be disposed to forgive his arty withholding for the pleasure of watching Stewart through his eyes.
Professor Marston and the Wonder Women
This sweet and radically traditional biopic is ostensibly about the creator of DC Comics' leading lady, but the titular wonder women are the real stars. Though the film tells the story about Wonder Woman creator William Marston (Luke Evans) and his polyamorous relationship with his wife, Elizabeth, and their lover Olive Byrne, there's no bawdy nudge to be found, only a sweeping, old-fashioned kind of romance. The central cast is excellent — particularly Rebecca Hall as the whip-smart Elizabeth. Through writer-director Angela Robinson's eyes, the threesome's relationship — and how they tried and often failed to make it work in the real world — represents nothing short of the essence of creativity. It's also, for what it's worth, pretty hot.
The Salesman
Iranian director Asghar Farhadi's Oscar winner, in which an actress in a production of Death of a Salesman is sexually assaulted in her new rental apartment by someone likely looking for its previous occupant. Her increasingly fevered husband (who plays Willy Loman onstage) goes on the hunt — with first satisfying and then tragic consequences. The parallels between the action of the film and Arthur Miller's play aren't visible until the end, and even then slightly murky. But Farhadi's mix of clinical detachment and humanism is enormously powerful. (The film is excellent, but its Oscar might be at least partially due to Academy voters' knowledge that Trump's travel ban would keep Farhadi from the ceremony.)
Spettacolo
The story of a small Tuscan town that produces a yearly play written and performed by the townspeople is one of the better portraits of contemporary Europe this year, a Friday Night Lights with Italians and theater swapped in for Texans and football. The tradition, which has gone on uninterrupted for the past 50 years, is under threat as its regular participants age out and die, and the younger generation is uninterested in filling their shoes. The Teatro Povero ("poor theater"), as it's called, comes to represent art's ability to reflect our experiences and attitudes back to us – and how indispensable and human that pursuit is.
Super Dark Times
Maybe it's all the Upside Downs and killer clowns we've seen lately, but part of the thrill of Kevin Phillips's riding-on-bikes-and-coming-of-age fever dream is the feeling that reality may give way to something supernatural at any moment. The atmospheric mid-'90s period piece focuses on a group of friends who are driven apart after a violent accident, and the fallout compounded with the existing nightmare of being an awkward teen. Phillips's debut feature is impressively strong, as is the cast of young newcomers.
Trophy
Shaul Schwarz's documentary focuses on big-game hunting, breeding, and conservation in Africa, and will leave most viewers angry and confused. Animal-rights groups will detest it for entertaining the idea that ranching rhinos for their horns (which will grow back in two years) is the best way to save them from extinction. Hunters will detest it for showing big-game trophy hunters who are fundamentalist, right-wing assholes. No one will enjoy watching a young elephant die at the hands of a rich, inept marksman who was led right to his kill — and whose money will maybe keep other elephants safe. Everyone has his or her own set of values and every value is in conflict. The movie is richer for its tangled sympathies.
Valerian
If you go in expecting an uneven (to be generous) script, you won't be disappointed by one of the sci-fi events of the year: Luc Besson's daft, virtuosic epic, based on a much-loved series of French comic books. The plot centers on Dane DeHaan and Cara Delevingne as agents looking for … something. Let it go. Instead, watch what happens when an artist with an unfettered visual imagination gets hold of the latest computer technology and goes all-out, choreographing teeming, high-speed ballets of actors and bizarro creatures and sci-fi gizmos, any minute of which features more cinematic magic than the last four Star Wars movies combined.
Wind River
Taylor Sheridan, the writer of Hell or High Water and Sicario, makes his directorial debut with this uneven but potent mystery-thriller set in Wyoming's Wind River Reservation, where impoverished Native Americans struggle with staggering rates of crime and drug addiction. When a young Native American woman is found frozen in the snow, a ranger (Jeremy Renner, superb) and an FBI agent (Elizabeth Olsen) roam among the dilapidated dwellings talking to people worn down (or made violent) by the atmosphere of malign neglect. Although the bloody climax is well-staged, the resolution to the mystery wouldn't do credit to a third-rate thriller. Still, long after the gunshots fade, you might think you can still hear the cries of the dead.
Your Name
What this film has to say about how we experience time and loss overpowers the demands of logic. Perhaps a less uplifting ending may have seemed more honest. But director Makoto Shinkai's a romantic at heart, and it's infectious.