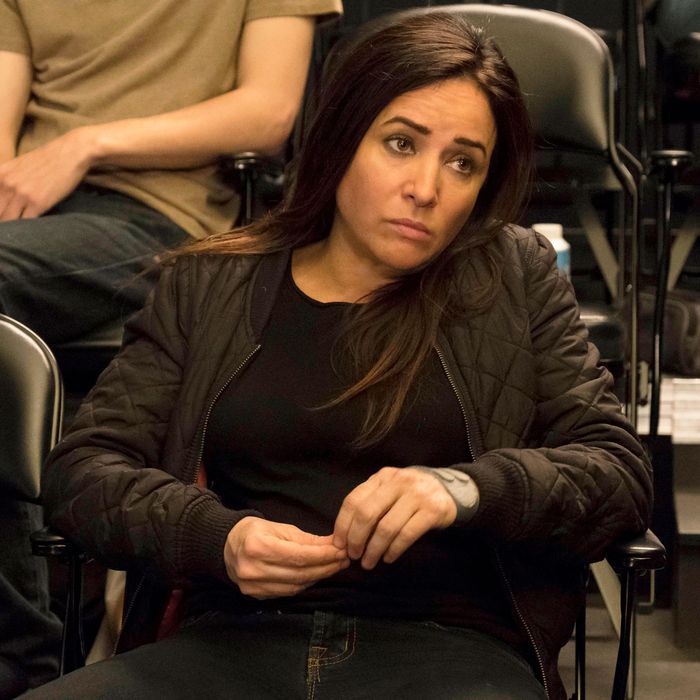 Pamela Adlon in
Better Things
.
Photo: FX Networks.
Like many women, Sam Fox — the single mom and actress who's played by Better Things creator Pamela Adlon — is living a life in pieces. The second season of Better Things, which has unfolded less like a bunch of episodes and more like a continuing stream of interconnected poems, underlines this aspect of her existence even more boldly than the first one did. One week, Sam confronts the possibility of her first serious romance with a decent man in a long, long time. In another, she tries to care for her increasingly scattered mom (Celia Imrie) after a sudden hospitalization. In the next, she's juggling the many jobs she spent her life stringing together to form a career and wondering why her daughters don't appreciate her, which is what happens in Thursday's exceptional "Eulogy."
"Eulogy" is my favorite Better Things episode of season two so far because it's emblematic of what this show does at its very best: highlight how cruel people can be to each other, especially mothers and daughters, while ultimately finding a way to let their humanity shine through the pettiness. It also addresses the central issue that Sam and so many others like her are dealing with, consciously or subconsciously, on a daily basis: the desire to be fully seen by the people you love when your identity feels like it's being sliced into fragments.
"Eulogize me. Go!" Sam says her two older daughters, Max (Mikey Madison) and Frankie (Hannah Alligood), in "Eulogy," while insisting that they pretend she's dead and throw her a fake funeral. It's an admittedly macabre request, one made after the girls flip past one of Sam's performances on TV in their rush to get to RuPaul's Drag Race. Sam's friend Tressa (Rebecca Metz), sensing that her feelings were hurt, reassures her by noting that her children "will love you when you're dead."
"I don't want to have to wait until I'm dead for my kids to appreciate me," Sam complains. So she throws a pillow in the middle of the floor, asks them to pretend the pillow is her dead body, then demands that they speak from the heart about what she means to them.
"Mom, you're, like, traumatizing us right now," Frankie tells her. She is not wrong. This is the kind of stuff that Sam's girls will definitely bring up in therapy and, ironically, at her actual funeral when that day finally comes. The fact that Sam's youngest, Duke (Olivia Edward), is freaked out by what's happening — and that she's only comforted when Sam explains that Duke also died with her mom in a pretend fiery car crash — is worthy of at least five sessions on a psychologist's chaise lounge.
But in this episode, written by Louis C.K. and directed by Adlon (who directed every episode this season), we also understand exactly where Sam's head is. In last week's "Phil," Sam became deeply concerned about her mother's health, which triggered thoughts about her own mortality and how her daughters will treat her when she's older. Earlier in this episode, we also see her shooting a car commercial, one that forces her to ask her scene partner, "Can I drive now?" over and over again. That tedious assignment surely made Sam wonder why she still bothers to act after all these years. (It's a testament to the sharpness of Louis C.K.'s writing that, after asking "Can I drive now?" for at least eight hours straight, the cause of death that Sam imagines for herself is an automobile accident.)
But it's clear, too, that acting still invigorates Sam. She speaks that same four-word question in every take of that commercial with a slightly different, equally credible inflection, which speaks to how good she is at what she does and how seriously she takes it, even when the work is almost insultingly easy. The graceful opening sequence, which captures Sam teaching an acting class to students who, unlike her daughters, seem to appreciate and respect her tough-love approach to mentoring, also captures the degree to which being an actor makes Sam feel like a useful member of a community.
The scene later in the episode, when Sam leaves the house in frustration and hits the neighborhood bar where everybody knows her name, also suggests that she is seen and understood in a lot of places outside of her own home. Her conversation with her friend Ray really underlines that point, especially since Ray is played by the late Robert Michael Morris, The Comeback star who died earlier this year and to whom "Eulogy" is dedicated.
"Nobody could be openly gay until I was too old to have any fun," Ray says ruefully.
"I feel like the exact same thing is happening to me," Sam replies, vocalizing the regret that every person who has reached middle age will at some point vocalize. As she leaves the bar, Ray makes a point of taking away the rest of her drink. "Drive carefully," he says. "There's a lot of nuts out there," a nod to the notion that Sam really could die in a car crash on her way home.
It's that attention to the subtlest details that makes "Eulogy" such an outstanding episode of television. Even the way the music is edited gives the whole episode a purposeful flow; just before Sam walks through the front door to find herself suddenly attending her own funeral, the song "Black Flowers" by Kevin Morby fades out on the line, "I stopped breathing." (The line we don't hear, which comes immediately after: "In the garden where we built a home: black flowers.")
That last sequence, in which Frankie, Max, Tressa, and Sam's friend Rich (Diedrich Bader) invite her back into the living room to finally eulogize her, packs a massive emotional wallop and makes this episode unforgettable. Alligood, Madison, and Adlon give admirably raw performances here. When Frankie explains why she constantly yelled at her mom — "I needed to give her some of my pain because I knew she could carry it when I couldn't" — it destroys Sam, who's laid out on a makeshift open casket alongside Duke. I know it destroyed me in a way that nothing on TV this fall has. Dramas like This Is Us or The Good Doctor are openly trying to break our hearts. Better Things just does it, without warning, and it stings that much more because it sneaks up on us.
You might ask whether it's believable that these self-involved teenage girls would suddenly be able to speak so honestly about their mother, despite dismissing her an hour or so earlier. I buy that they can because they work through their feelings first with Tressa and Rich, and then they can express them without having to look directly into their mother's judging eyes.
You might also think that it's a bit narcissistic for a mother to force her children to pay tribute in this way. After all, as Frankie says at one point, it's Sam's job as a mom to praise her children without asking for anything in return. But isn't that expectation a little unfair? We've all been so conditioned to look down on maternal behavior that doesn't line up perfectly with the concept of the fully selfless mother that we forget that they are also people. Every person, including Sam, wants those who are closest to them to fully understand and celebrate them. Every mom wants that, but probably feels like she can't admit it publicly because "good" moms are never supposed to think about their own needs.
That's another quality that makes Better Things one of the most truthful shows about parenthood: It shines the high beams on the real, complicated, not easy-to-acknowledge feelings that come with raising children.
The final funeral scene — one that cuts right through the heaviness by having Rich deliver a eulogy that emphasizes Sam's shortness, then by having everyone embrace a neglected Duke — does the same thing, in a way that is moving, joyful, and a little bit effed-up. You feel like you're right there in the room with these relatably flawed members of a fractured but still functioning family. It's Better Things at its very best, reminding us that life and TV don't get much better than this.